Feinstein faces pressure to resign over judicial confirmations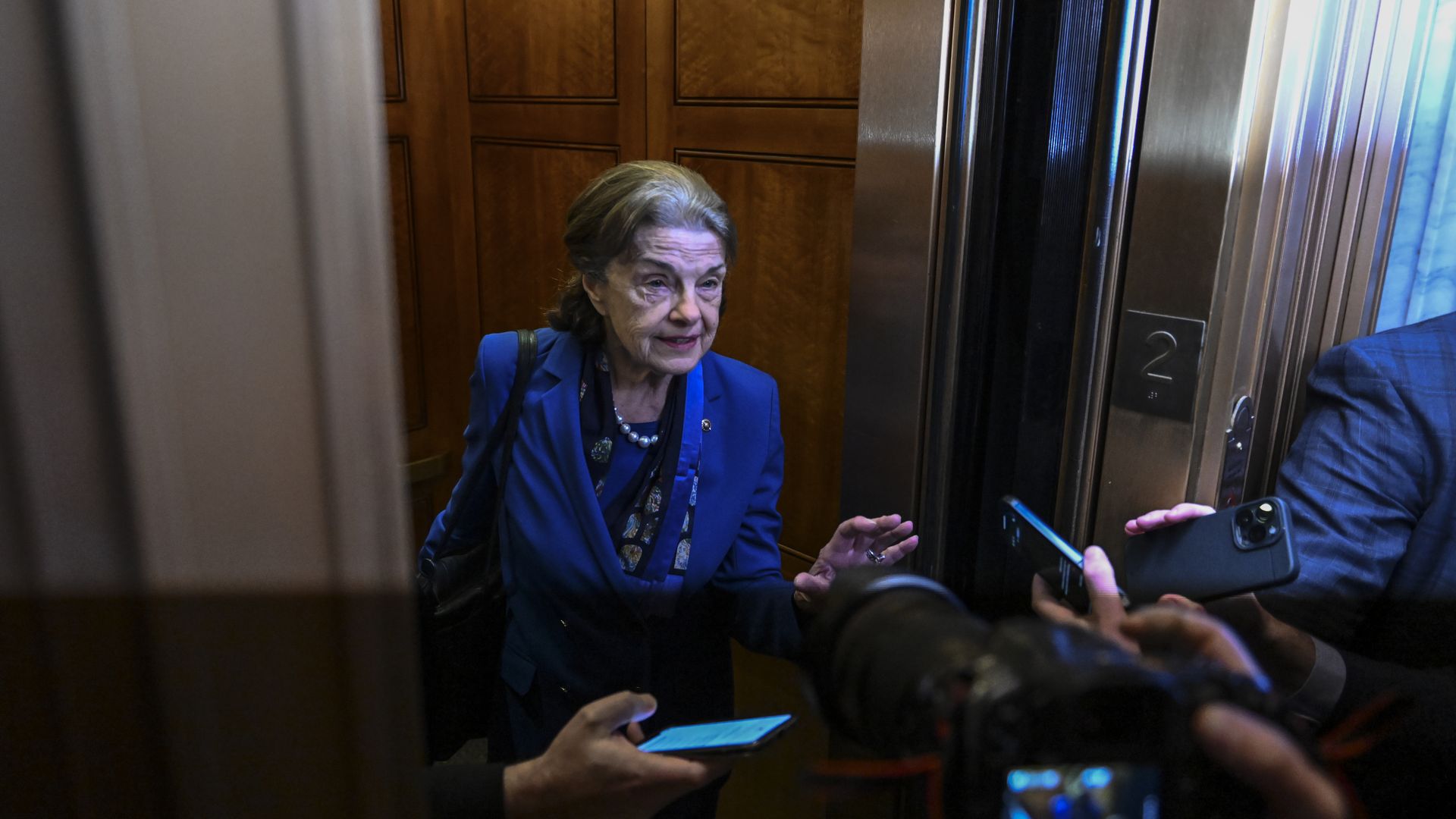 Rep. Ro Khanna (D-Calif.) joined a chorus of outside progressive voices in calling for Sen. Dianne Feinstein (D-Calif.) to resign amid concerns that her medical absence is keeping Senate Democrats from confirming more judges.
Why it matters: The 89-year-old Feinstein has missed 58 Senate votes since she was diagnosed with shingles in February. Her absence has been most acutely felt on the divided Senate Judiciary Committee, where Democrats are unable to advance judicial nominees who do not have Republican support.
Driving the news: "It's time for Sen. Feinstein to resign. We need to put the country ahead of personal loyalty," Khanna said Wednesday, becoming the first Democratic lawmaker to openly call for her to step down.
Khanna is the co-chair of Rep. Barbara Lee's (D-Calif.) campaign to succeed Feinstein, who is not seeking re-election but plans to stay on until the end of her term.
"I think the solution on the judges portion is to have her removed from her committee if she is unable to do her service," Rep. Katie Porter (D-Cal.), who is running for Feinstein's seat, told MSNBC Tuesday.
An aide to a Democrat on the Judiciary Committee said Feinstein's peers are being gracious considering her "long and illustrious career," but believes that will change soon if the absences continue.
The intrigue: Feinstein, who has been recovering at her home in San Francisco, released a statement late Wednesday acknowledging that her recovery has taken longer than expected.
"I intend to return as soon as possible once my medical team advises that it's safe for me to travel," she said in the statement.
"I understand that my absence could delay the important work of the Judiciary Committee," Feinstein said, adding that she has asked Majority Leader Chuck Schumer (D-N.Y.) "to allow another Democratic senator to temporarily serve until I'm able to resume my committee work."
Rep. Dean Phillips (D-Minn.), a moderate Democrat, said he agreed with Khanna, tweeting: "I believe it's now a dereliction of duty to remain in the Senate and a dereliction of duty for those who agree to remain quiet."
Phillips has previously called for Biden not to run for re-election due to his age, reflecting his desire for a younger generation to lead the Democratic Party.
Zoom in: Liberals have urged Democrats in Congress to do as much as possible to counter the impact of former President Trump's successful effort to remake the judiciary.
The Senate has been able to confirm nearly 120 of Biden's judicial nominees, with most of them being women and people of color, but the pace is slowing down.
But the Judiciary Committee has only approved one judge — Matthew Brookman, the GOP-backed appointee for the Indiana district court seat — since Feinstein's absence.
A spokesperson for Senate Judiciary Committee Chairman Dick Durbin (D-Ill.) told Axios that Feinstein's absence has prevented him from considering nominees given that a tie vote is a losing vote in the 10-10 committee.
This has prevented the committee from sending some nominations to the Senate floor, which has been plagued with a number of high profile vacancies including Senate Minority Leader Mitch McConnell (R-Ky.).
Another aide for a Democrat on the Judiciary Committee said that there are ongoing conversations about whether Feinstein should remain on the committee.
The bottom line: Progressive pressure on Democratic leadership to make a decision is growing out of concern that Feinstein may not come to a decision on her own.
A House Democrat told Axios that privately, support for Feinstein's resignation is "universal" and it's "probably harder to find someone in Congress who believes she's able to serve."
Several Democratic offices and members declined requests for comment.
Go deeper