McConnell's health scare stirs new scrutiny of GOP leader's future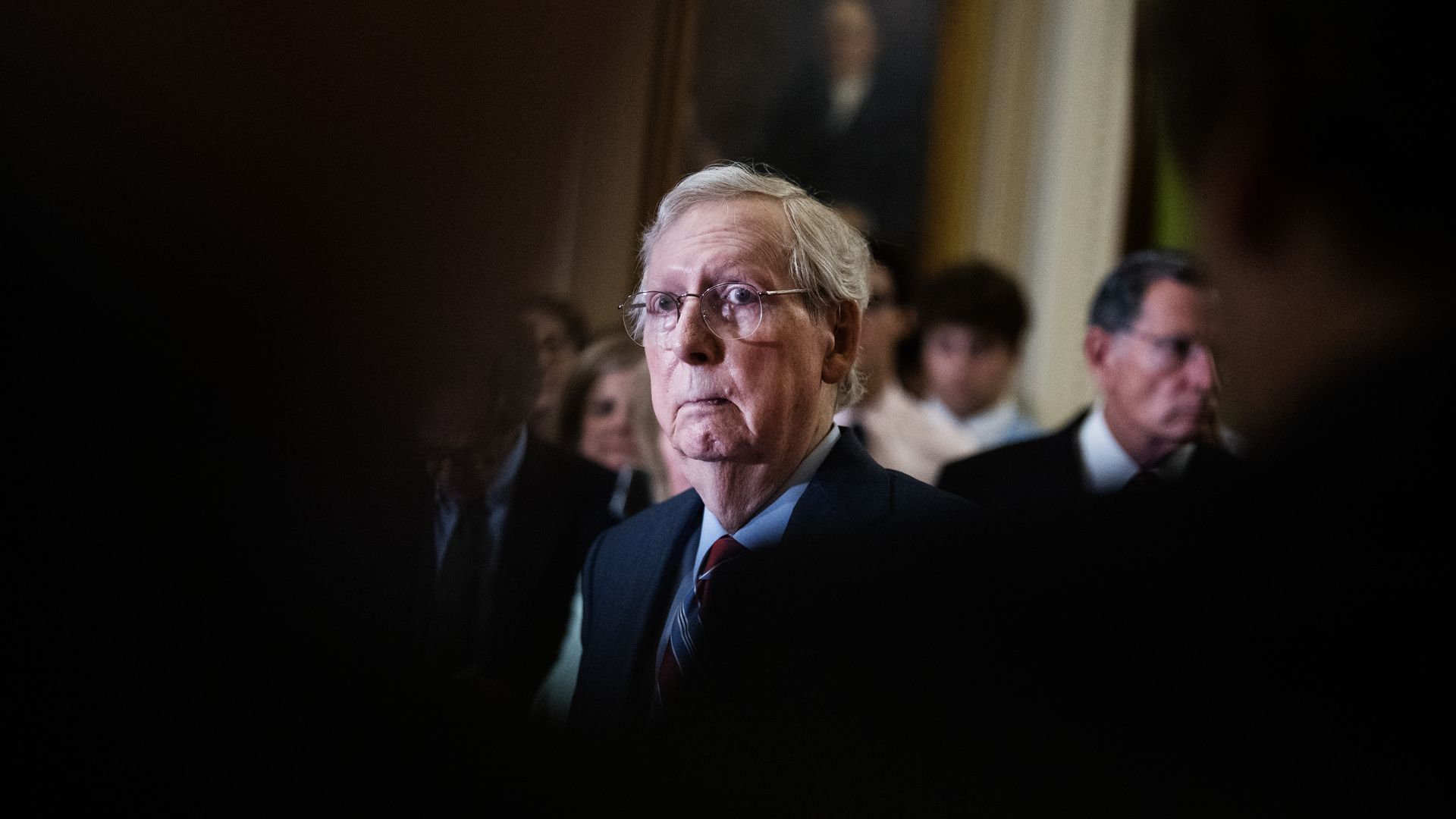 Senate Minority Leader Mitch McConnell (R-Ky.) was escorted out of his leadership news conference Wednesday after freezing midsentence for about 20 seconds, leaving reporters and senators in stunned silence.
Why it matters: The 81-year-old GOP leader, described by colleagues as one of the most effective political operators in modern history, was hospitalized in March with a concussion after suffering a serious fall at a fundraising dinner.
His monthlong absence drew speculation of possible plans to retire, which McConnell immediately quashed.
Those rumors are likely to kick back into overdrive after Wednesday's health scare, with McConnell's seat not up for re-election until 2026.
Driving the news: Sen. John Barrasso (R-Wyo.), one of McConnell's top deputies and a leading contender to replace him as leader, helped lead McConnell away from the lectern after the apparent health episode.
McConnell returned to the news conference about 10 minutes later and told reporters he was "fine," before going on to answer questions about Hunter Biden's plea deal, the House's possible impeachment inquiry into President Biden and other issues.
Asked at the end of the news conference whether he had anyone in mind to replace him as leader, McConnell chuckled and walked away.
An aide to McConnell told Axios that he "felt lightheaded and stepped away for a moment."
Barrasso told reporters that he's been "concerned" about McConnell's health since his fall several months ago but denied that the GOP leader's condition has worsened.
"I'll support Sen. McConnell as long as he wants to remain as leader," said Sen. John Cornyn (R-Texas), who along with Barrasso and Sen. John Thune (R-S.D.) is viewed as a possible successor.
The big picture: McConnell — the longest-serving leader in Senate history — represents a strain of establishment Republican that has otherwise been marginalized by former President Trump's hostile takeover of the GOP.
The Kentucky Republican has routinely used his floor speeches over the last year to make an impassioned case for ramping up U.S. military aid to Ukraine — clashing with House Republicans and leading presidential candidates who oppose the war effort.
That and his criticism of Trump after Jan. 6 have made McConnell an enemy of the GOP base as well as Democrats; A poll in January found he is America's least popular senator.
Even still, McConnell remains a powerful force on Capitol Hill — and a sudden retirement would leave a gaping vacuum in the Senate GOP conference.
McConnell easily dispatched a leadership challenge from Sen. Rick Scott (R-Fla.) after the midterms, winning 37-10 in a secret ballot.
Go deeper