Trump's new cuffs: Court rules on his social media
Former President Trump's bail has been set at $200,000 in Georgia's sweeping racketeering case, and he's got new rules limiting his use of social media to intimidate any potential witnesses or co-defendants.
Why it matters: The former president faces a mountain of legal troubles that are already burning through his presidential campaign's war chest.
"The Defendant shall perform no act to intimidate any person known to him or her to be a codefendant or witness in this case or to otherwise obstruct the administration of justice," according to the order.
Trump had already warned one witness — former Georgia Lt. Gov. Geoff Duncan — against testifying to the Fulton County grand jury.
"The above shall include, but are not limited to, posts on social media or reposts of posts made by another individual on social media," per Trump's order.
The order also forbids him from communicating about the case with his 18 co-defendants, except through their lawyers.
Trump must pay 10% of the bail amount — $20,000 — when he surrenders to authorities and is booked at the Fulton County jail.
Trump and his co-defendants have until Friday at noon to surrender, Fulton County District Attorney Fani Willis said.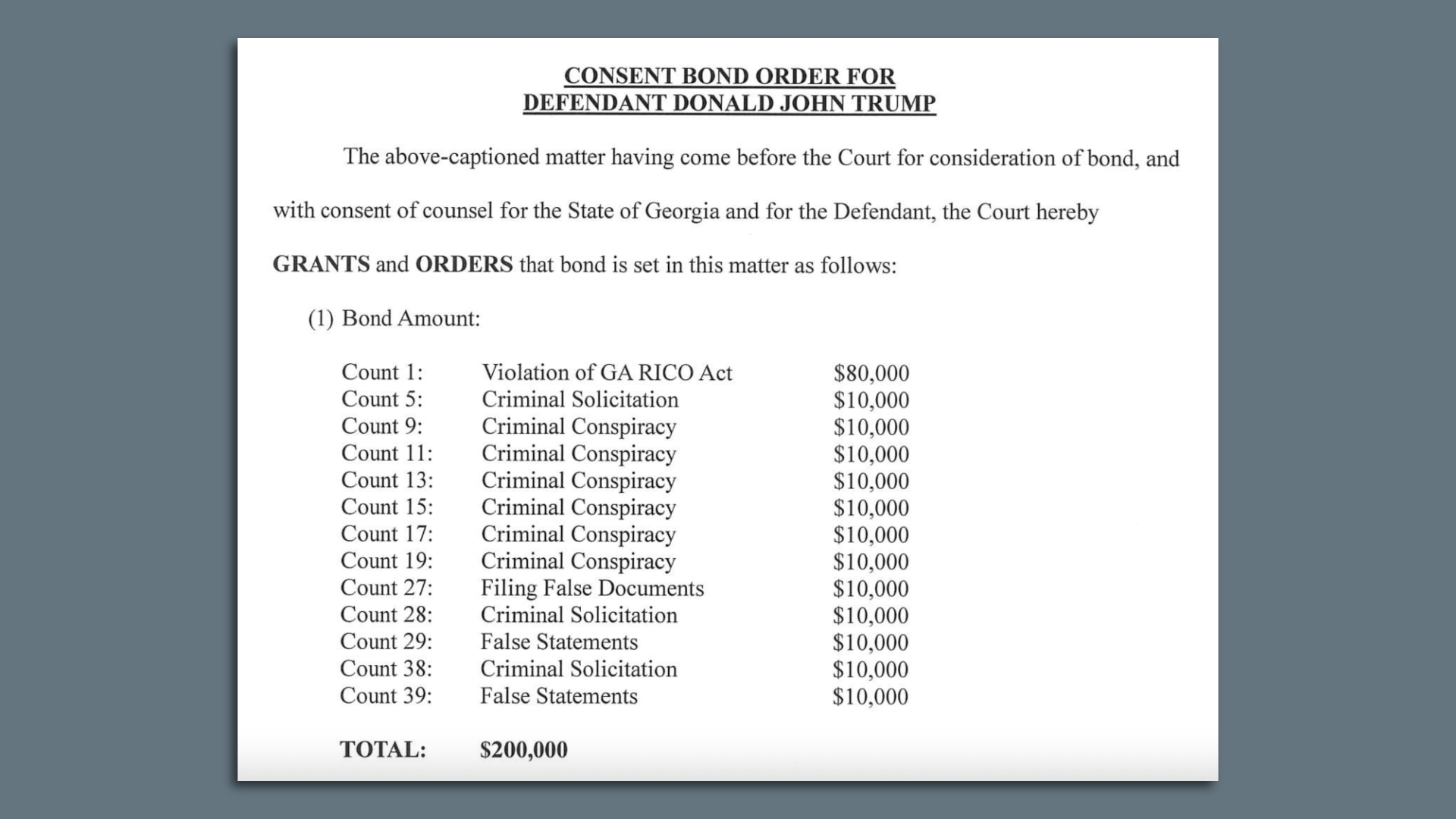 Zoom in: Trump's $200,000 bond is the largest of any of the consent orders released so far this week.
Former Trump lawyer Rudy Giuliani agreed to the second highest bond agreement this week at $150,000.
Two co-defendants, lawyers John Eastman and Kenneth Chesebro, both agreed to a $100,000 bond on Monday.
Georgia-based lawyer Ray Smith agreed to a $50,000 bond and Georgia bail bondsman Scott Hall agreed to a $10,000 order, per the consent orders.
Eastman, Chesebro, Smith and Hall also had rules surrounding witness intimidation in their consent orders, but none of them mentioned posts on social media.
Trump, who has a track record of trying to influence witnesses, has also been warned by the federal judge overseeing the 2020 election conspiracy case against making statements that could intimidate witnesses.
"The more a party makes inflammatory statements about this case, which could taint the jury pool … the greater the urgency will be that we proceed to trial quickly," Judge Tanya S. Chutkan said during a hearing earlier this month.
Zoom out: Trump was charged last week with 13 counts, including a mobster statute, Racketeer Influenced and Corrupt Organizations (RICO).
A spokesperson for the former president's campaign did not immediately respond to Axios' request for comment.
Editor's note: This story has been updated with additional details throughout.
Go deeper