Tense election run-ups in Guatemala and Ecuador highlight democratic backsliding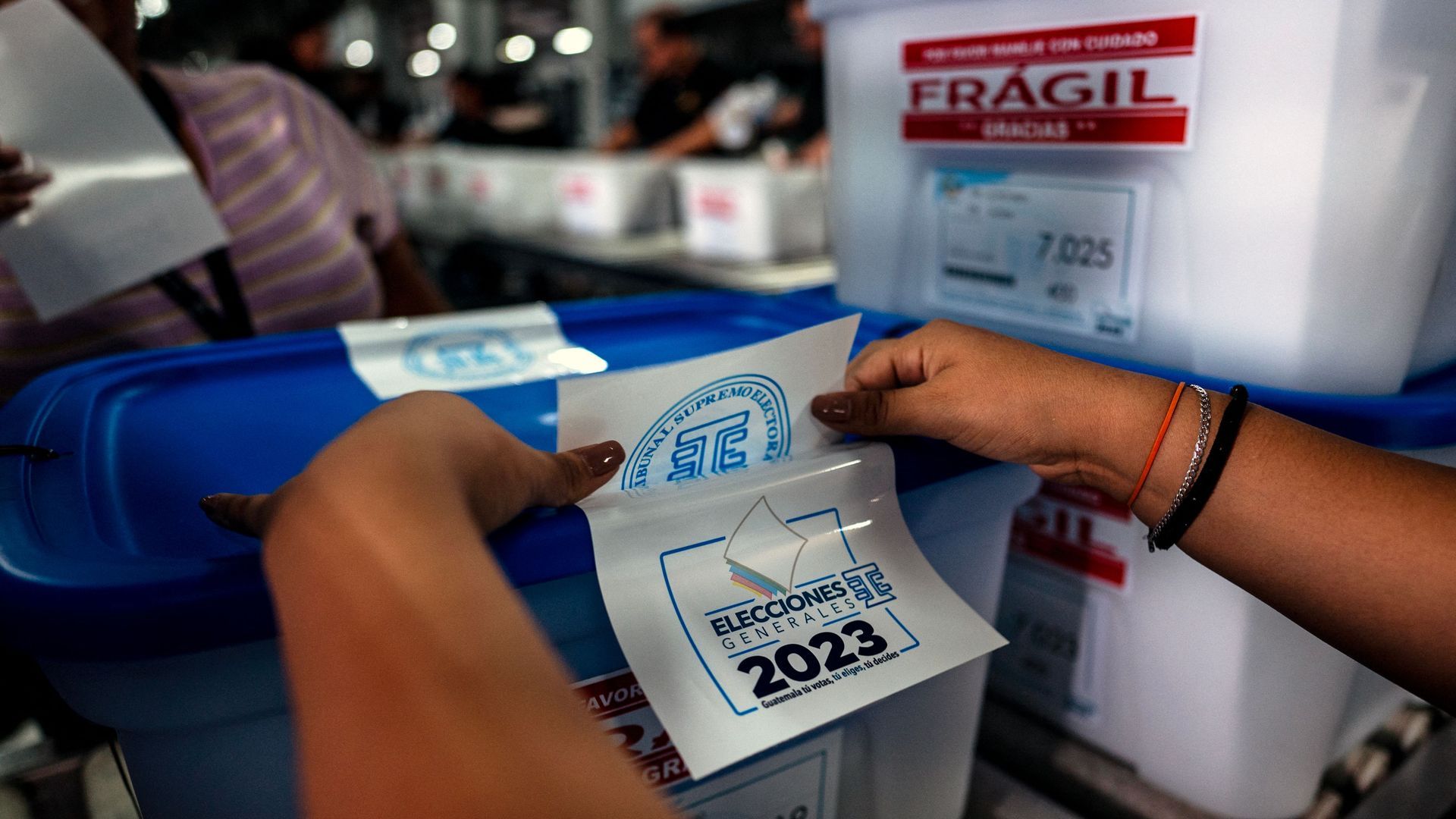 Guatemala and Ecuador head to the polls on Sunday after intense and dramatic campaign seasons.
State of play: Guatemala will hold its presidential runoff, while voters in Ecuador will cast their ballots in the first round of early presidential and legislative elections, which were called after President Guillermo Lasso dissolved the opposition-controlled National Assembly earlier this year.
Guatemala has seen a bumpy run-up to the second round, with accusations of government meddling.
Campaigning in Ecuador, meanwhile, has been marked by violence. Fernando Villavicencio, one of the eight presidential candidates, was murdered and two local politicians were slain in the span of a month.
Ecuador was put under a two-month state of emergency. Violence attributed to local cells of Mexican and Colombian cartels has risen in the last two years.
Zoom in: In Ecuador, the latest polls, taken before the murder of Villavicencio, showed leftist lawyer Luisa González and Ecuadorian-French businessman Jan Topić in the lead for a possible Oct. runoff.
González, the only female candidate, is running with Citizen Revolution, the party of controversial and convicted former President Rafael Correa. She promises to use the country's international reserves to invest in education, jobs and to fortify police equipment to fight gangs.
Topić, who says he is a nonpartisan outsider (though is allied with conservative groups), has been gaining momentum with the nickname "Ecuadorian Rambo." He promises hardline security tactics that echo those of El Salvador.
Christian Zurita will be on the ballot as a last-minute replacement for Villavicencio.
In Guatemala, the runoff between former first lady Sandra Torres, of the National Unity of Hope, and Movimiento Semilla's Bernardo Arévalo, a social democrat whose success in the first round with an anti-corruption campaign surprised many, has been volatile.
The first round's certification was delayed because of unproven accusations of fraud pushed partly by the ruling party, Vamos. The attorney general's office then said it was investigating Semilla and working to remove its party registration for allegedly falsifying signatures — an allegation Semilla denies.
The AG nominally does not have power over party registrations. Its actions have made activists and defenders warn of possible interference with the vote count for the runoff or before the inauguration in January.
Between the lines: Citizens of both countries are disenchanted with democracy, according to data released last month by Latinobarómetro, the premier regional annual survey.
Only 29% of Guatemalans, the lowest in all Latin America, said they prefer democracy over other forms of government, while 37% of Ecuadorians say they're satisfied with democratic rule.
About a fifth of people in each country said they'd be fine with authoritarianism.
"The collapse in governments' performance is reflected in this dissatisfaction… making the region vulnerable and prone to populism and antidemocratic regimes," the Latinobarómetro researchers warn in the report.
The big picture: Ecuador will also have its first-ever binding referendum on oil exploration.
Voters will decide whether a drilling project in an Amazon national park should continue.
Oil is a major contributor to the country's economy, but environmentalists have been warning for a decade that drilling in the area threatens unique biodiversity and the lives of two Indigenous communities.
Go deeper