Salvadoran gang leaders fleeing crackdown pose threat to region, officials say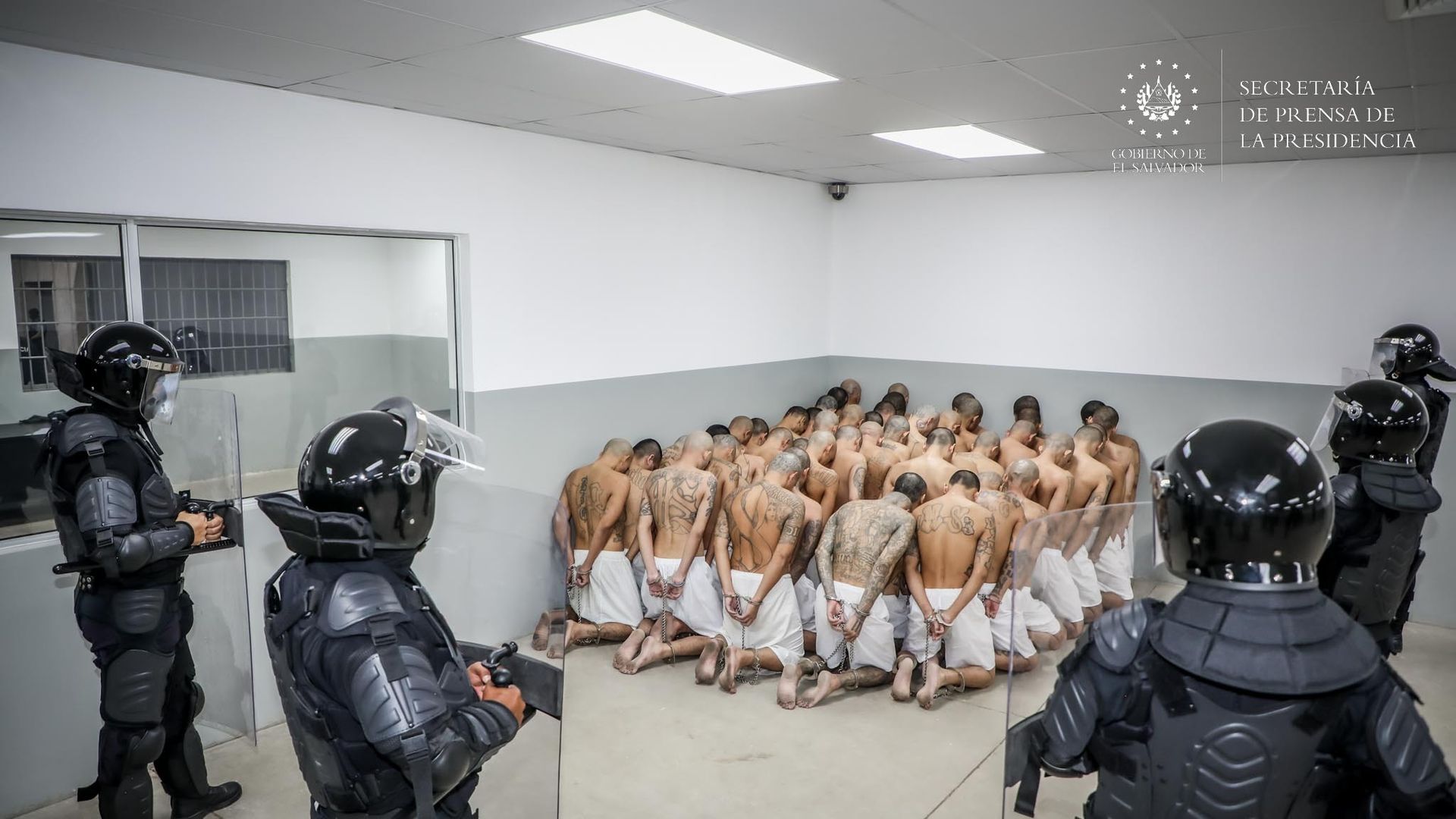 The recent arrests of several alleged Salvadoran gang leaders in Mexico and Guatemala have raised fears that a crackdown in El Salvador is pushing more gang members to neighboring countries.
The big picture: Salvadoran President Nayib Bukele on March 27, 2022, declared a state of emergency that allows authorities to make arrests without charges and revokes other civil rights protections in the name of combating gang violence, resulting in the arrest of over 60,000 people. Most haven't been charged.
NGOs have documented cases of torture against detainees and say there have been at least 111 deaths in custody since the emergency order began. They also say innocent people have been swept in the crackdown.
Bukele has admitted that innocent people may have been swept up in arrests, but says without offering evidence he doesn't believe it's more than 1% of those behind bars.
Details: A U.S. State Department official confirmed to Axios Latino this week that the U.S. is "concerned about potential movement of gang members into other regional countries," adding that it continues to work with El Salvador and other partners in the region to combat transnational crime. The official, who was not authorized to address this issue publicly, spoke on the condition of anonymity.
Guatemalan and Mexican authorities have also sounded the alarm about Salvadoran gang leaders possibly becoming an established presence in their countries. Previously, some Salvadoran gangs had reduced operations there.
"No question they're running from the measures [in El Salvador], looking to get to Mexico or perhaps the U.S. It's a fact we can't deny," Guatemala Interior Minister David Napoleón Barrientos told BBC Mundo this month, adding that the country has increased patrols near its border with El Salvador.
Media outlets have reported a recent increase in extortions of bus and taxi drivers attributed to the Mara Salvatrucha (MS-13) and Barrio 18 groups along Mexico's southern border. Chiapas state has formed an anti-gang group in response.
What they're saying: Bryan Avelar, a Salvadoran journalist who covers MS-13 and is working in Chiapas, tells Axios Latino he's seen an increase in gang members who are fleeing the state of emergency.
But he cautions that authorities at this point in time may be exaggerating the threat as an excuse to justify militarized borders and increased barriers to migration.
The region is experiencing a massive number of migrants from all over the world who are making their way north.
Another possibility for the heightened alert is that reformed gang members who have fled El Salvador for fear of prosecution — but are tattooed — could be mistaken by authorities for a real threat, says José Miguel Cruz, an expert on gangs and director of research at Florida International University's Latin American and Caribbean Center.
Yes, but: Despite concerns by human rights advocates, Salvadorans overwhelmingly approve of both Bukele and the mass incarceration policy.
Government data shows homicides have dropped off significantly and locals say they can once again carry on with their daily lives in communities that had been under the control of gangs for years.
"It's certainly historic how the gangs have been destructured in those places … but it's been a trade-off, because some people now fear the military and police in almost the same way they did gangs," Avelar says.
What to watch: The situation in El Salvador has already prompted slightly more people to leave the country.
Towards the second half of 2022, there was an uptick in Salvadorans seeking asylum in Mexico, according to the Mexican refugee office.
"The arbitrary arrests — many of people from low-income communities — mean their families have lost their main breadwinner… Other people unrelated to gangs have also left home for fear of being arbitrarily detained," Juan Pappier, acting deputy director for Human Rights Watch in the Americas, tells Axios Latino.
The state of emergency, which is supposed to be temporary, is also unsustainable in the long run if the root causes that drove people to join gangs — poverty and lack of opportunities — aren't also addressed, Cruz argues.
Flashback: The MS-13 and Barrio 18 gangs originally formed in California in the 1980s. Many members were deported in the 1990s as part of U.S. policy to expel immigrants with criminal records.
They regrouped again in El Salvador and Honduras, where authorities say they have routinely committed extortion, assault, kidnapping and murder.
Subscribe to Axios Latino to get vital news about Latinos and Latin America, delivered to your inbox on Tuesdays and Thursdays.
Go deeper