Guatemalans in exile see signs of hope ahead of runoff despite election chaos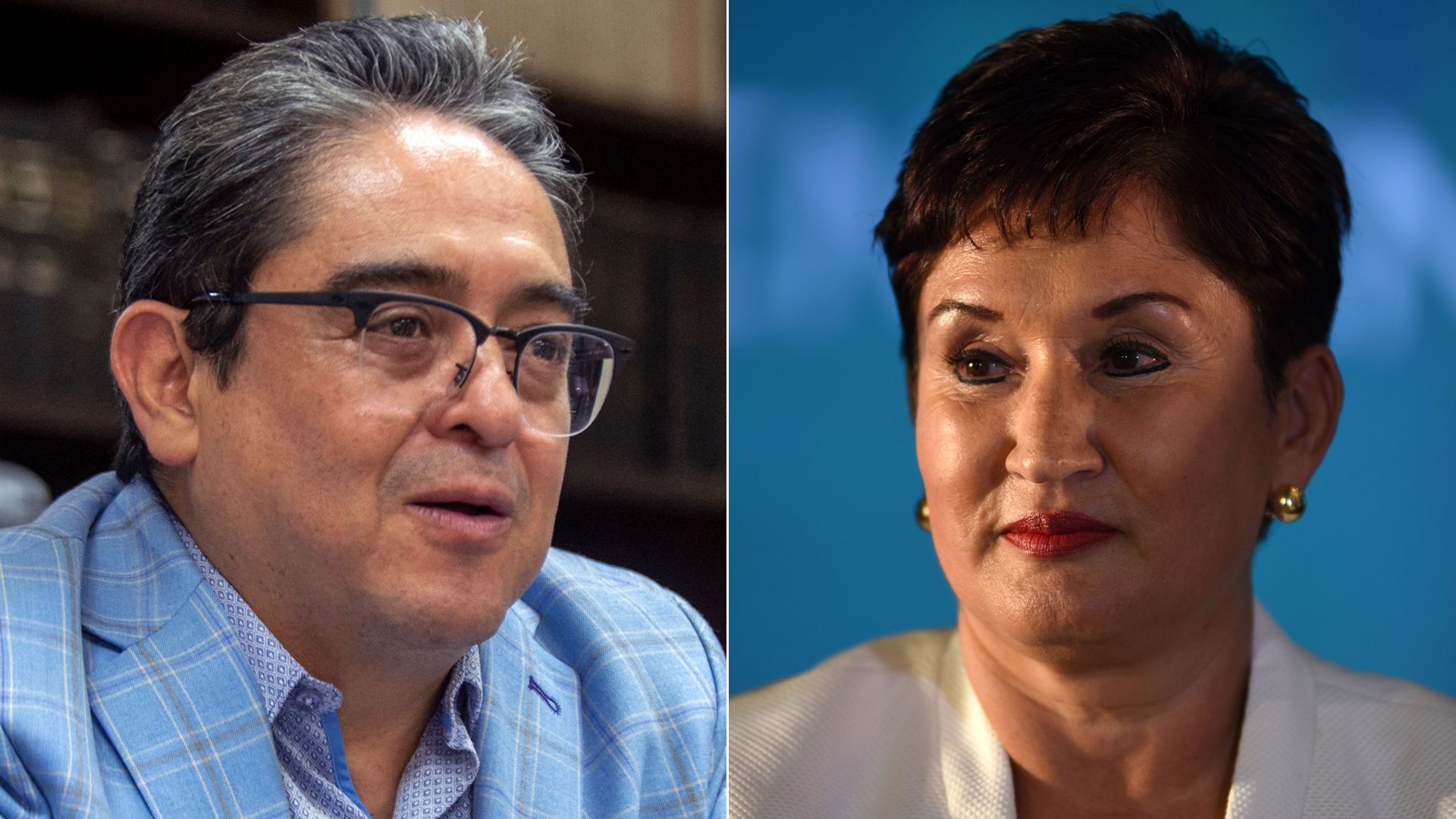 As Guatemala's Aug. 20 presidential runoff nears, reports of governmental interference have officials in exile fearing for their country's democracy, although they tell Axios they are cautiously optimistic about the popular will prevailing.
State of play: Sandra Torres, a former first lady with center-right party UNE, and Bernardo Arévalo, a former diplomat with social democratic party Movimiento Semilla, will face off after a legal battle that delayed the certification of the June 25 first-round votes by more than two weeks, prompting mass protests.
A handful of political parties — including the ruling Vamos — alleged fraud, but a review of the vote tally produced no such evidence.
After the results were certified, the attorney general's office announced an investigation into Semilla for allegedly falsifying signatures, saying it would seek to annul its party registration. The nation's electoral court called the attempt "unprecedented," and the UN criticized the move. Semilla denies the allegations.
What they're saying: The former attorney general, Thelma Aldana, who held the position from 2014 to 2018, tells Axios Latino she's concerned about interference in the elections but also feels hopeful.
Aldana fled Guatemala in 2019 and was granted asylum in the U.S. after a Guatemalan court issued an arrest warrant for her on charges of embezzlement. Aldana says the charges were in retaliation for her investigations into presidential corruption.
Aldana says she's "worried because I know how the people currently leading the institutions operate and that they're capable of anything, which makes me concerned about what they'll do."
"Yet I'm hopeful that, God willing, the people's will remains strong enough to ensure their vote is respected," Aldana says, adding that Guatemalans' protests feel like the only safeguard for democracy.
Jordán Rodas, formerly the country's human rights ombudsman (2017-2022), says "the status quo is acting like a wounded beast, clawing out for fear of losing its privileges, and I fear those claws may yet cause more damage."
But Rodas, who fled last year when the attorney general announced an investigation into his tenure for undisclosed reasons, says he sees "a small hope society can move the country in a different path."
He cites the protests and Arévalo's surprising ascent. Prior to the June election, polls showed Arévalo, who is running on an anti-corruption platform, far behind other candidates.
Aldana and Rodas say they see the AG's alleged interference in the election as a continuation of the persecution that forced them into exile.
The big picture: Human rights advocates have long warned that widespread corruption and a crackdown on free expression threaten Guatemala's democracy.
Attorney General Consuelo Porras and other high-ranking officials have been sanctioned by the U.S. and barred from entry over allegations of corruption and undemocratic actions.
The Inter-American Commission on Human Rights (IACHR) and other organizations have criticized the Guatemalan government for opening trumped-up criminal cases against anti-corruption justice officials, human rights defenders and journalists in the last few years.
At least 37 former Guatemalan anti-corruption prosecutors have fled to countries including Mexico, Spain, Costa Rica and the U.S.. About 20 journalists have also left Guatemala.
The other side: President Alejandro Giammattei's government has dismissed claims that it is undermining the electoral process, saying last month that all federal agencies "have worked to fulfill their legal mandate."
The attorney general's office has also defended its actions, saying it is within its rights to investigate possible malfeasance.
Porras has claimed that the sanctions against her from the U.S. government are an effort to "impede" her justice work, and says that the exiled officials are outlaws.
What to watch: Luis Almagro, the secretary general of the Organization of American States — which the IACHR is part of — will wrap up an official observation visit to Guatemala on Friday and is expected to give a public statement afterwards.
Almagro, who arrived on Tuesday, has met with Giammattei and civil advocacy groups, and he's scheduled to meet with candidates Arévalo and Torres.
The OAS and the European Union have also sent electoral observers to monitor the lead-up to runoff in collaboration with NGOs.
Subscribe to Axios Latino to get vital news about Latinos and Latin America, delivered to your inbox on Tuesdays and Thursdays.
Go deeper