Trump's 2024 collision: Court dates disrupt his campaign calendar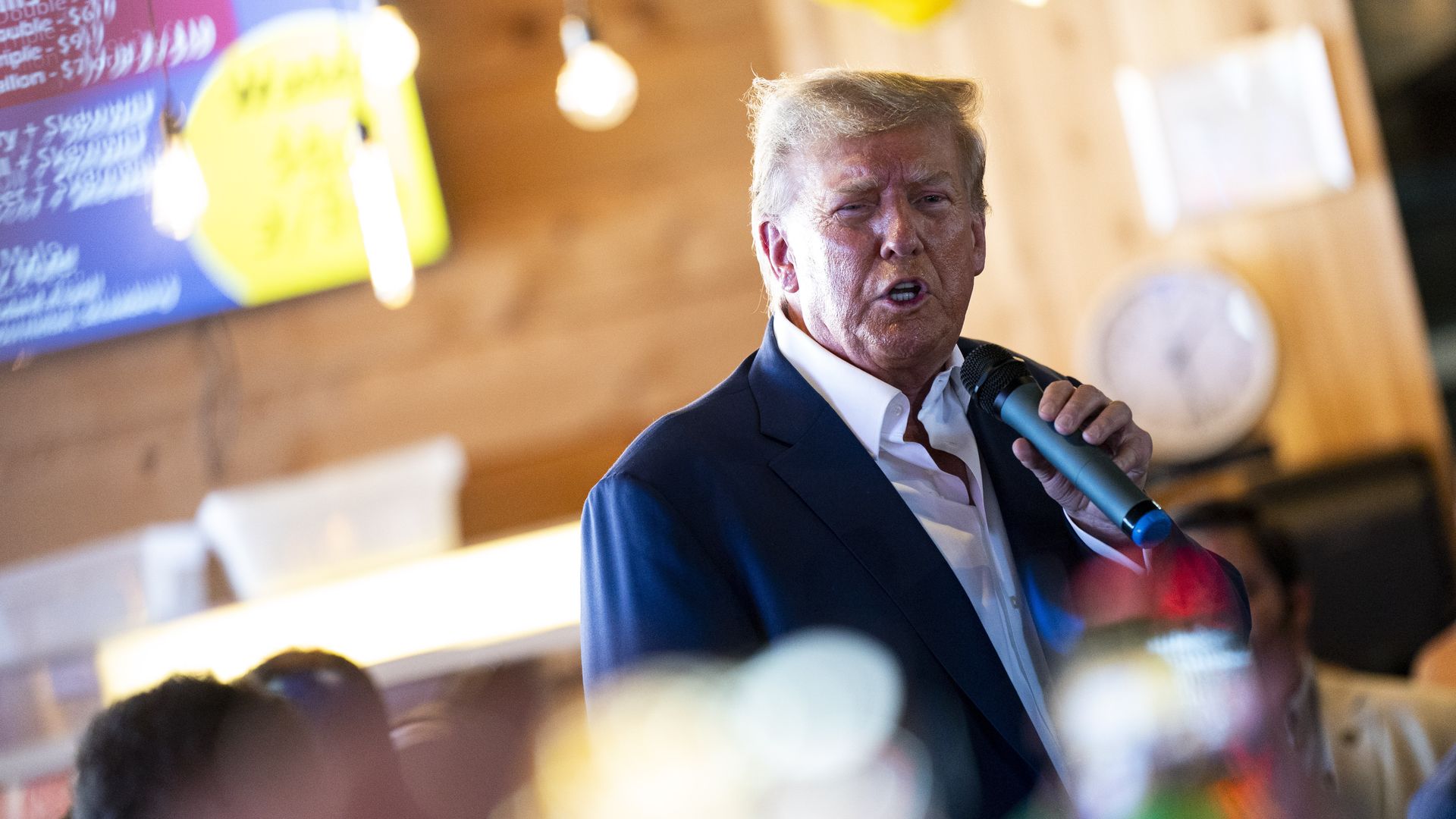 The extraordinary collision course between former President Trump's 2024 presidential campaign and his legal morass will be on stark display the next two weeks.
Why it matters: His two-week schedule features nearly half a dozen court hearings and 2024 campaign-related events, previewing what's to come over the next 15 months as he navigates his re-election bid amid mounting legal fights.
Trump won't have to attend every court hearing, but his attempt to run a national campaign while fighting 91 criminal counts in four jurisdictions will be a high-stress logistical challenge for the 77-year-old former president and his team.
The legal fights already are burning through Trump's campaign war chest.
"It's a legal defense wrapped in a campaign and Trump clearly intends to conflate the two for the foreseeable future," Republican strategist Ken Spain told Axios.
Driving the news: Trump's packed courtroom schedule expanded Monday in Fulton County, Ga., where he and 18 allies were indicted on criminal racketeering charges for allegedly conspiring to overturn the 2020 election results in Georgia.
Fulton County District Attorney Fani Willis gave Trump and the other defendants until noon on Aug. 25 to voluntarily surrender.
Willis' deadline, a week from Friday, lands during an already busy stretch for the former president.
Trump's attorneys slammed the Georgia indictment in a statement Tuesday, calling the grand jury presentation "one-sided" and that it "relied on witnesses who harbor their own personal and political interests."
A spokesperson for Trump's campaign wrote in a text to Axios that the former president "continues to be stronger every single day."
Zoom out: Trump is a defendant in at least seven known cases, including four criminal cases and three civil cases, that are playing out in four different jurisdictions.
The former president has denied wrongdoing, casting himself as a victim of political persecution, and he's made his legal peril a centerpiece of his campaign.
But even as he tries to fight the legal challenges — and push them to after the election — he's likely to be criss-crossing the country for the next 15 months to tend to his mounting trials and campaign events.
Go deeper: The Georgia case against Trump is loaded with breathtaking ambition
Editor's note: This story has been corrected to reflect that Trump has been charged in, and is not currently on trial in, at least seven cases.
Go deeper