5 burning questions for the first Republican debate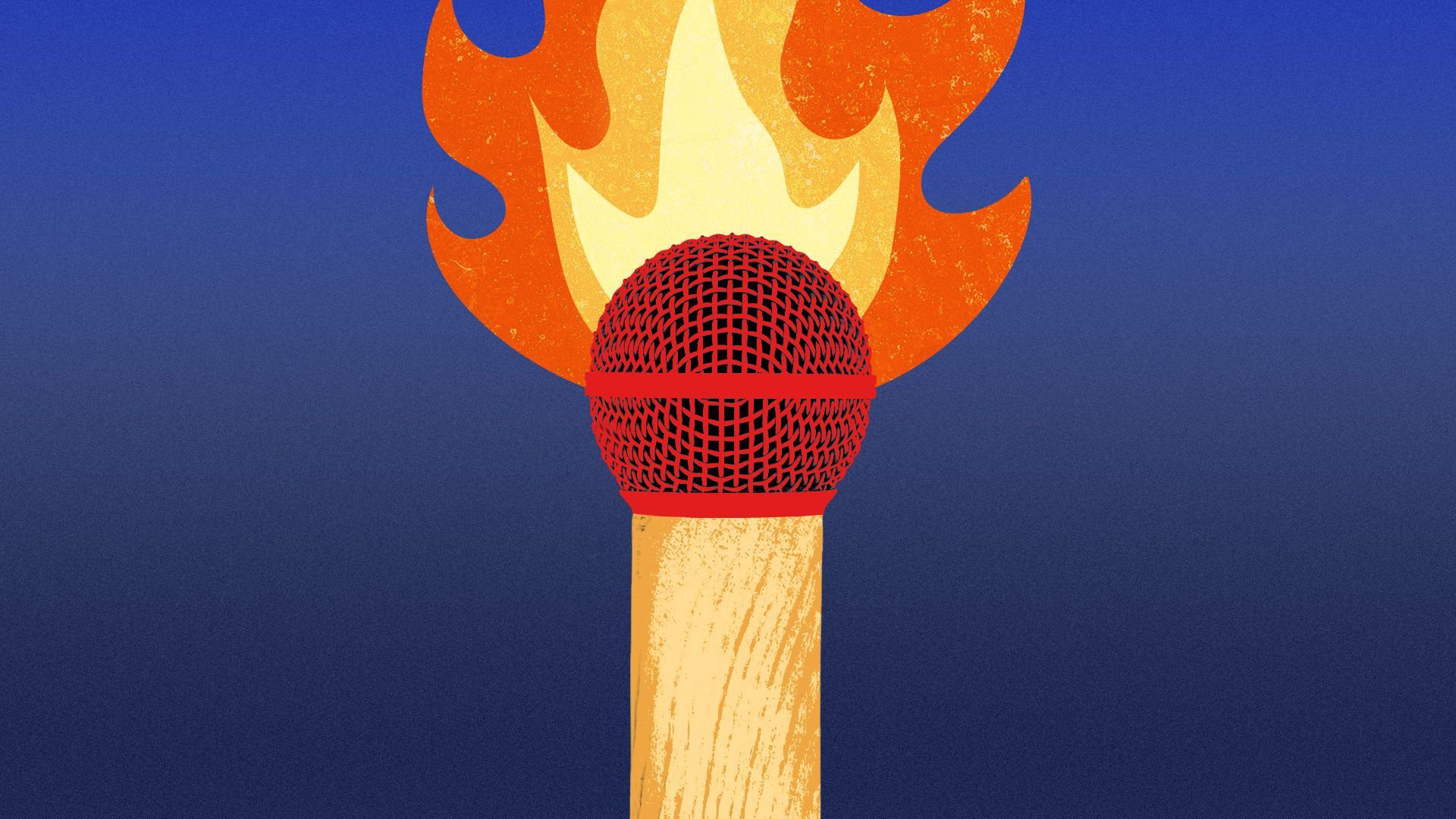 Two weeks from today, former President Trump's expected absence from the debate stage will provide at least seven Republican candidates a fleeting opportunity to be heard above the Trump megaphone that has dominated the primary.
Why it matters: Betting on a strong debate performance is virtually the only strategy Trump's rivals have at this point, given that the primary calendar's other major wild card — his indictments — has only fueled his massive lead in the polls.
That got us thinking: What questions from Fox News moderators Bret Baier and Martha MacCallum would produce the most incisive snapshot of the GOP field — separating the contenders from the pretenders in a race that seems to be barreling toward an inevitable outcome?
Zoom in: The candidates who have so far qualified for the Aug. 23 debate in Milwaukee are Trump, Florida Gov. Ron DeSantis, businessman Vivek Ramaswamy, former U.N. Ambassador Nikki Haley, Sen. Tim Scott (R-S.C.), former New Jersey Gov. Chris Christie, former Vice President Mike Pence and North Dakota Gov. Doug Burgum.
5 questions
1. Should Trump step aside if he's convicted?
Nearly half of Republicans say they would not vote for Trump in the general election if he were "convicted of a felony crime by a jury," according to a recent Reuters poll.
2. Would you sign a federal 15-week abortion ban if passed by Congress?
GOP candidates are under immense pressure from two competing flanks: influential antiabortion activists pushing federal restrictions and a 64% majority of U.S. adults who believe the Supreme Court was wrong to overturn Roe v. Wade, according to a new CNN poll.
3. Should the House impeach Biden?
House Speaker Kevin McCarthy (R-Calif.) is expected to open an impeachment inquiry this fall into Biden's alleged ties to Hunter Biden's business dealings, despite no definitive evidence of the president's wrongdoing.
4. Should the U.S. force Ukraine to give up territory to reach a peace settlement with Russia?
U.S. support for Ukraine has become perhaps the most divisive issue in today's Republican Party. The Biden administration is expected to unveil a new request for billions in emergency Ukraine funding Thursday, setting up a huge showdown in Congress.
5. Should the U.S. use lethal force at the border?
Ideas considered inhumane or impractical during the Trump administration have become mainstream GOP positions, including bombing cartels in Mexico and using deadly force against suspected drug traffickers and migrants breaking through border barriers.
What to watch: If Trump skips out, the other candidates will have to make a strategic judgment: Attack the empty lectern or turn their fire on the next man up — a struggling candidate trailing by an average of 36 points.
Go deeper