The GOP's Ukraine evolution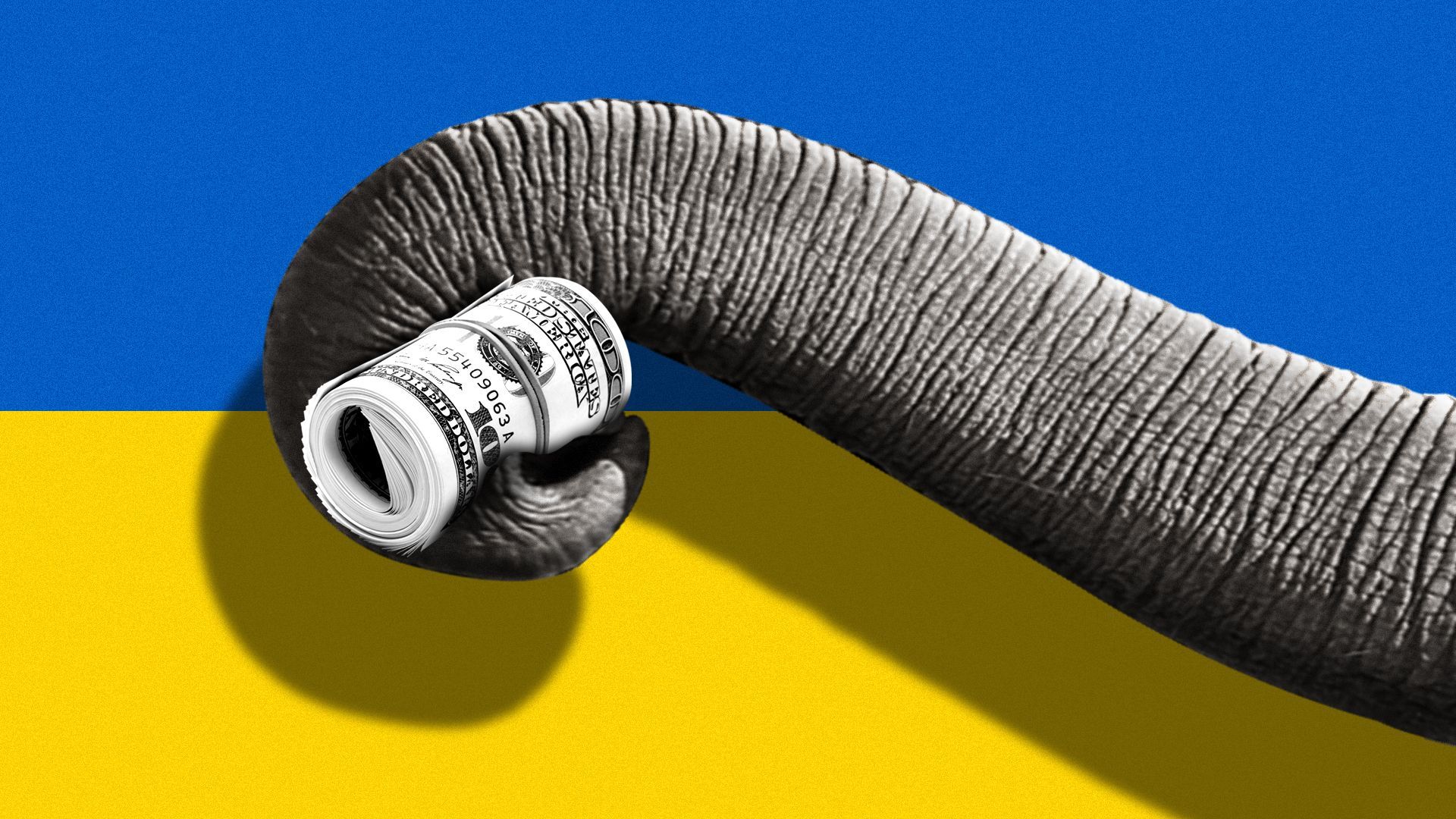 Many of the GOP's leading Senate recruits are speaking out against U.S. support for Ukraine in its fight against Russia — sounding a downright isolationist note and breaking from the views of party leaders.
Why it matters: The emerging Republican rhetoric from up-and-coming candidates on Ukraine is a signal on where the party's foreign policy views are headed.
Such skepticism of U.S. engagement is still a minority opinion among Republican elected leaders, but it is now embraced by the GOP's top two candidates for president (former President Trump and Florida Gov. Ron DeSantis).
Calling for defunding American military aid to Ukraine is becoming something of a litmus test within contested GOP primaries — a far cry from Republicans' instinctive hawkishness in the post-9/11 era.
The latest: Trump yesterday called on Republicans in Congress to "refuse to authorize a single additional shipment" of weapons to Ukraine until "the FBI, DOJ and IRS hand over" evidence in the House's Biden family investigation.
Zoom out: Former Vice President Mike Pence, who recently returned from Ukraine, was booed at an evengalical event in Iowa — moderated by former Fox News host Tucker Carlson — over his support for Ukraine's defense against Russian aggression.
Pence, a traditional conservative hawk, is now trailing entrepreneur Vivek Ramaswamy in the national primary polling average, according to FiveThirtyEight.
Ramaswamy, a virtual unknown before running, has campaigned on fully ending U.S. support for Ukraine.
Driving the news: Former Navy SEAL and businessman Tim Sheehy, the party-backed candidate challenging Sen. Jon Tester (D-Mont.), raised eyebrows in a statement issued to a local conservative radio host this month.
Sheehy called for the U.S. to end its involvement in Ukraine and "compel an immediate peaceful outcome" to the ongoing conflict.
"We are a year into this war and America has done our duty in stopping this vicious and unprovoked attack and we must now demand a settlement which ends the killing of innocent people and the unlimited supply of arms from the United States," Sheehy said.
Between the lines: That's a sharp reversal from Sheehy's position before he jumped in the race. Just last year, Sheehy wrote on his LinkedIn page: "Sweden and Finland are next? We've seen this movie before ... stop him now before the price tag for putting [Russian President Vladimir] Putin down will be a lot higher," he wrote.
Sheehy faces the possibility of a primary challenge against Rep. Matt Rosendale (R-Mont.), an outspoken isolationist in the House who introduced legislation prohibiting further aid to Ukraine until America's southern border is secured.
Go deeper: Sam Brown, the party's favored candidate in the Nevada Senate race, is a decorated military veteran whose injuries in Afghanistan have turned him deeply skeptical of American military engagement abroad.
"At a time where there's so much domestic unease on so many issues, the media and our politicians want to turn our eyes to places like Ukraine or Afghanistan," Brown said during his unsuccessful 2022 Senate campaign, according to reporting from Jewish Insider.
Brown went on: "Less than one year after pulling out of Afghanistan in such a disastrous, horrific way, we have war hawks out of D.C. trying to push us into another conflict."
Zoom in: Businessman Bernie Moreno, running in a competitive Ohio Senate primary, also sounded a skeptical note on Ukraine funding in a recent interview with Breitbart News.
"We spent [trillions] in the Middle East since 9/11, and what did we get for it? Nothing. Everything is objectively worse. So we can't allow that to happen in Eastern Europe," Moreno said.
As a Senate candidate in 2022, Moreno expressed frequent criticism toward the Biden White House for its support of Ukraine. "[Biden] and the media obsess over the territorial integrity of Ukraine, and ignore the invasion at our border," Moreno wrote in January 2022.
Moreno is the fundraising leader in a competitive three-way primary for the GOP nomination in the race against Sen. Sherrod Brown (D-Ohio). He was endorsed by Sen. J.D. Vance (R-Ohio), one of the Senate's leading critics of Ukraine aid.
Both Ohio Secretary of State Frank LaRose and state Sen. Matt Dolan — Moreno's primary opponents — have expressed unequivocal support for Ukraine in its efforts to fend off Russian aggression.
By the numbers: A June Pew Research poll found 44% of Republican or GOP-leaning voters believe the U.S. is providing too much aid to Ukraine, while just 34% believe it's "about right" or "not enough." That's the highest level of GOP skepticism for Ukraine aid since the war began.
Overall, only 28% of Americans believe the U.S. is giving too much aid to Ukraine — a relatively small minority of voters.
70 House Republicans voted last month to prohibit all Ukraine security aid, while 89 voted in favor of cutting $300 million in Ukraine funding in amendments to the defense authorization bill.
The bottom line: Republican leadership is still solidly behind supporting Ukraine, but the grassroots of the party are moving in the opposite direction.
If that trend continues, expect more newly elected Republicans to sound more like Vance and Trump than Pence.
Go deeper