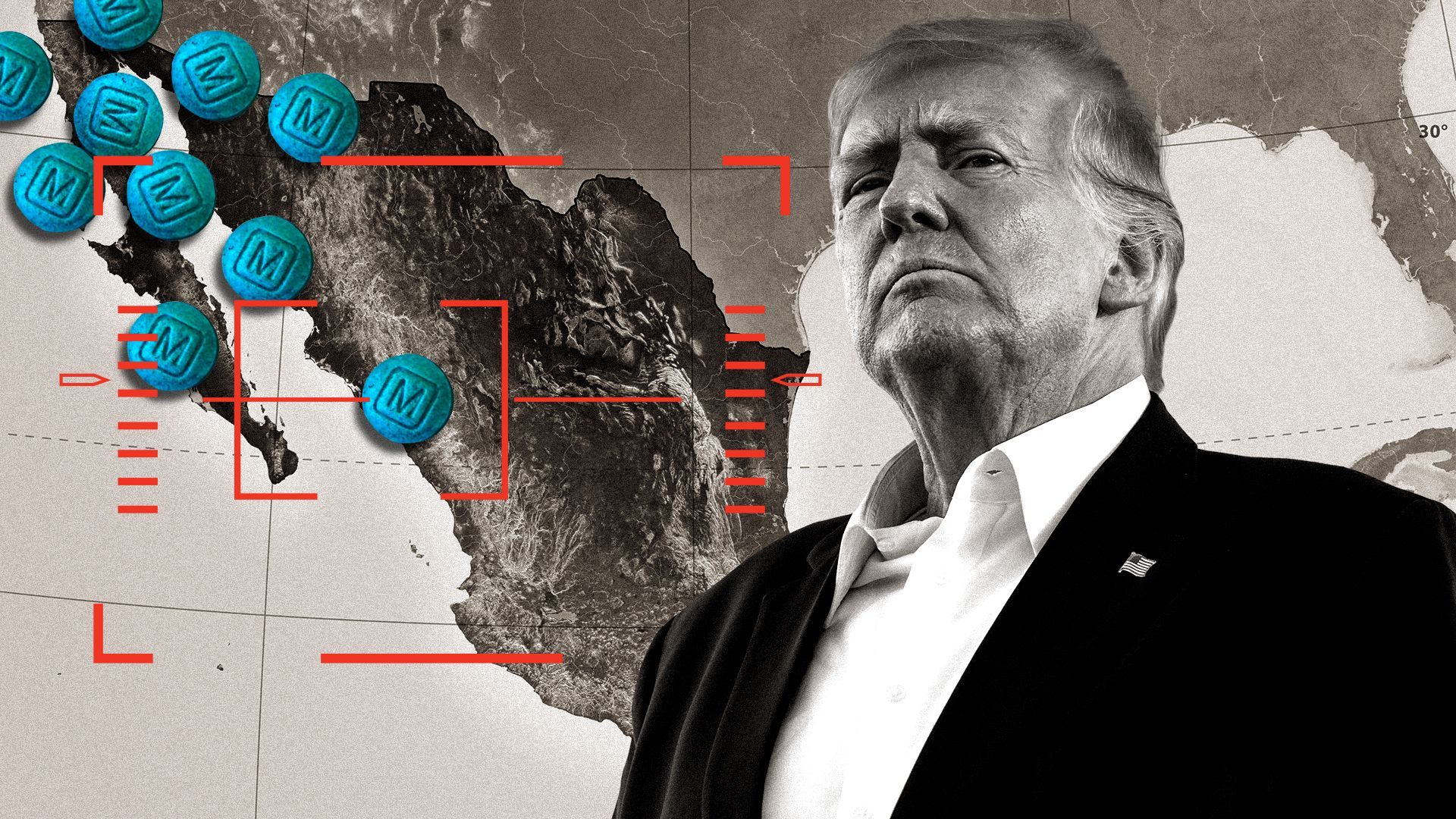 Leading Republicans across the ideological spectrum are rallying behind an aggressive and controversial new approach to the fentanyl crisis: Bomb the cartels, with or without the permission of the Mexican government.
Why it matters: The once-fringe idea, championed in private by former President Trump, is becoming a mainstream policy priority within the GOP — including among congressional Republicans and 2024 presidential candidates.
Context: Republicans see fentanyl and other opioids as the biggest threat to Americans' public health, according to a recent Axios-Ipsos poll.
The Drug Enforcement Administration has called fentanyl "the single deadliest drug threat our nation has ever encountered."
14,000 pounds of fentanyl were seized at the U.S.-Mexico border last fiscal year — nearly all at legal entry points as opposed to trafficking by migrants or asylum seekers crossing illegally.
Driving the news: As he develops his platform for a potential second term, Trump and his advisers have discussed options for military action against the cartels that include unilateral strikes and deploying troops on Mexican soil, Rolling Stone reports.
Trump has been briefed on one policy paper by a MAGA-aligned think tank — first reported by Axios last year — that proposes a formal declaration of war against the cartels in response to "the mounting bodies of dead Americans from fentanyl poisonings."
The paper was written by former Trump immigration official Ken Cuccinelli, who now leads a super PAC dedicated to supporting Florida Gov. Ron DeSantis' potential presidential campaign.
Two other GOP candidates currently in the race have laid out similar proposals in recent weeks:
Zoom in: The Republicans who have introduced legislation to attack the cartels or designate them as foreign terrorists span the full range of the fractious congressional party.
Rep. Tony Gonzales (R-Texas), who has clashed with other Republicans over their hawkish immigration proposals, is actively pushing to label cartels as terrorist organizations as part of an expected GOP border security package.
Gonzales told Axios he does not envision "sending in the Marines and sending in SEAL Team Six and launching Tomahawk missiles," but sees an opportunity to improve intelligence gathering.
What they're saying: "If cartels are labeled as terrorist organizations, you can go after their money. You go after an organization's money, and you watch how fast it'll crumble," said Gonzales, who is also a co-sponsor of Rep. Dan Crenshaw's (R-Texas) bill authorizing the use of military force (AUMF) against the cartels.
Far-right Rep. Marjorie Taylor Greene (R-Ga.) said recently: "I can't understand why we're fighting a war in Ukraine, and we're not bombing the Mexican cartels who are poisoning Americans every single day."
Sens. Lindsey Graham (R-S.C.) grilled Homeland Security Secretary Alejandro Mayorkas at a hearing last week on why the U.S. is not doing more to destroy the cartels: "Quite frankly, we need to take the gloves off. They're at war with us, we need to be at war with them."
The other side: There is no indication that the Biden administration would consider military action, though officials like Attorney General Merrick Garland have acknowledged Mexico could be doing more to combat fentanyl trafficking.
Even moderate border Democrat Rep. Henry Cuellar of Texas told Axios he opposes military strikes in Mexico or labeling those in cartels terrorists — calling the ideas "unrealistic."
"It sounds good, but it's not real," Cuellar said, raising concerns about the impact such a move would have on trade and whether migrants who have paid smugglers would end up being charged with "aiding and abetting" terrorists.
"If my colleagues were serious about addressing the cartels, they would start with addressing guns here in America," said Rep. Veronica Escobar (D-Texas), adding that cartels "are able to outgun Mexican local law enforcement because of American guns."
Mexican President Andres Manuel Lopez Obrador has reacted furiously to the aggressive rhetoric from Republicans, denying that Mexico produces fentanyl and blaming the crisis on the "disintegration of families" and "lack of love" in the U.S.
Go deeper