AI boosts tech firms' talking points more than bottom line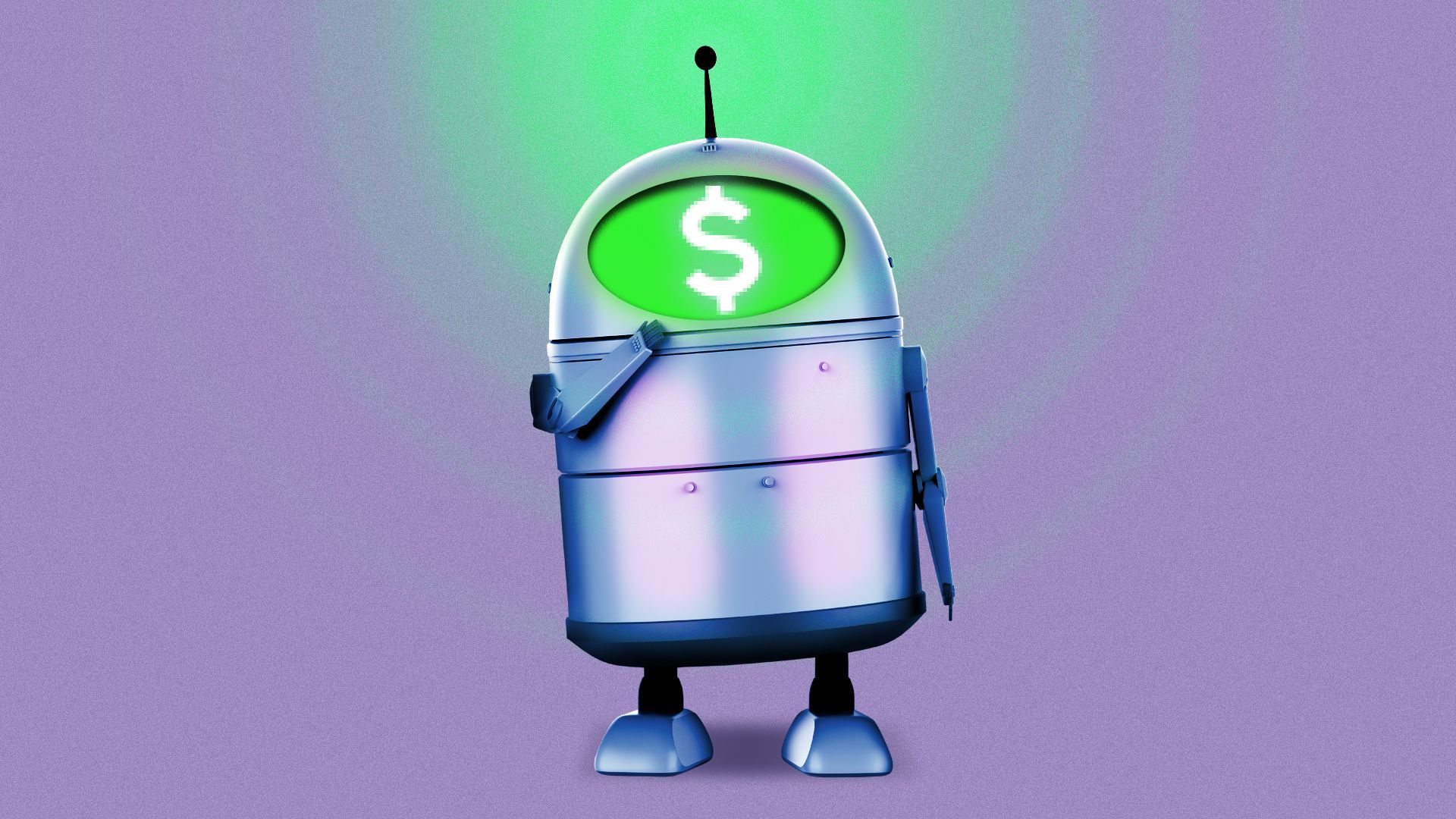 Generative AI may be the talk of tech, but it has yet to significantly reshape the industry's economics, as the most recent earnings reports show.
Why it matters: After a grueling year and a half of layoffs and retrenching, Big Tech has yet to present Wall Street with a return to blockbuster numbers — but AI has given the industry a big fuzzy growth story, and sometimes the market finds that even more thrilling.
The big picture: AI was a talking point during earnings for all the major tech companies — Amazon, Apple, Alphabet, Meta and Microsoft. But its impact varies.
Other factors largely determined whether companies met growth targets.
For Apple, for example, it was record revenue from its services business that helped the company top earnings expectations, despite a dip in revenue from the iPhone.
Here's what each company had to say about the impact of AI on its business:
Apple
CEO Tim Cook noted Monday that AI has helped power a number of new aspects of recent iOS releases, ranging from live voicemail to health features such as fall and crash detection.
"We're going to continue investing and innovating and responsibly advancing our products with these technologies, with the goal of enriching people's lives," Cook said. "And as you know, we tend to announce things as they come to market and that's our M.O. and I'd like to stick to that."
Alphabet
Google's parent company discussed a number of efforts to incorporate generative AI into its search business, including in advertising, but didn't have any concrete details on the financial impact such a shift could have. Google faces significant risk if the shift to generative AI leads others to gain search share or affects the amount of revenue Google gets from ads.
Google's cloud business, like that of larger rivals Microsoft and Amazon, does stands to benefit directly from the generative AI boom. Google said on its earnings call that more than 70% of the generative AI unicorns are Google Cloud customers, including Cohere, Jasper and Typeface. It added that the total number of generative AI customers has grown 15-fold from April to June.
Alphabet also used its earnings call to say that it will incorporate generative AI into this fall's Android release and notified employees this week that it is reorganizing its Google Assistant efforts to focus on generative AI, as Axios first reported.
Amazon
CEO Andy Jassy, on the Amazon earnings call Thursday, credited AI with helping boost the company's Amazon Web services results last quarter.
"We think AWS is poised to be customers' long term partner of choice in generative AI," he said, adding that "every single one" of Amazon's businesses has "multiple generative AI initiatives' to help the company become "more cost effective and streamlined."
As we reported last week, Amazon is also looking to overhaul its Alexa personal assistant using generative AI.
Meta
Facebook's parent company said that it has spent billions of dollars on AI infrastructure in recent years, and those investments have started to pay off — with recommendations that are improving the amount of time users spend on its sites.
"AI-recommended content from accounts you don't follow is now the fastest growing category of content on Facebook's feed," CEO Mark Zuckerberg said on its earnings call. "Since introducing these recommendations, they have driven a 7% increase in overall time spent on the platform."
Meta recently released the Llama 2 large language model for free commercial use and said it is using the engine to build its own consumer features.
"I'm going to share more details later this year, but you can imagine lots of ways AI could help people connect and express themselves in our apps: creative tools that make it easier and more fun to share content, agents that act as assistants, coaches, or that can help you interact with businesses and creators, and more," Zuckerberg said.
Microsoft
Microsoft credited AI with helping boost its overall cloud business during the quarter.
It has also announced plans for a range of AI-driven "copilots" that will accompany Windows as well as many of its key software programs. It plans to charge $30 per user per month for the copilot that works with Office apps including Word, Excel and PowerPoint.
However, CFO Amy Hood urged analysts to temper their enthusiasm with an understanding that adoption will take time. "Even with strong demand and a leadership position, growth from our AI services will be gradual as Azure AI scales and our copilots reach general availability dates," Hood said.
Go deeper