Layoffs are tech's new normal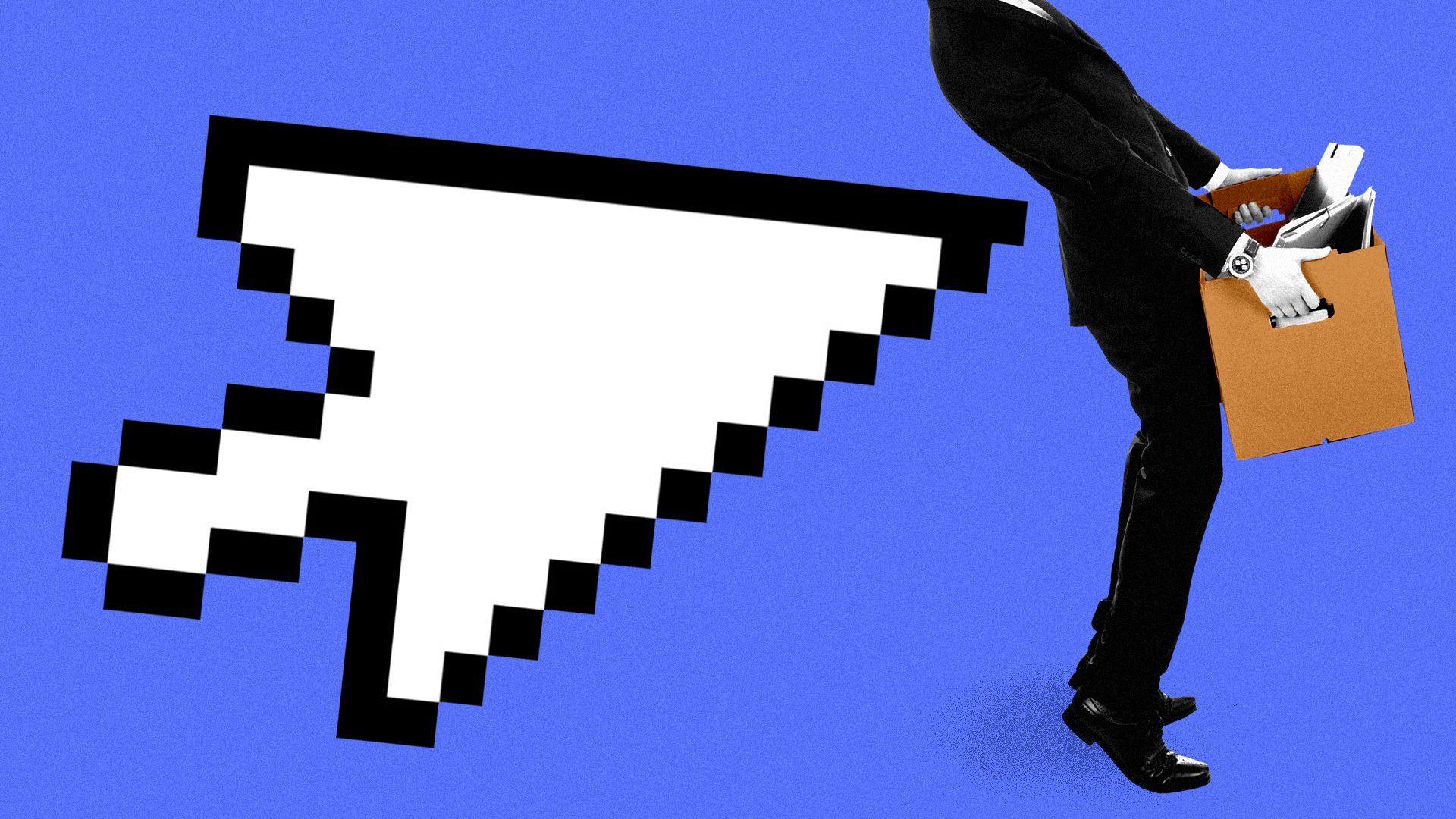 The wave of layoffs in tech that continued to mount this week has felt like a shocking and sharp turnabout for an industry that stood on top of the world just a year ago.
Be smart: Tech was never immune from forces in the broader economy, and Silicon Valley has always followed a boom-bust rhythm. But the most recent boom ran so long, many forgot it would have to end someday.
Driving the news: Amazon said Wednesday it will cut a total of 18,000 jobs, including some announced last year as well as new reductions to its retail and HR teams, among others.
The big picture: Tech's reputation for driving economic growth has always been founded on its ability to deliver productivity gains.
The industry also grew by grabbing market share from a host of consumer and business segments that have moved from analog to digital.
The financial crisis of 2008-9 ushered in an easy-money era in which zero interest rates pushed seas of capital into tech.
The pandemic's arrival brought some sectors to a standstill — but strengthened tech firms, who saw demand spike.
"It's been a more than decade-long party," said Margaret O'Mara, a University of Washington professor who studies the history of the technology industry. "It's just extraordinary how long this boom has been."
There was an assumption, O'Mara says, that pandemic-related behavior changes, such as the shift to remote work and buying groceries online, would just continue.
That led many tech companies to go on a hiring spree during the pandemic. The parent companies of both Facebook and Google, for example, grew more than 20 percent last year, while other large tech companies have doubled since before the pandemic.
Then inflation hit, the Fed raised interest rates and the economy softened dramatically — just as many people were returning to pre-pandemic methods of working and shopping. Tech, for all its vast scale and high profit margins, was never going to be immune from that kind of shift.
Online advertising has been hit particularly hard, with Google, Meta, Microsoft and others all noting a pronounced slowdown beginning mid-2022. Many tech companies started by slowing or freezing hiring, but shifted quickly to layoffs once the broader downturn was clear.
The chip sector, whose products had been in short supply, is now having to deal with a glut.
What they're saying: "The next two years are probably going to be the most challenging," Microsoft CEO Satya Nadella said this week.
Yes, but: This isn't the dot-com bust, especially for the biggest companies. While the job cuts are significant, large tech companies are still vital to the economy and they are still making lots of money.
The layoff numbers suggest retrenchment rather than collapse. There are outliers — like Elon Musk's debt-saddled Twitter, which has shed roughly two-thirds of its 7000+ employees — but the most common cutbacks have been in the 10% range.
"They are right-sizing to some degree," O'Mara said. "In a way the pandemic might have delayed a reset that was coming."
What's next: Layoffs are likely to continue as companies that have yet to pare back staff feel compelled to do so — whether to boost profits and please investors, to keep their cost structure competitive with rivals, or to adjust to reduced demand at a time when everyone seems to be cutting back at the same time.
Go deeper:
Go deeper