Schiff's Senate campaign reports fundraising windfall after GOP censure vote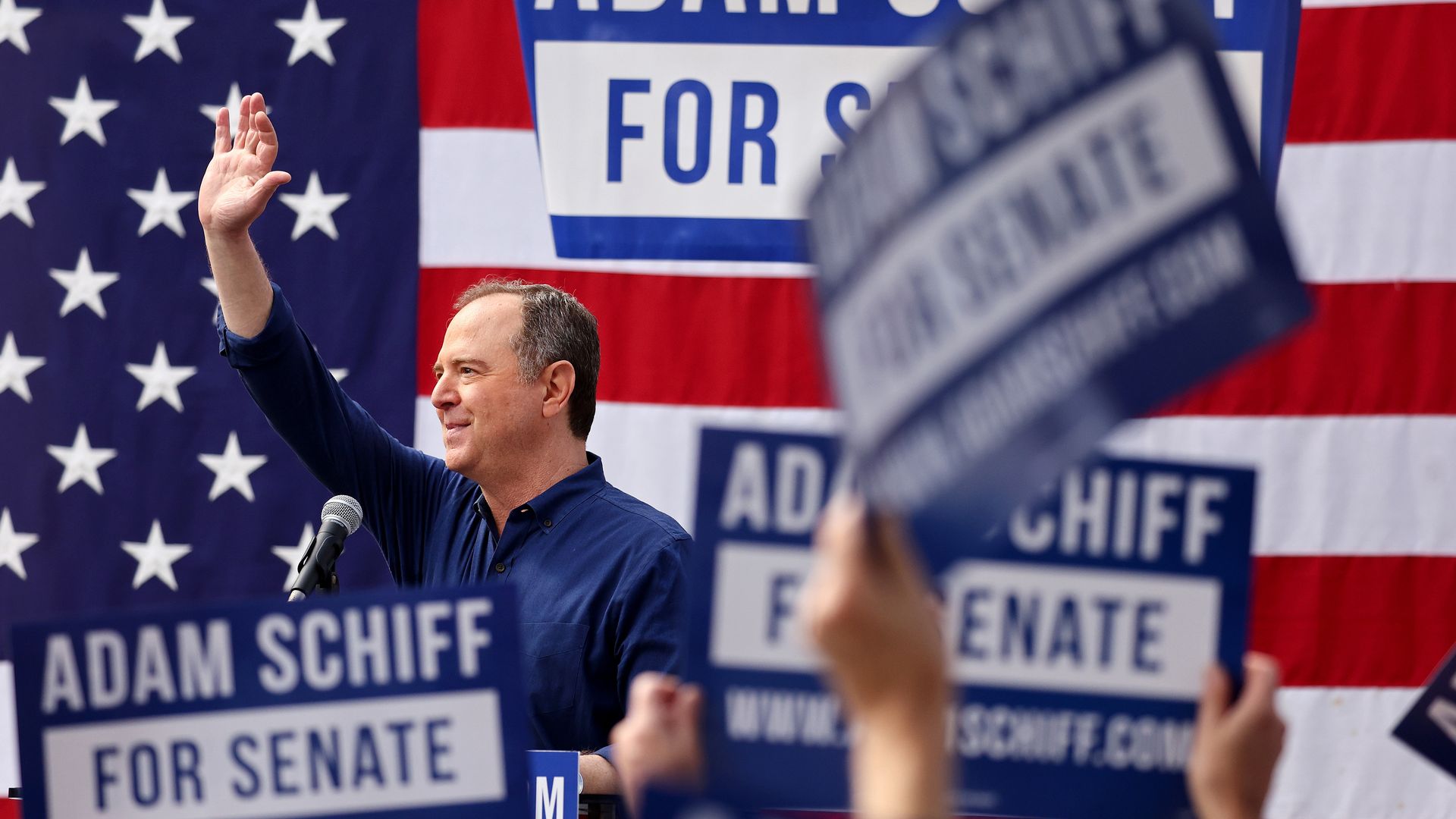 Rep. Adam Schiff (D-Calif.) 0n Wednesday announced a massive fundraising haul for his U.S. Senate campaign between April and June.
Why it matters: The already prolific fundraiser used the highly publicized, successful Republican effort to censure him last month as fundraising fodder.
Schiff's campaign said it raised $8.1 million in the second quarter of 2023, bringing its total cash-on-hand to $29.5 million.
It's the most raised by a Democratic Senate candidate in the second quarter of an off-year, a campaign spokesperson said, outpacing Sen. Raphael Warnock's (D-Ga.) $7.2 million haul in the second quarter of 2021.
It's also more than some incumbent, swing-state senators reported raising this quarter: Sen. Tammy Baldwin (D-Wisc.) raised $3.2 million, and Bob Casey (D-Pa.) brought in $4 million.
The backdrop: Rep. Anna Paulina Luna (R-Fla.) last month forced votes on a resolution censuring Schiff, the former House Intelligence Committee chair, over his allegations about ties between former President Trump and Russia.
The first vote, which would have included a $16 million fine, failed after 20 House Republicans voted against it, but the resolution passed a week later without the fine.
Schiff received considerable solidarity from his Democratic colleagues, who heckled House Speaker Kevin McCarthy (R-Calif.) as he attempted to read out the resolution.
The censure has since featured prominently in many of Schiff's fundraising appeals.
"This month, we saw how far MAGA Republicans are willing to go to silence me," reads one fundraising email from his campaign last Thursday. "The censure vote in the House was a partisan effort to intimidate me[.]"
State of play: Schiff's two main rivals for the seat, which is being vacated by retiring Sen. Dianne Feinstein (D-Calif.), are fellow Reps. Katie Porter (D-Calif.) and Barbara Lee (D-Calif.).
Neither had reported their second quarter fundraising as of Wednesday, but Porter's campaign reported raising $4.5 million last quarter and $9.5 million in cash-on-hand.
Go deeper