House votes to censure Trump antagonist Adam Schiff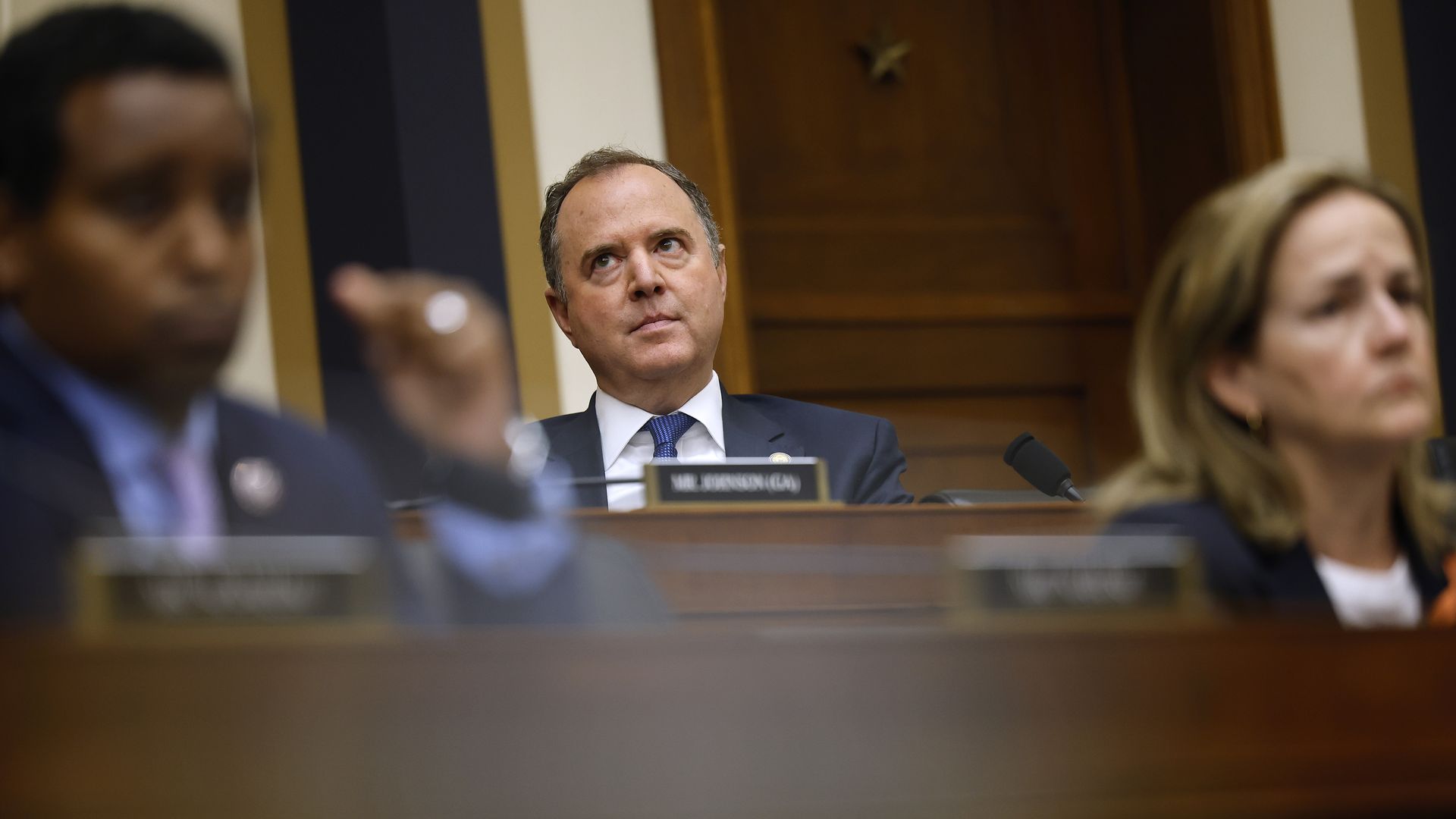 The House on Wednesday voted largely along party lines to pass a Republican measure censuring Rep. Adam Schiff (D-Calif.).
Why it matters: It's a significant rebuke of a vocal Trump critic by the House Republican majority.
Driving the news: The House voted 213-209 to pass the resolution, which cites the former House Intelligence Committee chair's allegations of ties between Trump and Russia.
Most Republicans voted for the resolution, while all Democrats voted against it.
The five Republican members of the House Ethics Committee, as well as Rep. Ken Buck, voted "present" on the measure.
A censure is a severe condemnation over violations of the House's rules or behavioral code that don't rise to the level of expulsion.
The intrigue: As House Speaker Kevin McCarthy (R-Calif.) tried to read out the resolution, House Democrats, gathered on the floor in solidarity with Schiff, repeatedly shouted him down.
They chanted "shame!" and cheered Schiff, jeering at McCarthy as a "spiteful coward" and "weak." Rep. Alexandria Ocasio-Cortez (D-N.Y.) calling for him to be ousted.
One Republican shouted back, "Jack***es!"
The backdrop: The measure, introduced by Rep. Anna Paulina Luna (R-Fla.), initially included a $16 million fine, which spurred 20 Republicans to vote with Democrats last week to kill it.
Luna removed the fine this week in order to make the measure more palatable to her colleagues, clearing the way for it to pass.
The measure also directs the Ethics Committee to open an investigation into Schiff.
What they're saying: Asked what she expects the Ethics Committee to uncover, Luna told Axios, "They have a good start with what Durham discovered," referring to the special counsel's criticism of the FBI's Trump-Russia probe.
"I think the fact is he exploited his position, he had access to classified information that not even I have or other members of Congress have," she said.
The other side: Schiff said in a floor speech, "To my Republican colleagues who introduced this resolution, I thank you. You honor me with your enmity. You flatter me with this falsehood."
Former House Speaker Nancy Pelosi (D-Calif.), a close ally of Schiff, called the vote a "puppet show" and Trump the "puppeteer." Turning to Luna, she added: "You look miserable. You look miserable."
Go deeper