First look: New fund for food-insecure Americans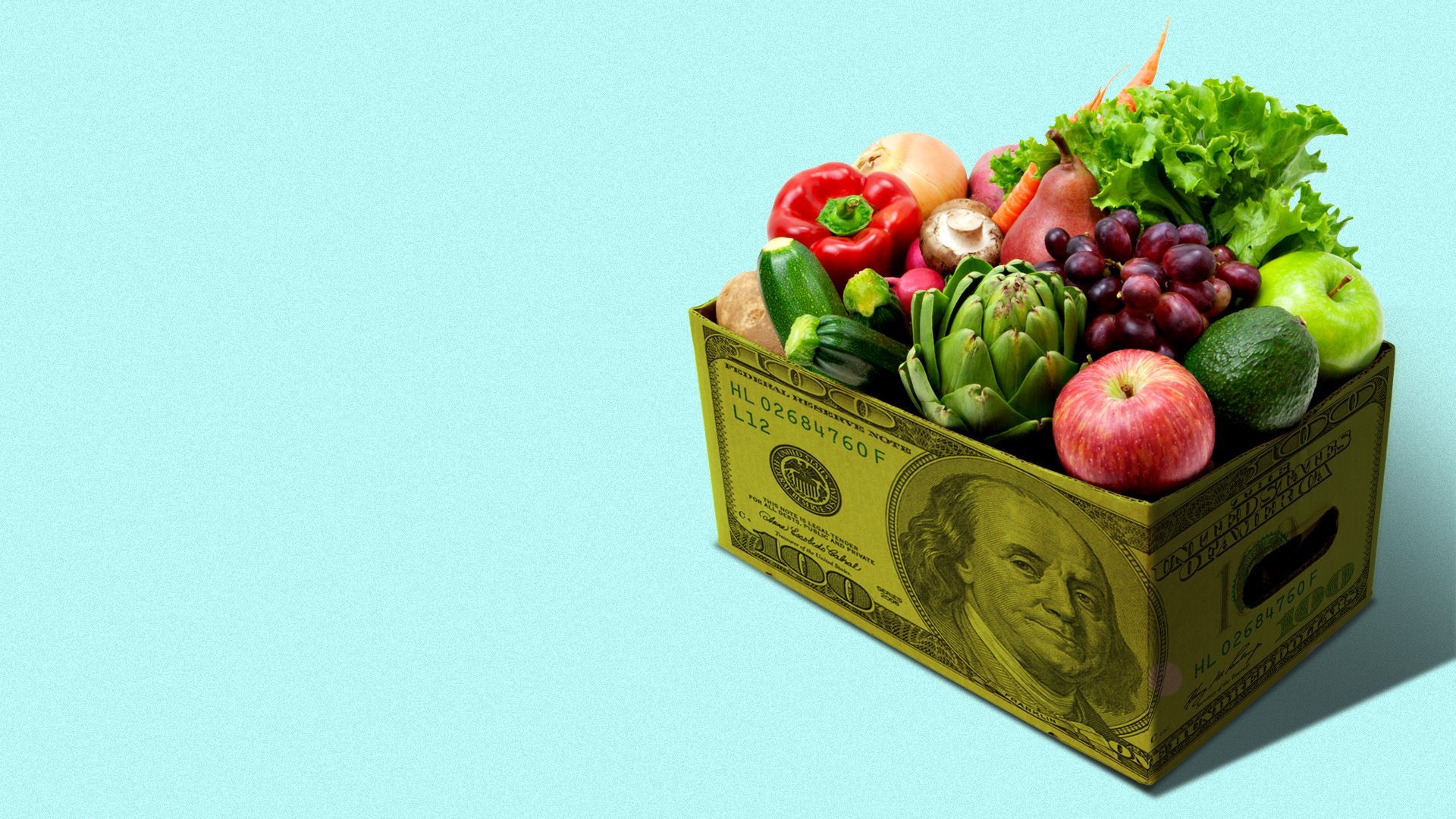 FarmboxRx, a food delivery company, is launching a fund to help lessen the financial toll of bygone pandemic-era benefits on food-insecure U.S. households.
Why it matters: While Congress tightens the rules for federal nutrition programs and consumers face spiking global food costs, the private sector is producing new answers to America's food insecurity crisis.
How it works: Feed by FarmboxRx, a program designed to supply healthy food to people affected by cuts to SNAP expanded benefits, will send participants free monthly food boxes delivered to their doorstep.
Each applicant will receive 10-15 pounds of fresh produce and a week's supply of shelf-stable nutritious pantry goods in their box, which will ship at the end of each month, when SNAP dollars tend to run out.
Organizers tell Axios Feed by FarmboxRx is open to Americans actively enrolled in SNAP who live in one of the 32 states that were affected this year by the end of enhanced food stamp allotments.
The new program is accepting a maximum of 200 participants in its 60-day application window and currently slated to run for six months. (As of Tuesday, you can apply through an online portal.)
What they're saying: "The private sector is coming forward," FarmboxRx CEO Ashley Tyrner tells Axios. "And they have to. This is something that the government has not been able to tackle fully on their own."
Program costs are being fully covered by FarmboxRx, Tyrner notes, while future iterations of it might be incorporated into partnerships with community-based organizations and nonprofits.
Meanwhile: Although the USDA won't release its official data until later this year, it's likely that food insecurity rates are on the upswing, according to Hilary Seligman, a professor of medicine at the University of California, San Francisco who specializes in food insecurity.
That's because of a "perfect storm" of food inflation and lapsing COVID-era benefits, Seligman tells Axios.
She says food-insecure people face higher risk of preventable health conditions — meaning higher health care expenditures through Medicare, Medicaid and private insurers.
"Are we saving money by pushing people off the SNAP rolls? It's very likely we're not, because those costs are going to come back to us through the health care system instead," says Seligman.
The latest: Funding for federal nutrition programs like SNAP continues to draw congressional scrutiny ahead of the farm bill's reauthorization, while also serving a major talking point in the debt ceiling deal's SNAP work requirements.
Between the lines: The deal introduced expanded work requirements that impact the age cap for able-bodied adults without dependents.
Yes, but: The Congressional Budget Office projects the number of Americans on food stamps will increase slightly due to age-restricted exemptions also included in the agreement for veterans, the unhoused and some adults formerly in foster-care.
Zoom in: Tyrner, who over a decade ago was a single mother living in a food desert reliant on SNAP, tells Axios she has "a lot of concerns" about the new work requirements, which anti-hunger activists have deemed problematic.
"Where does that stop?" says Tyrner, noting that she's worried that the "next requirement" could lead to restrictions on the type of food SNAP recipients can purchase.
Iowa House Republicans unsuccessfully attempted to introduce this type of regulation early this year.
The bottom line: "If you live in a rural area, and there's no job available, do you go hungry because you don't check off a box?"
Go deeper