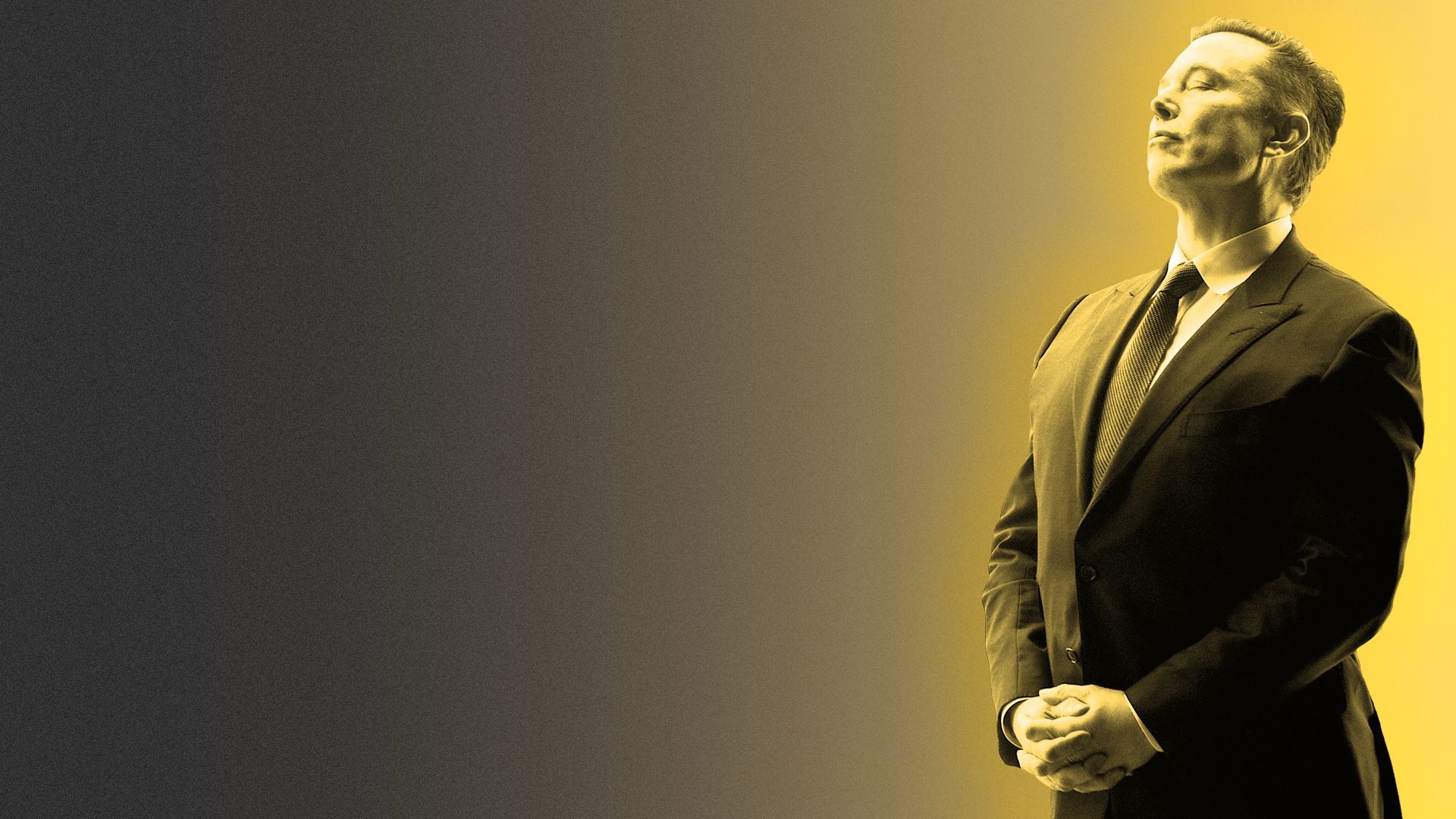 Elon Musk has displaced Rupert Murdoch and Fox News as the king of conservative media in recent weeks.
Why it matters: Fox News used to be the place where conservatives went to break news. But the right-wing ecosystem has turned on the network, leaving Twitter as the center of media gravity for the Republican Party just as the 2024 election heats up.
Consider that it's been exactly one month since Fox fired Tucker Carlson and in that short period of time:
Fox's ratings have sunk in the 8 p.m. hour as viewers flock to rival Newsmax.
Tucker Carlson announced plans to bring a "new version" of his old Fox News show to Twitter, while arguing, " the news you consume is a lie."
Ben Shapiro's conservative media company The Daily Wire told Axios it plans to put its entire slate of podcasts, which are almost all recorded as videos, on Twitter beginning May 30.
The biggest blow to Fox is coming Wednesday night, when Florida Gov. Ron DeSantis (R) is expected to announce his 2024 presidential campaign during a Twitter Spaces event with Elon Musk.
Yes, but: What Fox will conduct what it says will be DeSantis' "first national TV interview following the announcement" with Trey Gowdy (the former Republican congressman from South Carolina, who's now a Fox host) in Carlson's old slot of 8 p.m. ET, now branded "Fox News Tonight."
Be smart: In choosing to bypass Fox News for Twitter, DeSantis is sending a signal to conservatives that Fox News is just as much a part of the mainstream media as CNN or any other news network.
Between the lines: Conservatives aren't just defecting to Twitter — they are throwing grenades at Fox News along the way.
On Monday, The Daily Signal — a conservative publication owned by the Heritage Foundation — published a report based on a leak from a 2021 Fox News employee handbook that said employees are allowed to use bathrooms aligned with the gender they associate with.
That leak sparked outrage from right-wing voices, including one of The Daily Wire's most popular podcasters, Matt Walsh, who said on Twitter, "Fox News is fully woke on trans ideology." Now that Tucker Carlson's gone, "there's no stopping Fox's march leftward," he added.
A FOX News spokesperson said, "FOX News Media is compliant with all Human Rights laws mandated by the cities and states in which we operate, including New York and California."
Carlson is preparing to unleash allies to attack Fox News in an effort to bully the network into letting him out of his contract, Axios' Mike Allen reported. Already, some allies, such as Megyn Kelly and Brett Favre, have been publicly railing against Fox News in its legal battle with Carlson.
"The old system is collapsing," Carlson told Axios. "You can't claim you've got a democracy if all the information voters receive before a presidential election has been curated by the people already in charge."
Zoom out: While Elon Musk has said that he plans to vote Republican, it's unclear which candidate, if any, he would support.
Musk said last year that he would back for DeSantis if he runs for president, but then praised Sen. Tim Scott (R-S.C.) for his latest campaign ad last week.
Fox News had been trying to move away from Donald Trump, but it did grant him a primetime interview with Carlson. That was shortly before it fired Carlson in the wake of its $757 million defamation settlement with Dominion Voting Systems.
By the numbers: Fox News is still by far the highest-rated cable news network in America, averaging at least 1.5 million viewers per night in prime time. But cable news is rapidly declining. Today, only 66 million U.S. households pay for a cable subscription.
Because Twitter is a private company, public data is no longer available about its operations, but third-party estimates suggest its monthly active user base in the U.S. will be roughly 55 million this year.
While it's impossible to compare audience figures from television to social media, research suggests more Americans are leaning into personalities over institutional media brands to get their news.
The most popular public individual that Americans follow for news is Tucker Carlson, according to a new Gallup survey out Tuesday.
The big picture: DeSantis isn't the only presidential contender to use social media as a part of his official campaign kickoff, but will likely be the first candidate to announce his campaign for presidency alongside a tech mogul in a social media interview.
Nearly every candidate in the past decade has launched a social media campaign in conjunction with their official announcement. Some, like Barack Obama in 2012, have launched their campaigns online online.
What to watch: Former president Trump has not engaged with the current conservative frenzy on Twitter — he has cited his loyalty to Truth Social, the fledgling Twitter rival he set up after Twitter shut down his account.
While Musk has revived Trump's account, the former president has yet to tweet any content, despite posting on YouTube and Facebook.
Editor's note: This article has been updated with additional comment from Fox and to note Fox's interview with DeSantis.
Go deeper: Ron DeSantis releases video declaring 2024 candidacy
Go deeper