Tucker Carlson out at Fox News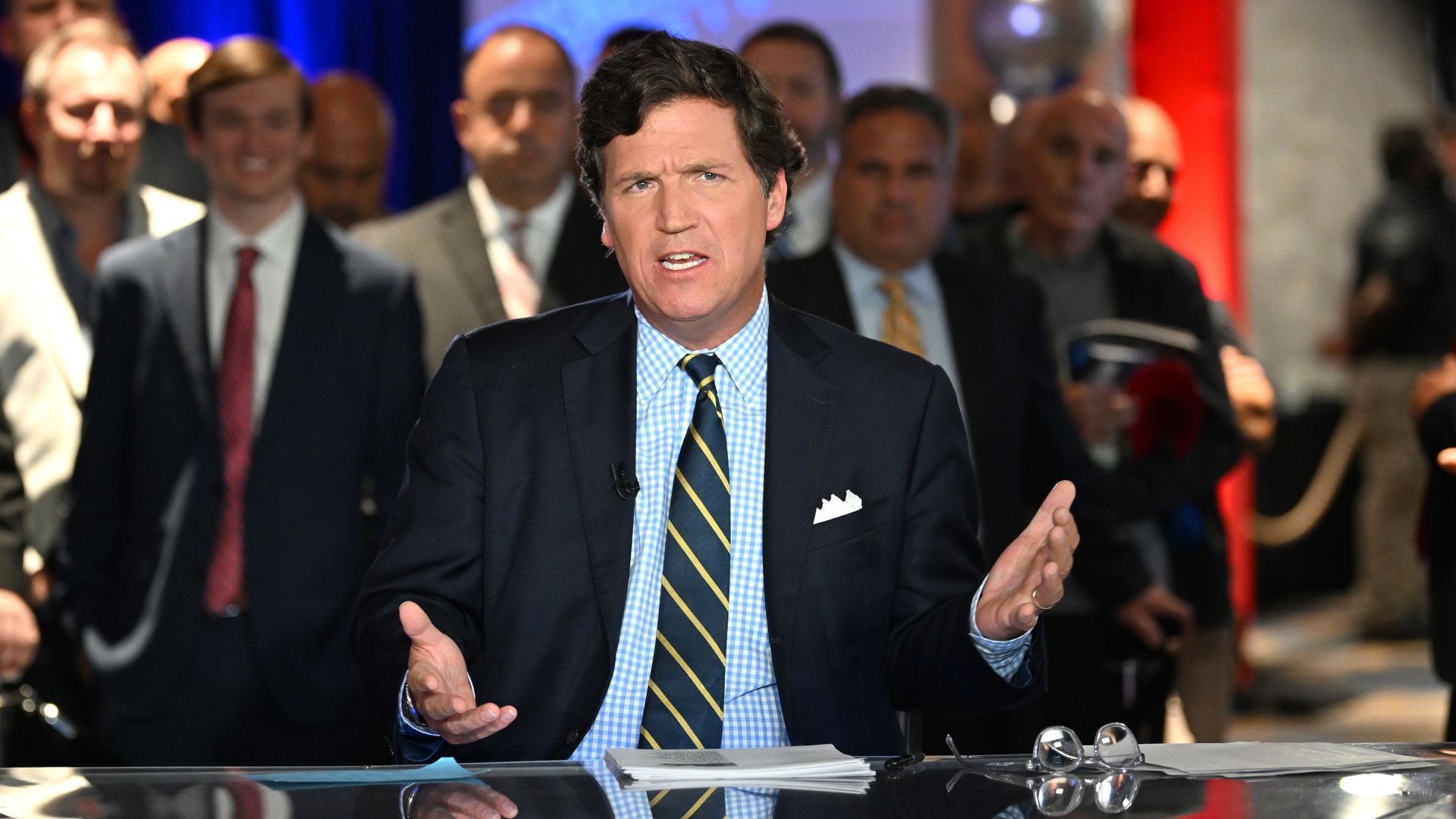 Fox News on Monday said the network and its star primetime host Tucker Carlson "have agreed to part ways," after more than a decade.
Driving the news: Carlson's last program was Friday April 21st, Fox News said, meaning he did not get a chance to sign off to his viewers.
Why it matters: The news comes days after Fox News reached a historic 11th hour settlement with Dominion Voting Systems for over $787 million.
Be smart: A source familiar with the situation told Axios that the firing was not part of the settlement agreement.
The decision to fire Carlson was made Friday night by Fox Corporation CEO Lachlan Murdoch and Fox News CEO Suzanne Scott.
A slew of material was uncovered during pre-trial discovery that implicated Carlson. More information could be out there that could be legally damaging for Fox as it stares down more defamation cases.
A former Fox News producer Abby Grossberg, who is suing the network for allegedly trying to manipulate her testimony during pre-trial discovery for the Dominion case, said in a legal filing just before the trial that there were Fox News tapes showing Rudy Giuliani and other Trump allies admitting they had no evidence to support their claims about Dominion election fraud.
In private text messages with other Fox News hosts, Carlson pressed to get a fellow Fox News reporter fired for accurately fact-checking a tweet from Donald Trump that praised Fox News' coverage about the voting machines and referenced Dominion Voting Systems.
Carlson did not immediately respond to an Axios request for comment.
Details: "Fox News Tonight will air live at 8 PM/ET starting this evening as an interim show helmed by rotating FOX News personalities until a new host is named," Fox News said in a statement.
The network said it thanked Carlson "for his service to the network as a host and prior to that as a contributor."
Asked whether the firing was a part of the settlement last week, Dominion spokesperson said "Nothing from us on that right now."
On Monday, shortly after the news was announced, Fox News host Harris Faulkner confirmed the changes.
"We have some News from within our Fox family. Fox News media and Tucker Carlson have mutually agreed to part ways," she said.
"We want to thank Tucker Carlson for his service to the network, as host and prior to that as a long-term contributor."
Editor's note: This is a breaking story and will be updated.
Go deeper