Fox's historic defamation settlement is just the beginning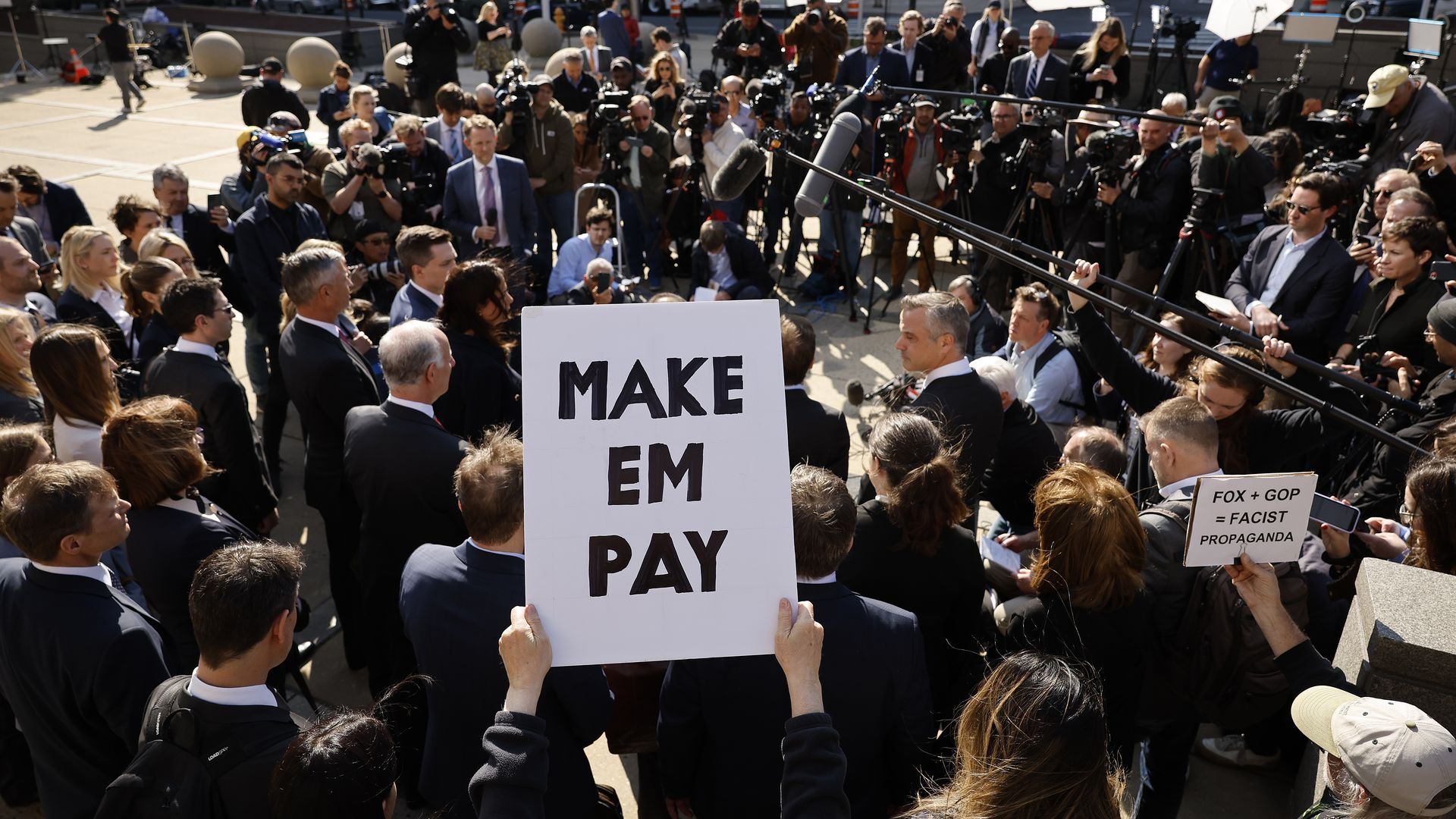 Fox News' $787 million defamation settlement with Dominion Voting Systems ends one lawsuit over the airing of election lies, but there are plenty more to come.
Why it matters: In dodging a trial, Fox was able to spare its executives and hosts further embarrassment on the witness stand. But the agreement also set a new benchmark for how much Fox is willing to pay to make such suits go away.
"I think it sets Fox up to pay their way out, as it seems unlikely they will want to take other cases to trial," said Shan Wu, a legal analyst and former federal prosecutor.
"They have to be concerned with discovery issues given how much the company tried to withhold — which I think was a big lever on them in deciding to settle," he added.
State of play: Fox News and other networks face several other defamation lawsuits related to airing 2020 election lies.
Most notably, Fox News faces a $2.7 billion case brought by election technology company Smartmatic. It also faces a lawsuit from former producer Abby Grossberg, who claims Fox News tried to manipulate her testimony during pre-trial discovery for the Dominion case.
"I suspect that Smartmatic and Abby Grossberg now have a good bargaining chip for their own settlements, and even a sense of the magnitude of checks that Fox News is willing to write for them," said University of Tennessee journalism professor Stuart Brotman.
What they're saying: In a statement responding to the settlement, Smartmatic lawyer Erik Connolly said, "Dominion's litigation exposed some of the misconduct and damage caused by Fox's disinformation campaign. Smartmatic will expose the rest."
In response, a Fox News spokesperson told Axios, "There is nothing more newsworthy than covering the president of the United States and his lawyers making allegations of voter fraud. Freedom of the press is foundational to our democracy and must be protected, in addition to the damages claims being outrageous, unsupported, and not rooted in sound financial analysis."
Be smart: Smaller cable networks such as Newsmax and One America News (OAN) also face defamation lawsuits from Dominion, as do individuals including Rudy Giuliani, Sidney Powell, Mike Lindell and Patrick Byrne.
"This is one of seven lawsuits. This one settled today. There are six left, and I think it sends a message to the other six lawsuits that accountability is coming as well. It's not over," said Justin Nelson, an attorney representing Dominion.
Catch up quick: Fox News settled with Dominion Voting Systems on Tuesday, moments before opening statements were slated to begin in a Delaware court.
Fox faced a slew of pre-trial setbacks, leading legal experts to agree that Dominion had an unusually strong case.
Between the lines: In a statement responding to the deal, Fox News acknowledged that in a pre-trial summary judgement, the court found that it aired falsehoods about Dominion.
That admission could have implications for other defamation cases it faces.
Yes, but: A source confirmed to Axios that Fox News will not be required to give any apologies or retractions on its air as a part of the settlement deal.
That means that even though Fox understands that the court ruled it aired falsehoods, Fox is not liable for correcting any bad reporting.
What to watch: Just because the case is settled, doesn't mean other investigations related to the case will necessarily go away.
Reuters reported Monday that Fox Corp. shareholders "are demanding company records" that could show whether Fox Corp. board directors and executives properly oversaw Fox News' coverage of election lies. Those probes could lead to lawsuits in which board directors would be held personally liable for settlement costs.
The bottom line: "What this settlement gives Fox is a chance to move beyond the endless shaming before every key constituent that matters — not just TV viewers who may or may not care, but their investors, the board, and their key executives and personnel who no doubt want to focus on future success and leave past missteps behind," said Jonathan Shapiro, partner in Goodwin's Complex Litigation and Dispute Resolution practice.
Editor's note: This story has been updated with additional comment from Fox.
Go deeper