Tucker Carlson firing stuns conservatives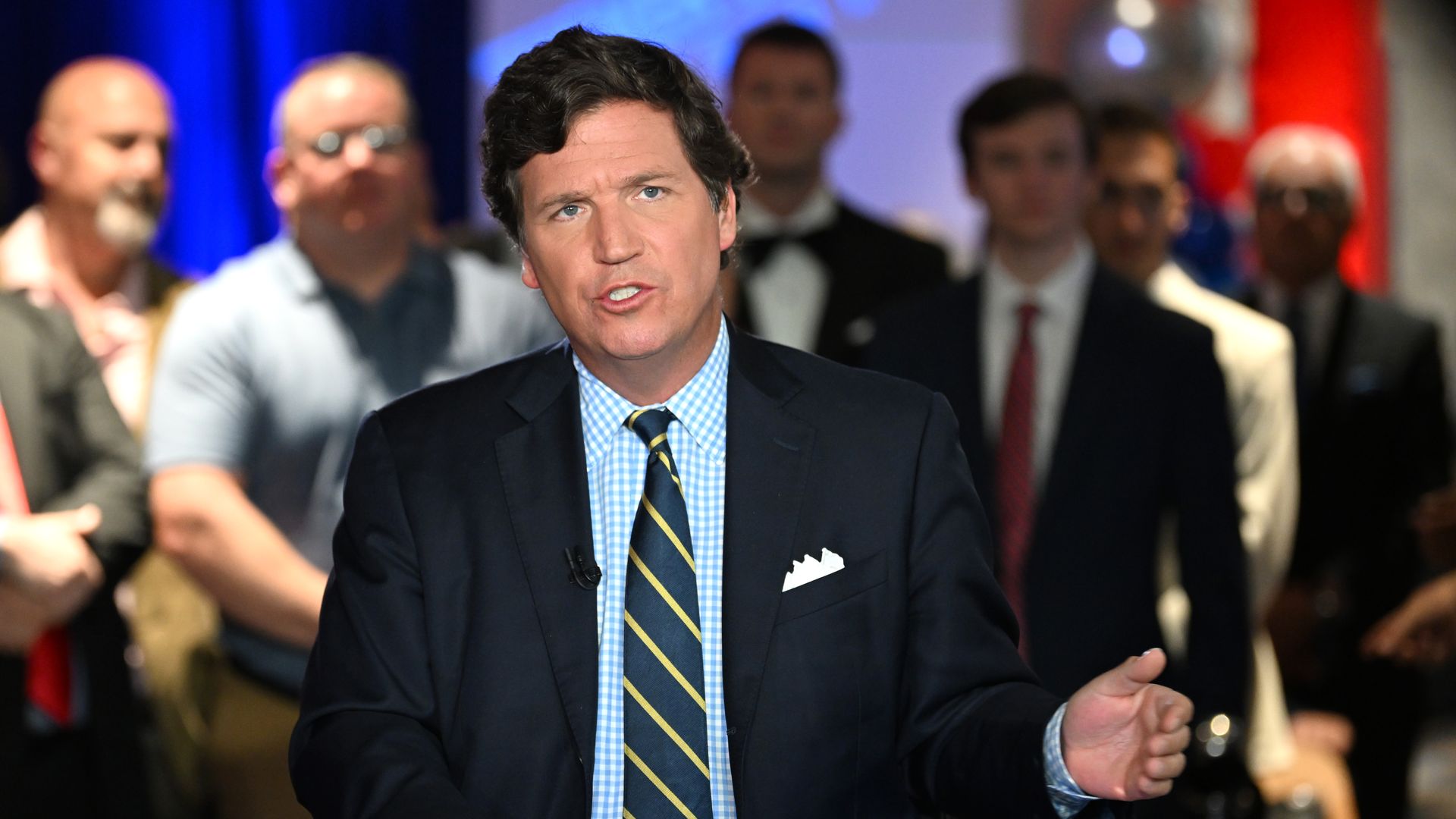 Primetime host Tucker Carlson's abrupt firing from Fox News has sent shock waves throughout the political and media ecosystem, driving a wedge between the conservative movement and the biggest platform in cable news.
Why it matters: Carlson's massive influence is tied to the same populist, right-wing forces that former President Trump harnessed in his hostile takeover of the Republican Party. His voice will continue to play a role in the 2024 GOP primary — though it's unclear in what form.
"Tucker Carlson remade the right," conservative activist Charlie Kirk said on his radio show this morning. "He was more powerful than anybody else since the death of Rush Limbaugh in reshaping the right."
Donald Trump Jr. called Carlson a "once in a generation talent," arguing that — outside of his father — "no one understands the GOP base" better. "This changes things permanently," Trump Jr. predicted.
Zoom in: One example of Carlson's unique influence over Republican politics — the top-rated host sent a questionnaire to current and potential presidential candidates last month challenging them on the U.S. role in the war in Ukraine.
Nine responded — including Florida Gov. Ron DeSantis, who triggered intense backlash and an eventual walk-back after referring to the war as a "territorial dispute."
As the Washington Post's Philip Bump wrote, Carlson's questionnaire gave him "a chance to reinforce his view of the conflict to his audience, formalize the acquiescence of at least one leading candidate — and use his platform as a cudgel against those who disagreed."
Some candidates had expected Carlson to send out additional surveys on key issues that have generated fault lines within the GOP.
Behind the scenes: A source familiar with the situation told Axios' Sara Fischer that Carlson's firing was not part of Fox's $787 million settlement agreement with Dominion Voting Systems, which uncovered a trove of embarrassing texts from Carlson during the discovery process.
"We are very, very close to being able to ignore Trump most nights. I truly can't wait," Carlson texted a Fox employee, for example, two days before the Jan. 6 Capitol riot. "I hate him passionately."
But Fox is facing additional legal threats that could make Carlson a further liability, including a lawsuit from a former producer accusing him of promoting a hostile and vulgar work environment.
The intrigue: The L.A. Times reports the decision to fire Carlson came from Fox Corp. chairman Rupert Murdoch, who was concerned by the lawsuits and Carlson's championing of conspiracy theories about Jan. 6.
MAGA activists and politicians swiftly held up Carlson as a martyr, with Rep. Marjorie Taylor Greene (R-Ga.) accusing Fox of "caving to the woke mob."
What to watch: It's unclear where Carlson goes from here, given his incendiary brand and reputation for alienating advertisers. But some conservatives have urged him to run for president.
Carlson will be in Iowa in July for a previously scheduled appearance at the Family Leadership Summit.
Bob Vander Plaats, an influential leader of the evangelical right whose group puts on the summit, told Axios' Alex Thompson that Carlson would be a "formidable" candidate.
Go deeper