Musk scores Daily Wire's full set of podcasts to put on Twitter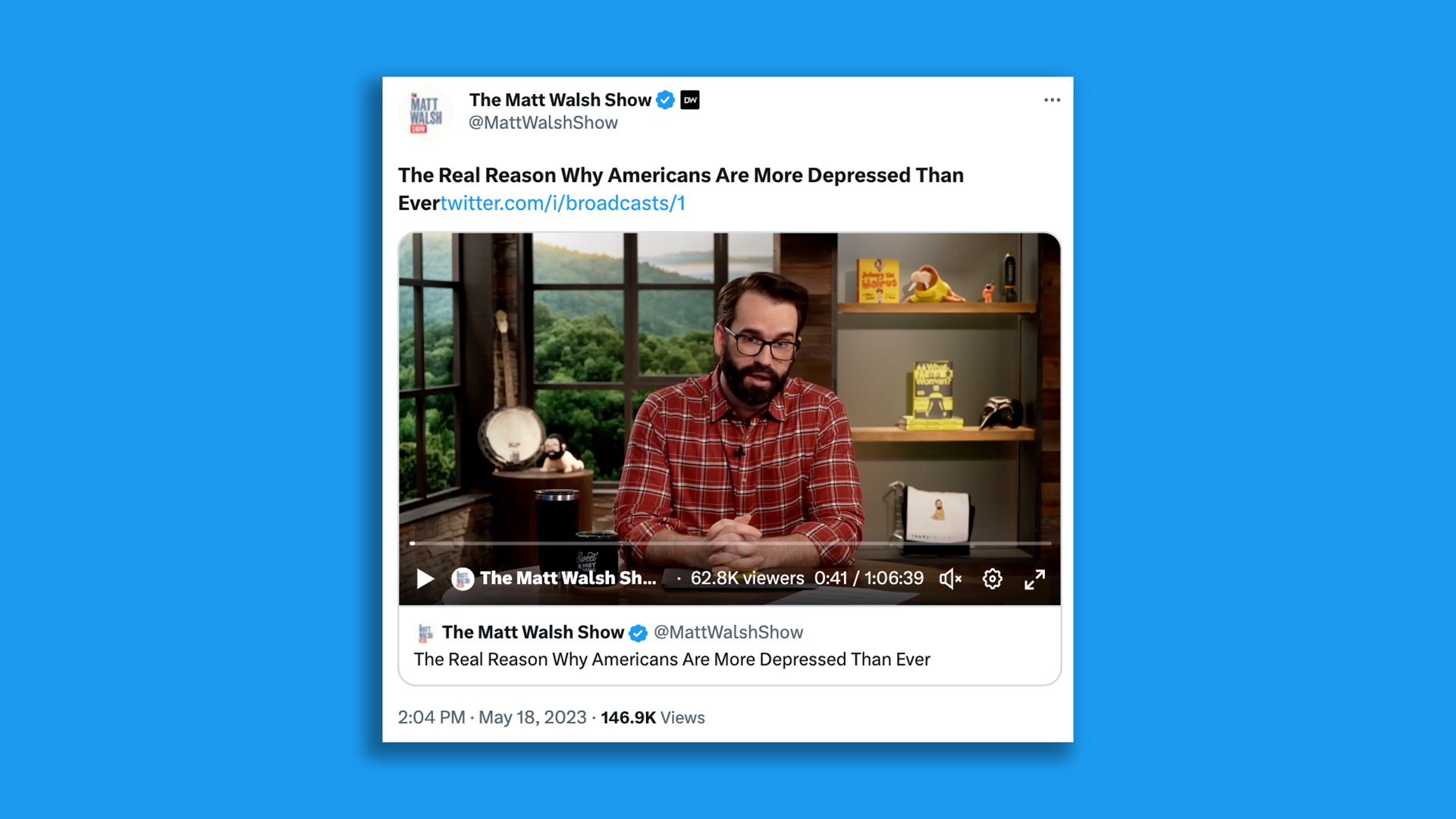 The Daily Wire, a conservative media and entertainment company, plans to put its entire slate of podcasts, which are almost all recorded as videos, on Twitter beginning May 30, company executives told Axios.
The big picture: Elon Musk's free speech absolutism is pushing conservatives to embrace the platform.
Last month, ex-Fox News star Tucker Carlson said he would be bringing his daily prime-time show to Twitter.
While Musk said he and Carlson hadn't brokered any sort of official deal, Carlson said he would be moving over because Twitter is the last Big Tech platform remaining in the world "that allows free speech."
Details: In a statement Tuesday, Daily Wire co-CEO Jeremy Boreing echoed Carlson's thoughts. "At this moment, Twitter is the largest free speech platform in the world," he said. 
"If Elon Musk stands by his commitment to make Twitter a home for free speech and delivers on monetization opportunities and more sophisticated analytics for content creators, I imagine we will invest even more into the platform," he added.
A recent Pew Research Center poll shows Republicans are far less concerned about Twitter's impact on Democracy since Musk took over last year.  
Yes, but: Critics argue Musk's Twitter favors certain speech in some instances. Musk recently hired longtime advertising veteran Linda Yaccarino as CEO, which could bring some consistency to the company's content moderation policies and some assurance to advertisers.
Catch up quick: The Daily Wire has already been experimenting with putting more content on Twitter after one of its show hosts was demonetized on YouTube.
Last month, outspoken Daily Wire host Matt Walsh said YouTube removed his right to monetize his videos over his comments about transgender influencer Dylan Mulvaney. The Daily Wire then began putting "The Matt Walsh Show" on Twitter. Walsh said he was making $100,000 monthly on YouTube.
In the wake of that incident, Boreing tweeted, "Tech giants like YouTube, Facebook, TikTok, and — until Elon Musk wrote a check — Twitter, flagging, banning, throttling, shadow banning, and demonetizing us is a constant occurrence."
YouTube said in a statement at the time that it suspended monetization on Walsh's channel "due to repeated violations of our YouTube Partner Program policies, which include our Advertiser-Friendly Guidelines."
Between the lines: Daily Wire clips continue to be uploaded to YouTube and other social platforms like Instagram and TikTok. Full video podcast episodes for all shows will only appear on Twitter and DailyWire+, the company's paywalled content platform that also supports its podcast network. Some podcast programs will continue to appear on YouTube and conservative video site Rumble.
"Twitter drives the national conversation in a way no other social media platform does, and we see a lot of opportunity in that," said Daily Wire spokesperson Alyssa Cordova.
"Our hosts already have massive Twitter profiles and are regularly driving trends or trending themselves, and it just makes sense that their shows would also be right where the conversation is happening."
Listeners will still be able to listen to the audio of Daily Wire podcasts wherever they currently listen to podcasts.
State of play: Like Carlson, the Daily Wire hasn't brokered any sort of exclusive deal with Twitter, although a source said that the two companies have been in touch about ways to best optimize the platform.
Each Daily Wire show will have its own Twitter account set up to distribute the show and to tweet out the show's sponsors, often with a call to action, such as texting a number for more information.
For now, the videos for "The Matt Walsh Show" — which typically last around an hour — are being livestreamed and made available for playback. In the future, because Twitter Blue subscribers can upload videos up to two hours in length, the Daily Wire may be able to upload shows instead of having to livestream them. It's currently testing what works best.
Between the lines: Boreing said Daily Wire advertisers are so far happy with their results on Twitter, which is in part why the company has chosen to distribute the rest of its shows on the platform.
A few examples of recent sponsors of "The Matt Walsh Show" on Twitter include Birch Gold, a precious metals dealer, CarZing, an auto financing company, Cozy Earth, an online retailer, and Pure Talk, a prepaid cellphone carrier.
The Daily Wire is planning to invest further in the platform in the coming weeks. For now, it's focused on getting its flagship shows up and running while working to see what other types of monetization opportunities there are for creators on Twitter.
The big picture: As of last month, DailyWire+ is the sixth-largest podcast publisher in the U.S., according to Podtrac, making it the largest conservative podcast network in the country.
Its shows, including its flagship program, "The Ben Shapiro Show," as well as "The Matt Walsh Show" and its morning show "The Morning Wire" routinely appear in the top 100 list of Apple podcasts, per Chartable.
What to watch: Twitter currently uses a program called Twitter Amplify to match professional media brands with premium sponsors for their videos.
Most of those media partners are focused on live events, like sports or award shows. In the future, a source told Axios, Twitter is experimenting with finding more ways to help professional creators monetize video outside of Amplify.
Go deeper