What to know about Julie Chávez Rodríguez, Biden's campaign manager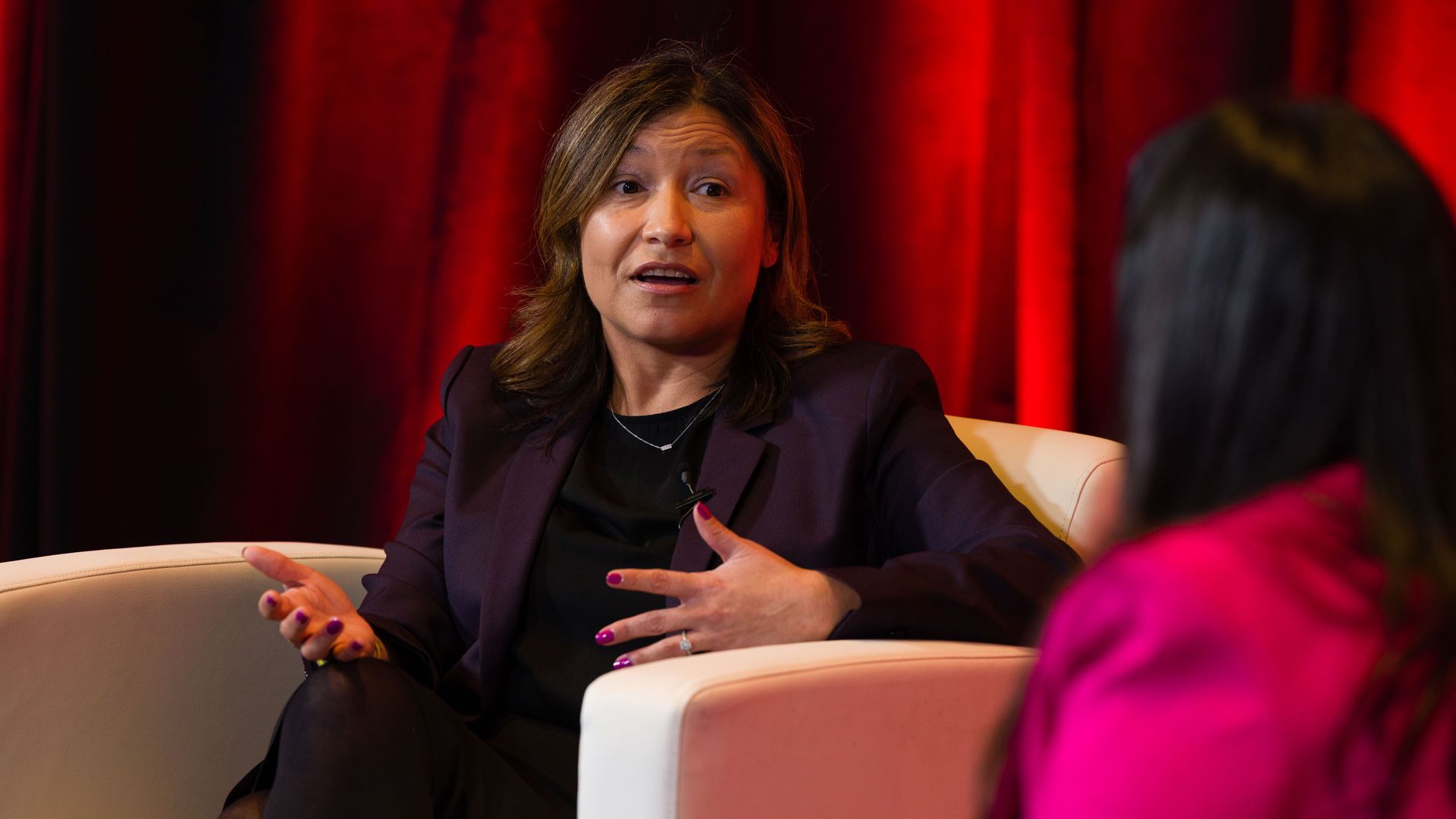 Julie Chávez Rodríguez, the highest-ranking Latina in the White House, will steer the ship of President Biden's 2024 presidential campaign, he announced this week.
The big picture: Chávez Rodríguez, 45, serves in the White House as senior adviser to the president and director of the White House Office of Intergovernmental Affairs.
A veteran of the Obama administration, she was a deputy campaign manager during Biden and Vice President Kamala Harris' 2020 campaign.
She is also the granddaughter of farm labor leader and civil rights activist Cesar Chavez, who fought for better working conditions for farmworkers.
In her new high-profile role, Chávez Rodríguez will steer the Biden campaign through what is expected to be a competitive general election.
Chávez Rodríguez's political activism
A native of California, she's been an activist from a young age.
"Not everybody grew up on a picket line or knowing the five pesticides that caused cancer," she told Axios' Astrid Galván during an interview in 2022.
At age 9, Chávez Rodríguez was arrested during a protest outside a supermarket while distributing fliers about pesticide risks.
A graduate of the University of California, Berkeley in Latin American Studies, Chávez Rodríguez worked as the director of programs at the Cesar Chavez Foundation, which seeks to improve the lives of Latinos and working families, after college.
She was a volunteer in Colorado during Obama's 2008 presidential campaign before pivoting to the Interior Department as the Director of Youth Employment. She also was a Deputy Press Secretary to former Secretary of the Interior Ken Salazar.
White House experience and outlook
During the Obama administration, she was a special assistant to the president and senior deputy director of public engagement in the office of public engagement, where she worked on outreach to immigrants, veterans, Asian Americans and Pacific Islanders and other groups.
In 2017, she became state director for then-Sen. Kamala Harris (Calif.). She later transitioned to work on Harris' 2020 presidential campaign as a political director and chief of staff.
After Harris dropped out of the 2020 presidential election, Chávez Rodríguez worked on Biden's campaign on Latino outreach.
She was then named senior adviser and director of the White House Office of Intergovernmental Affairs, a position she has held since 2021.
As director of intergovernmental affairs, she engages closely with local and state officials working with the Biden administration, per the Washington Post.
Though she has never led a campaign before, Democrats say that Biden has been impressed by Chávez Rodríguez's work, the New York Times reports.
Chávez Rodríguez in her new role will build out the team and campaign apparatus while balancing Biden's presidential responsibilities with running a campaign.
Zoom out: Biden, who says that he is the most pro-union U.S. president, has a bust in his office of Cesar Chavez, which is surrounded by pictures of Biden and his family.
Chávez Rodríguez, during the same Axios interview in 2022, said that her family background guides her work to this day.
"I was surrounded by people who were so committed, so driven by something that they considered ... something bigger than themselves and bigger than any one person and it became infectious," she told Galván.
"What drives me to this day is being able to make sure I'm using my time and my energy and my talent to help to improve the lives of others."
Go deeper... Poll: Most Americans don't want Biden or Trump to run
Go deeper