Kerry: China tensions hurting climate talks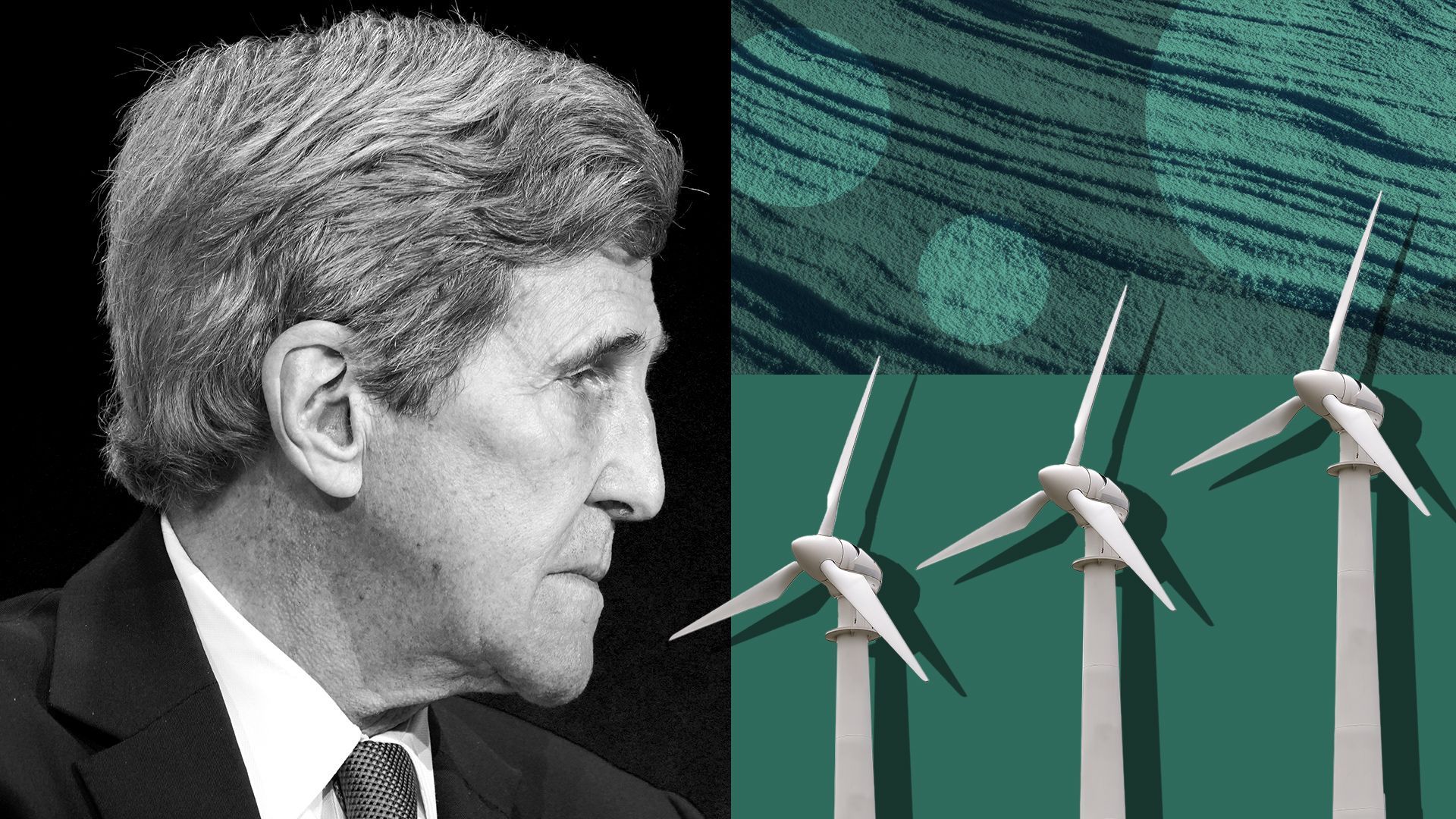 HOUSTON — U.S. climate envoy John Kerry tells Axios his work with China has stalled amid wider tensions between the world's two largest greenhouse gas emitters.
Driving the news: "Regrettably, in the last year ... what was not supposed to happen has happened, which is the climate issue has gotten mixed up into all the other tensions that exist between our countries," Kerry said in an interview at the CERAWeek by S&P Global conference.
"And so they've kind of pulled back a little bit, expressing the feeling that all we're doing is bashing them and bashing them," he said.
Why it matters: It's impossible to meet the Paris Agreement's goals for holding global warming in check without more aggressive steps by China, the world's top current emitter.
Catch up fast: The two countries made a surprise joint declaration on climate ambition in late 2021.
But the relationship — already tense — has deteriorated after China's anger at then-House Speaker Nancy Pelosi's visit to Taiwan and, more recently, the the Chinese spy balloon incident.
Kerry said he last spoke to his Chinese counterpart Xie Zhenhua virtually about a month ago, but overall acknowledged the joint efforts have ebbed. He noted Xie has been ill recently.
The two have a productive working relationship dating back to the Obama administration, and continued to meet at COP27 in Sharm el-Sheikh.
Meanwhile: Kerry also revealed he personally called BP CEO Bernard Looney after the energy giant announced last month it was scaling back its 2030 targets for cutting oil and gas production.
But Kerry also noted that BP, at the same time, announced it was increasing its spending on low-carbon initiatives by billions of dollars and that their long-term decarbonization plans remain intact.
Overall, Kerry signaled a mixed verdict on the industry, noting concern about Chevron's planned oil production growth.
"I think the industry as a whole needs to take stock ... of where the science is today," Kerry said, noting that increasing fossil fuel output without plans to capture CO2 emissions or otherwise remediate them is at odds with achieving the Paris Agreement's targets.
Earlier in the day at the same conference, Chevron CEO Mike Wirth touted plans to increase his company's Permian Basin production from over 700,000 barrels of oil-equivalent per day to 1 million in the coming years, and also talked up plans for output growth in Kazakhstan.
Between the lines: Kerry acknowledged, though, that Chevron and other fossil fuel giants are responding to the market — namely increased demand for oil and gas.
He said the Democrats' climate law will help address the demand side by, for example, ramping up the incentives for purchasing and charging electric vehicles.
What we're watching: Axios learned, and Kerry confirmed, that he met Sunday with UAE climate envoy Sultan Ahmed al-Jaber, who is slated to head the COP28 climate conference in Dubai late this year and is also at CERAWeek.
Al-Jaber has drawn fire from climate activists, who call his selection a conflict of interest because he also head's the UAE's state-owned oil giant ADNOC.
Yes, but: Kerry noted that he's worked with al-Jaber for years, and cited al-Jaber's and the UAE's work on climate and renewables — he's the former CEO and current chairman of the renewables firm Masdar.
"We wanted to weigh in with him on what we thought was important to say to this industry and people here and I think he did say it today, he said, 'Houston, we have a problem ... and we can't afford to fail,'" he said of al-Jaber's speech to CERAWeek.
Go deeper