Axios Generate
February 07, 2023
☕Good morning! Today's newsletter has a Smart Brevity count of 1,170 words, 4.5 minutes.
🎶Happy birthday to the late Steve Bronski of the brave synth-pop pioneers Bronski Beat, who have today's intro tune...
1 big thing: Tension between Big Oil & clean tech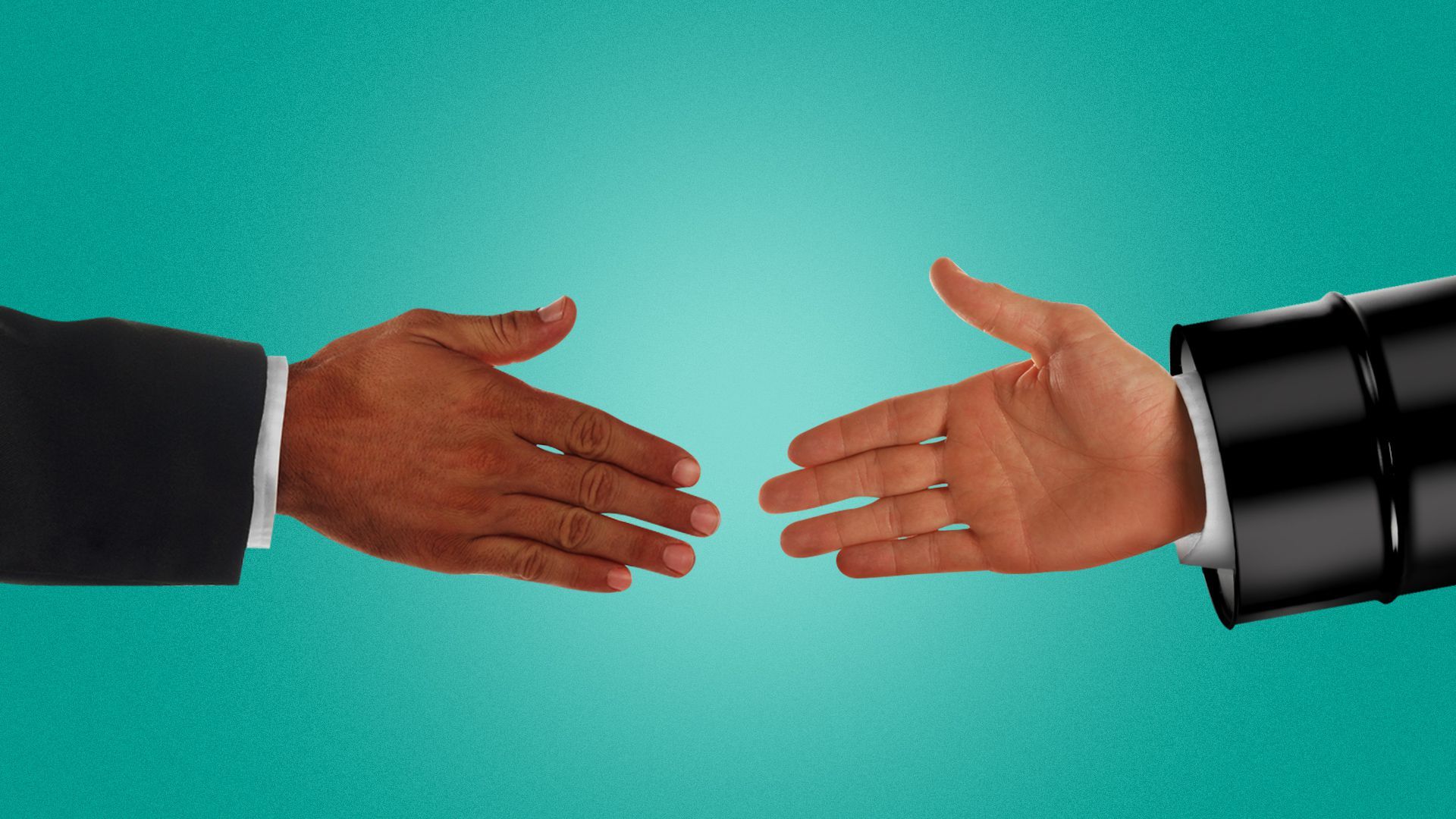 Big Oil and climate tech startups are sparring over who is best positioned to lead the low-carbon transition, Andrew writes.
State of play: To hear CEOs like Exxon's Darren Woods tell it, their companies are ideally equipped to implement large-scale, low carbon infrastructure, such as carbon capture and storage facilities (CCS) and hydrogen production and distribution.
Meanwhile, clean energy startups maintain they are already poised to lead decarbonization efforts.
Why it matters: The vision that ultimately prevails in the real world will determine whether net zero emissions goals are met, and therefore how much the planet will warm compared to preindustrial levels.
The big picture: Woods recently downplayed the role that climate tech startups may play in the energy transition. In an earnings call last week, he told analysts regarding Exxon's "low carbon solutions" division: "I think we're very well positioned there. This is not a game for startups," he said.
Exxon plans to invest $17 billion in low carbon solutions through 2027.
The other side: These statements have landed with a thud among the broad community of climate tech funders, who say they ignore the billions in investments coming into the sector and rapid deployment of renewables.
Flashback: Woods' comments echoed those of then-Shell CEO Ben van Beurden, who in 2021 also minimized clean tech startups' role.
Between the lines: In the view of Exxon and Shell, the giant companies are best equipped to deploy the most complex low and zero carbon solutions, such as CCS, hydrogen and large-scale biofuels, at the commercial scale.
Zoom in: Dawn Lippert, CEO of Elemental Excelerator, a program to help early-stage climate startups get up and running, told Axios in an interview that Exxon and Shell's emphasis on CCS and hydrogen indicate they may be placing the wrong clean energy bets.
She pointed to IEA numbers showing renewables, electric grid and storage now make up more than 80% of total power sector investments.
The intrigue: Climate tech funders see Woods' vision as myopic.
Our thought bubble: There is an irony in fossil fuel companies seeking to claim the climate action mantle, given that their industry is responsible for most of the planet-warming greenhouse gases in the first place.
The bottom line: Andrew Beebe, managing director at Obvious Ventures, told Axios that history shows startups play a leading role when it comes to deploying clean technologies, and there is an opportunity for Big Oil to work with them.
"This is an all hands on deck moment," he said.
2. Charted: Solar dominates U.S. power growth
Solar power will provide by far the largest source of newly installed U.S. generating capacity this year, data from the Energy Department's stats arm shows, Ben writes.
Why it matters: The electricity mix is rapidly evolving. But it needs to happen even faster to meet the White House goal of 100% decarbonized power by 2035.
The intrigue: Solar had a down year in 2022 as supply chain problems and other woes derailed new utility-scale projects.
But the Energy Information Administration sees a huge bounce-back in 2023, with the projected 29 gigawatts of new capacity more than doubling the 2021 record.
Yes, but: Despite renewables' rapid growth, fossil fuels remain by far the biggest share of the overall U.S. power mix.
Coal is diminishing, but combined with gas — now a far larger source — the two fossil fuels are projected to be 56% this year, EIA forecasts.
Utility-scale solar and wind will be a combined 16%, while all renewables together will be 24%.
3. BP slows transition away from oil and gas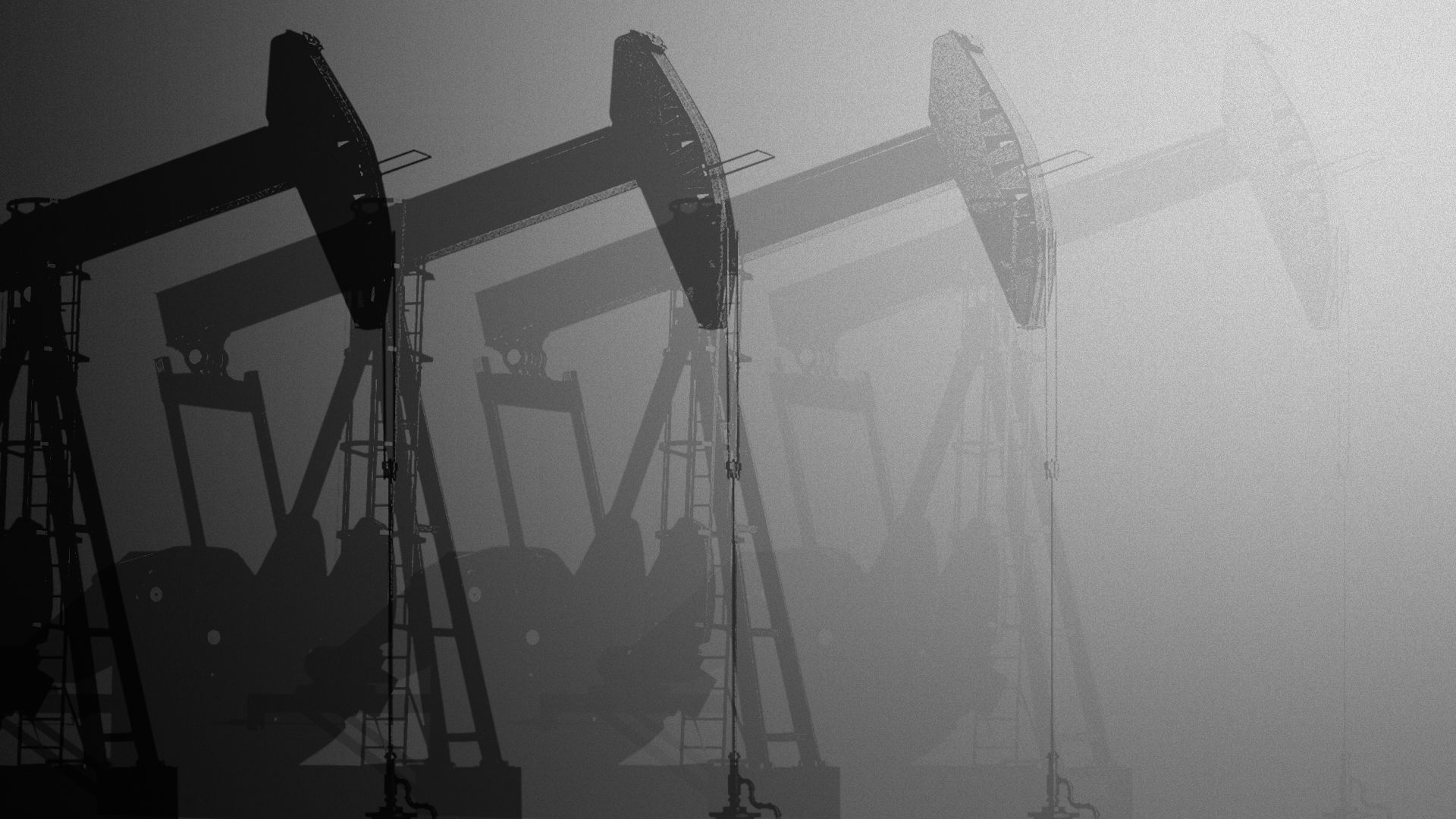 BP is scaling back plans for cutting oil and gas production, even as it vows to boost investments in low-carbon business lines, Ben writes.
Driving the news: The energy giant, in an strategy update, said it planned to curb output by 25% by 2030 compared to 2019.
In 2020, BP said its climate strategy would bring a 40% cut. BP this morning said it is increasing oil and gas investments by $8 billion by 2030.
The shift came as BP reported a record annual profit of nearly $27.7 billion and announced higher dividends and new share buybacks.
What we're watching: The response from climate groups, who say the industry is already moving too slowly.
Yes, but: BP said it is committed to climate plans unveiled in 2020.
It announced an upward revision of "transition growth engine" investments. Those include hydrogen, EV charging, renewable power and bioenergy.
Total combined investments are getting an $8 billion cumulative boost through 2030, reaching $7 billion to $9 billion that year.
BP is keeping its target of final investment decisions on 50 gigawatts worth of renewables projects by 2030, and revealed plans to have 10 GW of capacity installed and operating by then.
The big picture: The share of total capital spending allotted to those "transition" areas is slated to grow from 30% this year to 40% in 2025 and 50% in 2030, up from 3% in 2019.
What they're saying: Russia's attack on Ukraine underscored the importance of both oil and gas supply security and low-carbon transition, CEO Bernard Looney said in a statement.
"[A]ction is needed to make sure that the transition is orderly, so that affordable energy keeps flowing where it's needed today."
4. UN's Guterres' possible clash at COP28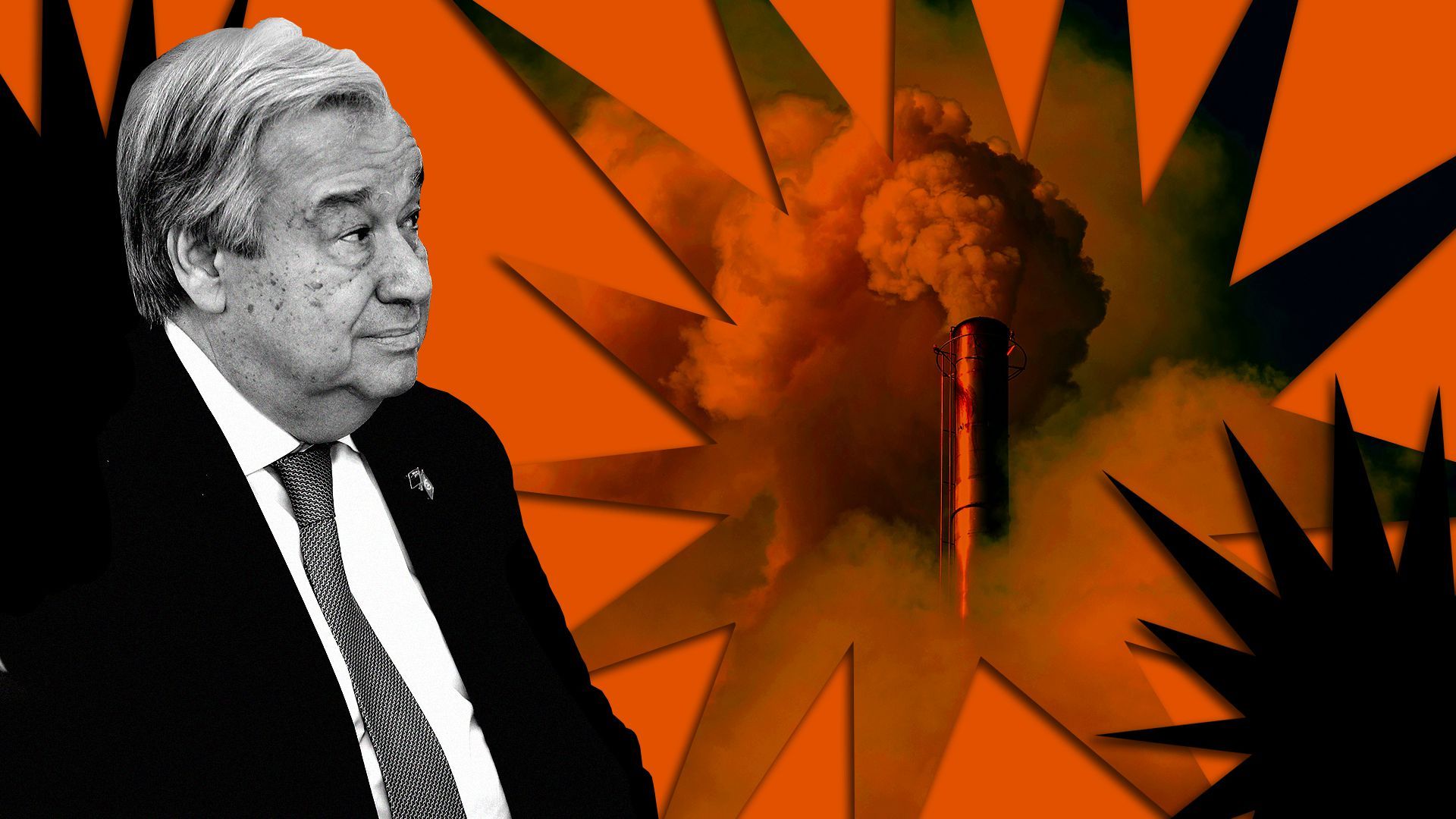 New remarks by UN Secretary-General António Guterres may have set up an awkward relationship with the incoming president of the UN climate talks in Dubai later this year, Andrew writes.
The big picture: The multi-hatted United Arab Emirates (UAE) climate envoy Sultan Ahmed al-Jaber, who also leads the state-run Abu Dhabi National Oil Company, is slated to head COP28 in Dubai.
Environmental groups have decried the UAE's pick as demonstrating the influence that fossil fuel producers have on the UN climate negotiations, though major countries including the U.S. have welcomed al-Jaber.
Zoom in: In Monday's speech, Guterres opened up a new line of attack against Big Oil.
"I have a special message for fossil fuel producers and their enablers scrambling to expand production and raking in monster profits," he said. "If you cannot set a credible course for net-zero, with 2025 and 2030 targets covering all your operations, you should not be in business."
"Your core product is our core problem," Guterres said.
Yes, but: Al-Jaber may not fully qualify as a prime target for Guterres' criticism, since he also oversees renewables investments in the UAE and recently spoke of the need to rapidly transition away from oil and gas.
5. 💬 Quoted
"There won't be significant growth from us because there's still a lot more value to be gained for us by continuing to focus on delivering value to shareholders through share repurchases."
— Occidental Petroleum CEO Vicki Hollub,
via Bloomberg
The oil heavyweight's comment gets to a key political tension: Firms are emphasizing investor rewards, even as the White House wants more sh0rt-term focus on production growth.
📬 Did a friend send you this newsletter? Welcome, please sign up.
🙏 Thanks to Nick Aspinwall and David Nather for edits to today's newsletter.