China pledges more aggressive climate action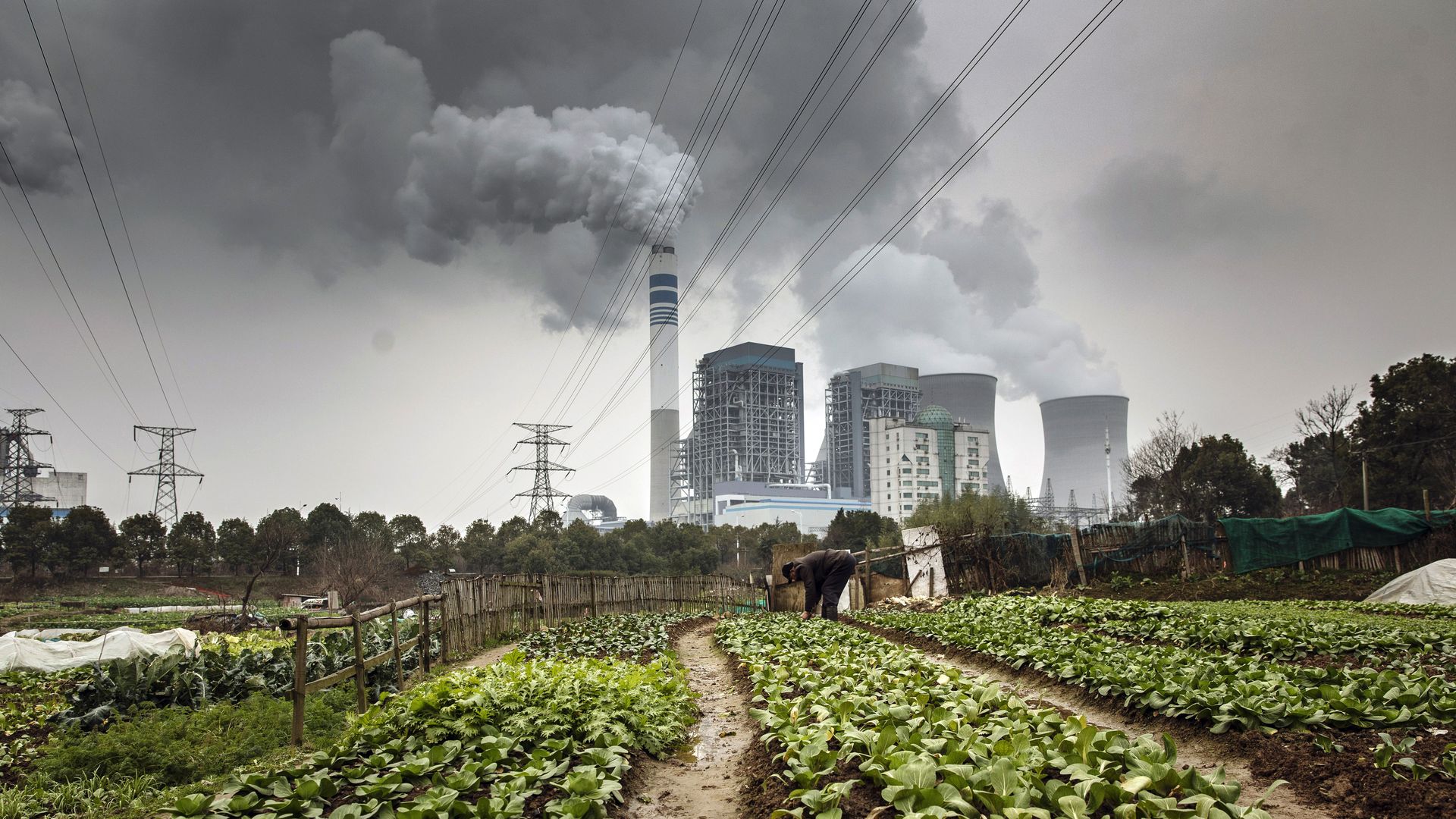 GLASGOW, Scotland — China vowed more aggressive steps on emissions Wednesday in a joint declaration with the U.S. — a surprise move that signals an easing of tensions evident at the COP26 climate summit here.
Why it matters: China is the world's largest greenhouse gas emitter, and the development could also help improve the chances for an ambitious final summit outcome.
Driving the news: The two nations' Joint Glasgow Declaration calls for "accelerated actions in the critical decade of the 2020s," as well as cooperation on measurement and reductions of the powerful greenhouse gas methane.
The statement also represents a rhetorical pivot from China, even though it does not explicitly change China's existing pledge under the Paris Agreement to have its emissions peak before 2030 — a stance that has disappointed advocates who want more aggressive action.
What they're saying: "Climate change is becoming increasingly urgent and severe," Xie Zhenhua, China's top climate negotiator, said via a translator at a briefing in Glasgow, warning of an "existential crisis."
"In areas of climate change, there is more agreement between China and the U.S. than divergence, making it an area with huge potential for our cooperation," Xie said.
The big picture: China accounts for nearly a third of global energy-related CO2 emissions in particular.
Its emissions path is key to whether the temperature-limiting goals of the Paris Agreement can remain within reach.
Going into Glasgow and right through Wednesday early evening local time, a key roadblock to an ambitious Glasgow outcome was the hostility between the U.S. and China.
This contrasted with the negotiations that led to the Paris Agreement in 2015, when the U.S. and China also reached a joint agreement.
Yes, but: While the agreement does not change any of China or the U.S.' official emissions targets or timetables, the joint agreement is aimed at speeding up each other's emissions cuts during the 2020s, which is critical for ensuring that the Paris Agreement's 1.5°C temperature target remains viable.
Climate envoy John Kerry told reporters he discussed with Chinese officials the possibility of getting China to commit to an earlier emissions peak.
"We had lots of discussions about peaking, we peaked out on peaking," Kerry said.
As part of the agreement, China committed to developing an action plan on methane that would aim "to achieve a significant effect on methane emissions control and reductions in the 2020s," the statement says.
Between the lines: "The big significance of this is geopolitical," said Nick Mabey, chief executive of the climate think tank E3G, in a statement. He said the two countries have signaled they will end the war of words that marred the past days.
"They will now build climate cooperation bilaterally and in multilateral fora. This high profile commitment puts pressure on both countries to move their positions to make COP26 a success."
The negotiations took place in more than 30 in-person and virtual meetings since Kerry was appointed to the position in January, including multiple meetings in Glasgow.
This story has been updated with more details of the declaration and Kerry's remarks. Freedman reported from Glasgow, Geman from Washington, D.C.
Go deeper