Memphis man alleges beating by ex-cops charged in Tyre Nichols' killing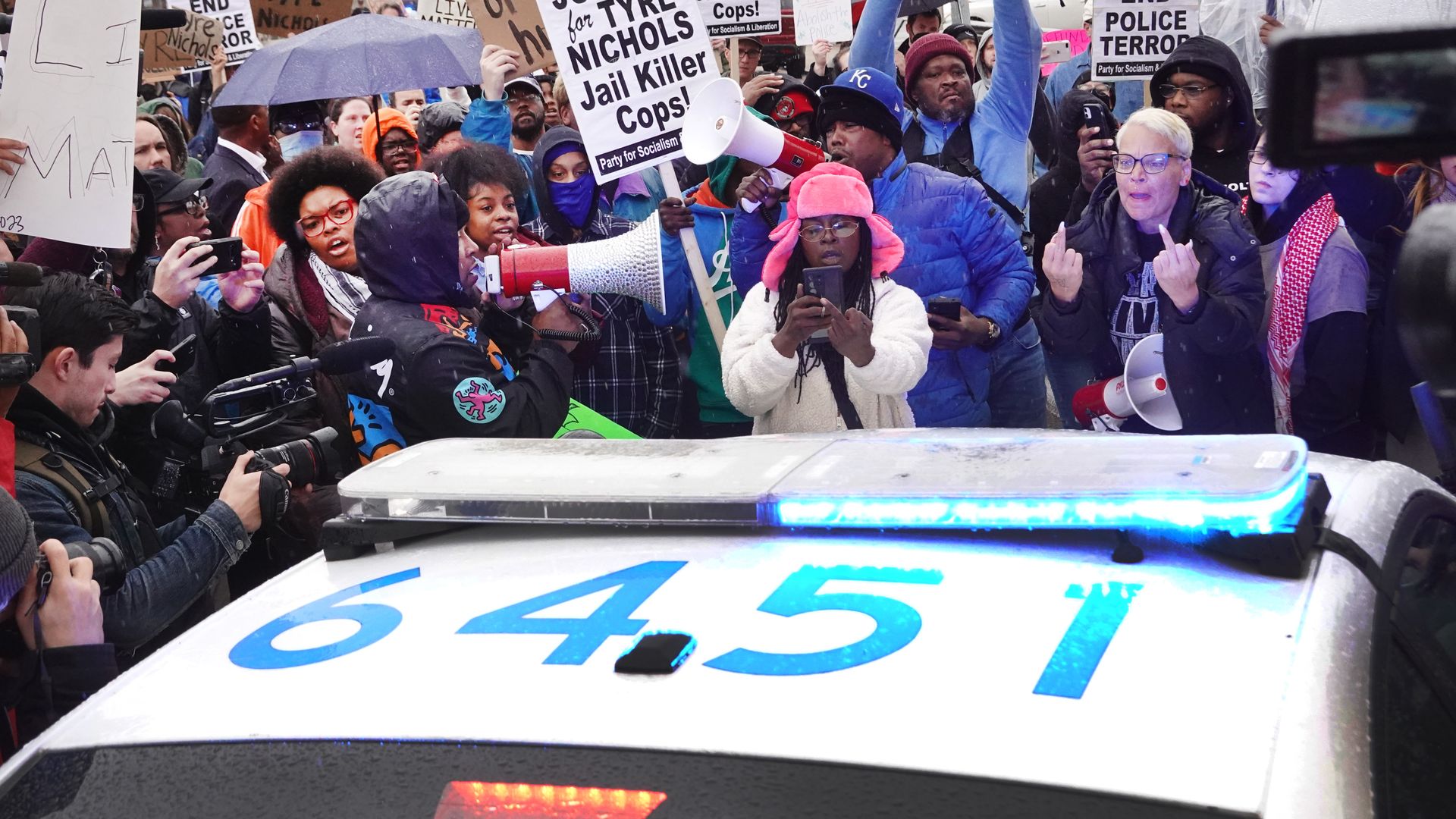 A 22-year-old Black man filed a lawsuit against the city of Memphis and the five police officers accused of fatally beating Tyre Nichols, saying they assaulted him three days before they beat Nichols in early January.
Why it matters: Monterrious Harris alleges in the lawsuit that the conduct of a now-disbanded special unit formed "a clear pattern" of police abuse and a constitutional violation against Black men in Memphis.
The lawsuit named the city, five former officers who have been charged with second-degree murder and several other crimes in Nichols' beating and four John Does as defendants.
The special unit, the Street Crimes Operation to Restore Peace in Our Neighborhoods, or SCORPION, was formed in 2021 in an attempt to prevent violent crime in Memphis but has faced controversies over its tactics and police officers' conduct.
The lawsuit claims Harris was swarmed by a "large group of assailants" wearing black balaclavas and black clothing and brandishing firearms and other weapons while he was inside a vehicle on the night of Jan. 4.
They hurled expletives and made threats to end his life if he did not exit his car before enacting "a swift, violent, and continuous physical assault on Mr. Harris that included punching, stomping, and dragging him across concrete" after Harris got out of the vehicle, the lawsuit alleges.
The lawsuit asserts that Harris did not know the assailants were officers at the time and they didn't identify themselves, believing instead that he was a victim of a carjacking. He said he only learned later that they were 0fficers with the SCORPION Unit.
The lawsuit claims that after the alleged assault, which was interrupted by witnesses, the police charged Harris with "a host of false criminal charges" and that he did not receive medical attention and treatment for his injuries until he arrived at a jail.
What they're saying: "The current ignoble chapter of the Memphis Police Department ending with the violent and unconstitutional beatings of Mr. Harris, other Memphians and the death of Mr. Nichols, began decades ago," the lawsuit reads.
"The Memphis Police [Department's] unconstitutional policies, practices, and customs leading to the formation of the Scorpion Unit, which operated as a gang of vigilantes, was consistent with abuses that citizens have suffered for many years," it continues.
The Memphis Police spokesperson Kim Elder said the department doesn't comment on pending litigation.
The big picture: The description of the alleged assault against Harris is similar to the police beating of Nichols, which was seen in footage released by the police department last month.
Go deeper: Ex-Memphis officer accused of texting photo of Tyre Nichols after beating
Editor's note: This article was corrected to reflect that Monterrious Harris alleges the police officers beat him three days before Tyre Nichols was assaulted, not three days before Nichols died.
Go deeper