Why Memphis' specialized police unit is under fire after Tyre Nichols' death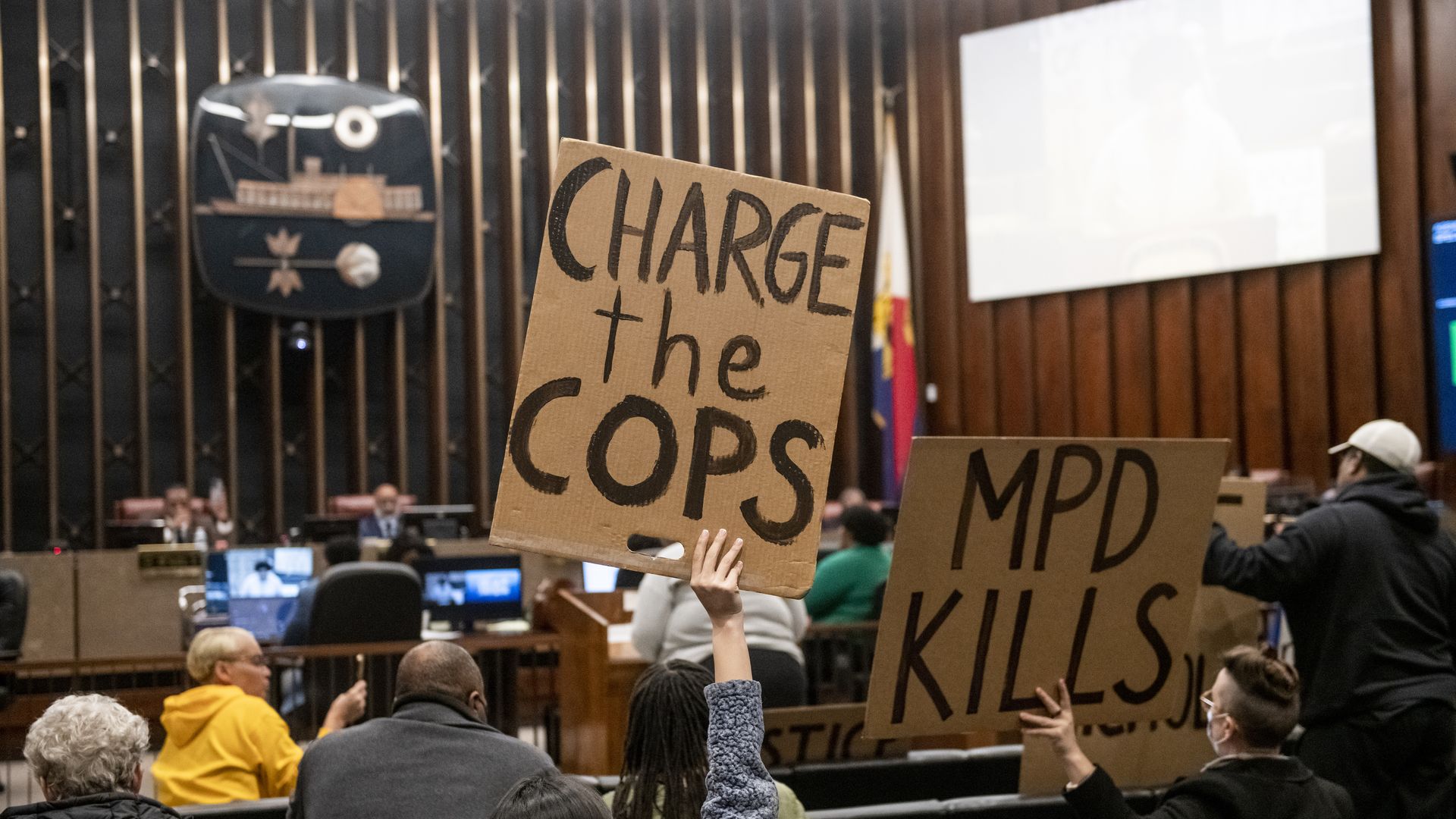 A specialized law enforcement unit in the Memphis Police Department has been permanently disbanded after gaining renewed scrutiny in the fallout of Tyre Nichols' death.
The big picture: All five officers charged in the fatal beating of Nichols were part of the Scorpion unit, which is charged with combating violent crime. Civil rights leaders say the deadly assault escalates the need to reexamine these types of forces across the country.
Details: Scorpion — which stands for Street Crimes Operation to Restore Peace in Our Neighborhoods — was a 40-person team created in the fall of 2021 as Memphis reported record-high homicides, Memphis Police Chief Cerelyn Davis told the Washington Post this week.
Its officers operated in areas that are considered crime hot spots and primarily dealt with illegal gun possession, carjacking and homicides. They often drove unmarked police cars as they patrolled neighborhoods, typically in 10-person teams.
Since the unit was formed, it arrested over 2,000 violent felons, leading to a decrease in homicides and violent crimes in the city, per Davis, who maintained that the team has been effective.
Davis and Memphis Mayor Jim Strickland have both touted the unit's success, but the department said in a statement Saturday that after discussions with Scorpion members, Nichols' family and community leaders, "it is in the best interest of all" to permanently deactivate the unit.
Davis and Strickland did not immediately respond to requests for comment.
Driving the news: Five Scorpion members — all of whom have been fired from the department — face charges of second-degree murder, aggravated assault, aggravated kidnapping, official misconduct and official oppression over Nichols' death.
Davis had ordered a review of the unit, which was suspended after the beating, but Nichols' family called for the department to disband it entirely.
An initial statement from the Memphis Police Department said that the officers pulled Nichols over for "reckless driving" on Jan. 7. Davis has since told CNN that her office was not able to substantiate the claim.
Graphic police bodycam and neighborhood security camera footage released Friday shows multiple officers kicking, punching and striking Nichols with a baton as he screams for help and pleads for them to stop. The assault lasted at least three minutes.
State of play: Scorpion is not the only specialized policing unit that has faced backlash for its officers' conduct.
In 2017, eight detectives in Baltimore's Gun Trace Task Force were convicted of robbery, extortion and racketeering on duty.
A similar unit in Chicago, known as the Special Operations Section, was disbanded after several officers faced charges in 2004 for committing robberies and home invasions.
Civil rights attorneys Ben Crump and Antonio Romanucci, who represent Nichols' family, say they have also received other reports of Scorpion officers' use of excessive force on Black men.
What they're saying: "'Pro-active policing' or 'saturation unit policing,' whether the officers are in unmarked cars wearing tactical vests or 'jump-out boys' in plain clothes and undercover, is defined by several common and dangerous components," Crump and Romanucci said in an open letter published by ABC News' Memphis affiliate.
The letter cites "wolf pack" misconduct and traffic stops without probable cause, many of which disproportionately target Black people and other communities of color.
Though some "saturation patrols" can be effective when there's a "clear and controlled mandate" — like DUI checks — too often, "rampant and unchecked patrols taking on other crimes without oversight and transparency are where things go off the rails and officers can act with impunity," Crump and Romanucci wrote.
"These often aggressive encounters flat out destruct trust between police and the communities they are sworn to protect and serve, but as we saw in the tragic and unnecessary death of Tyre Nichols, can also lead to physical injury or death when the culture of unchecked, pro-active policing overtakes common sense."
What to watch: Crump and Romanucci are urging the Department of Justice and the Major Cities Chiefs Association, an organization of police executives in the U.S. and Canada, to open probes into cities that use similar tactics.
They're also advocating for the analysis to include data on injuries and deaths related to these kinds of patrols, as well as a compilation of complaints from impacted locals.
The federal government has already launched an investigation to determine whether the five officers violated Nichols' civil rights during the assault.
Editor's note: This article has been corrected to reflect that Chicago's Special Operations Section was disbanded after several officers faced charges in 2006, not in 2004.
Go deeper