Memphis Police disband Scorpion unit after Tyre Nichols footage release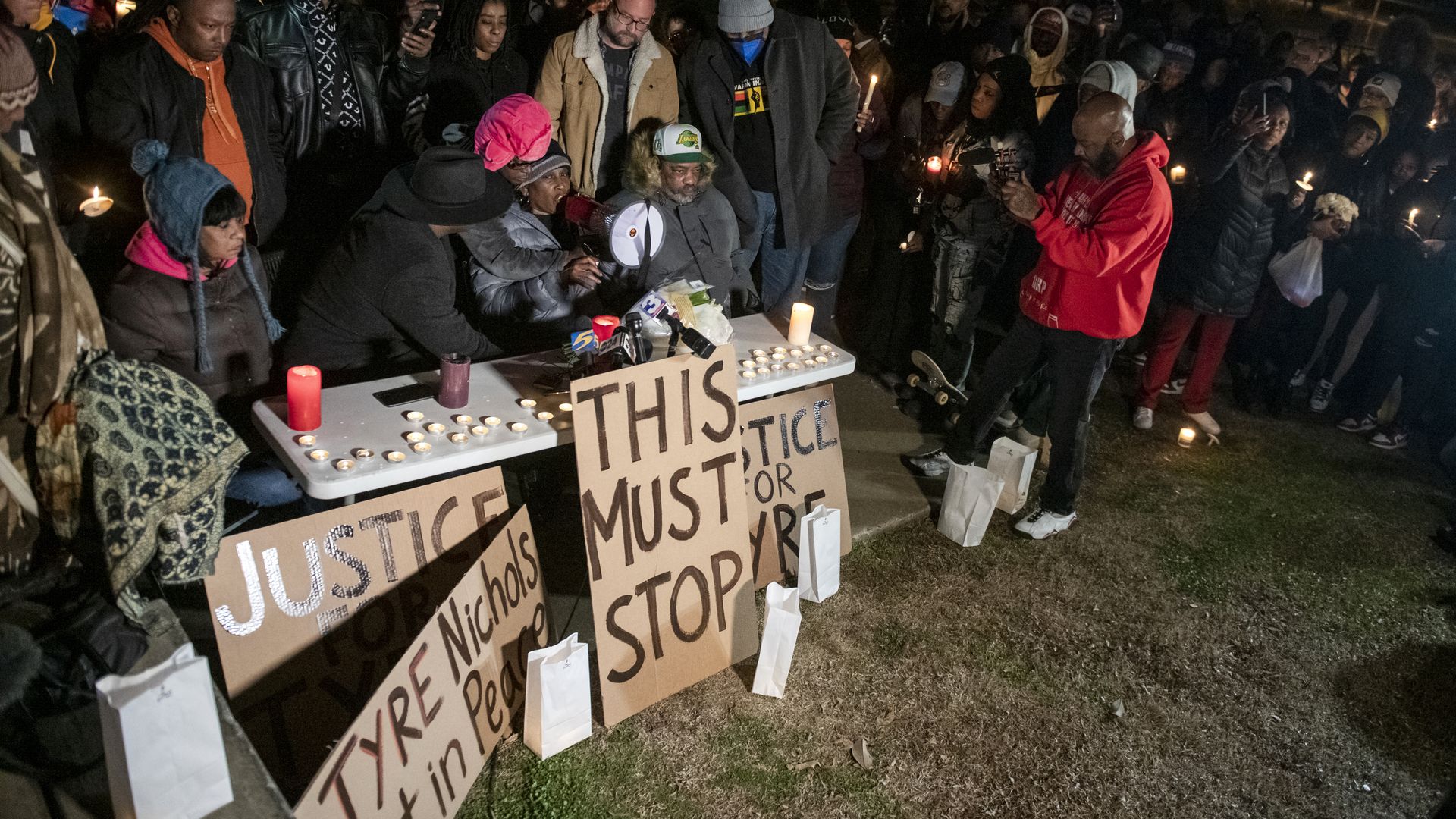 The Memphis Police Department has permanently disbanded the special unit Scorpion in the wake of murder charges brought against five of its members in connection to Tyre Nichols' death.
The big picture: The announcement comes less than 24 hours after the city released police bodycam and security surveillance footage that showed multiple officers kicking, punching and striking Nichols with a baton as he screamed for help and pleaded for them to stop.
Scorpion, which stands for The Scorpion for Street Crimes Operation to Restore Peace in Our Neighborhoods, was first formed in 2021 in a bid to crack down on violent crime in Memphis but has faced controversy over its tactics and police officers' conduct.
Its members primarily deal with illegal gun possession, carjacking and homicides but often drove unmarked police cars as they patrol neighborhoods, typically in 10-man teams.
The police department faced increasing calls, led by Nichols' family, to dissolve the unit after his death — those calls have only escalated since graphic footage of the beating was released Friday night.
Details: Scorpion members met with Memphis Police Chief Cerelyn Davis on Saturday to discuss the unit's future, according to a statement from Memphis Police.
"In the process of listening intently to the family of Tyre Nichols, community leaders, and the uninvolved officers who have done quality work in their assignments, it is in the best interest of all to permanently deactivate the SCORPION Unit," the statement reads.
"While the heinous actions of a few casts a cloud of dishonor on the title SCORPION," Memphis Police and officers assigned to the unit "agree unreservedly with this next step."
Worth noting: The unit was suspended after Nichols' beating, which spurred Davis to order an independent review of the force.
Several civil rights leaders, including attorney Ben Crump, who is representing Nichols' family, have said Nichols' death should prompt a nationwide reckoning with the use of special unit operations.
An open letter penned by Crump and fellow attorney Antonio Romanucci this week also pointed to the ways in which special units enable "wolf pack" misconduct and how these units cause "cause terror in minority communities."
What to watch: Crump and Romanucci have urged the Department of Justice and the Major Cities Chiefs Association, an organization of police executives in the U.S. and Canada, to open probes into cities that use similar tactics.
Go deeper