"They are all responsible": 5 ex-cops involved in Tyre Nichols' arrest charged with murder, DA says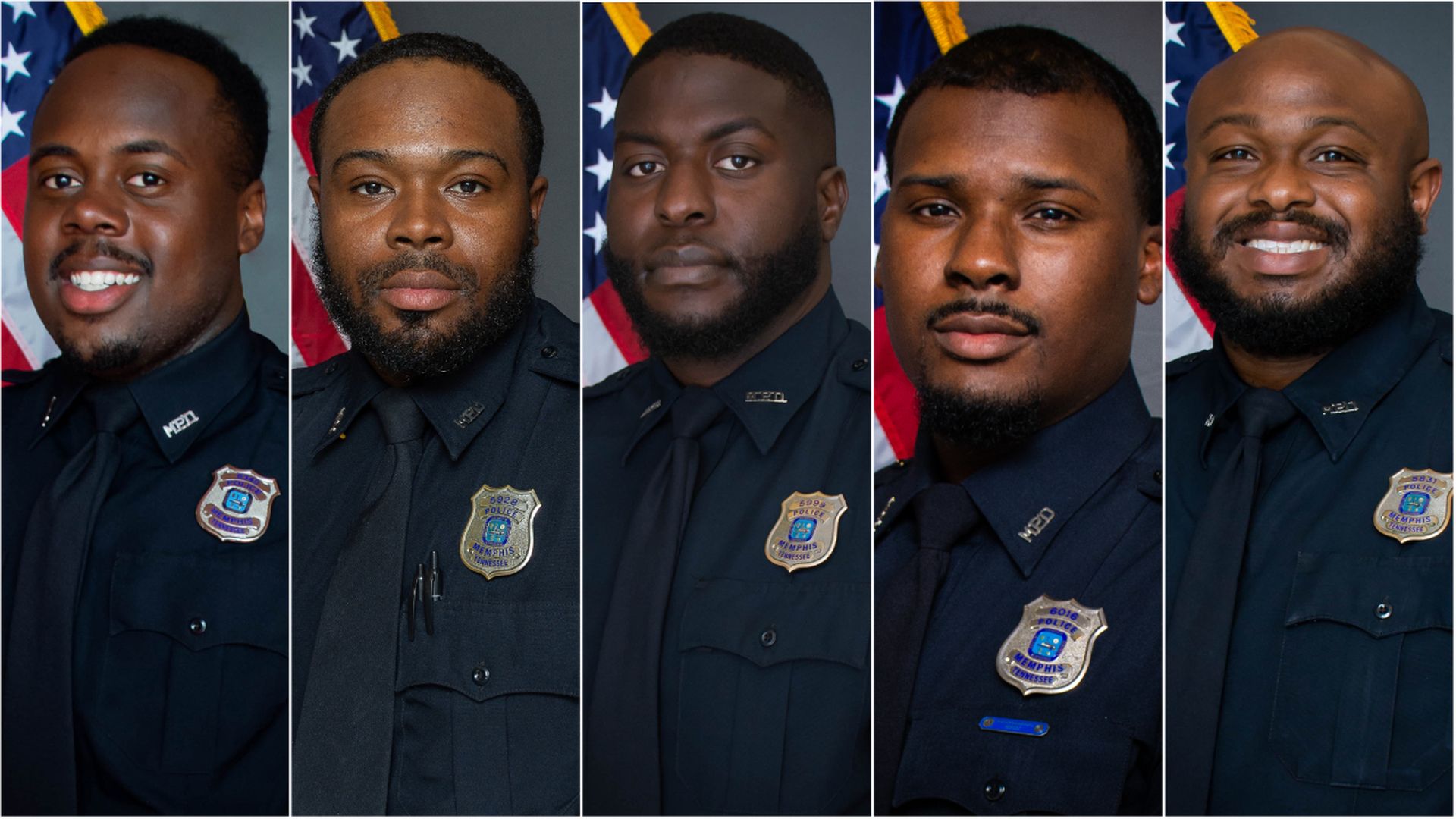 Five former Memphis Police Department officers who were fired following the arrest of Tyre Nichols, a 29-year-old Black man who died days after a forceful traffic stop, have been charged with second-degree murder and booked into the Shelby County jail.
The latest: Shelby County District Attorney Steve Mulroy said officials will release footage of Nichols' arrest Friday after 7 p.m. ET.
Mulroy said former officers Tadarrius Bean, Demetrius Haley, Emmitt Martin III, Desmond Mills, Jr. and Justin Smith, who are also Black men, were each also charged with aggravated assault, aggravated kidnapping, official misconduct and official oppression.
Mulroy said his office met with the Nichols' family before the charges were filed. He said the investigation into and prosecutorial decision against the five officers were expedited "because of the extraordinary nature of the case."
"The actions of all of them resulted in the death of Tyre Nichols and they are all responsible," the district attorney said.
Catch up quick: The Memphis Police Department said in an initial release on Nichols' arrest that he was taken to the hospital "in critical condition" after two confrontations between officers and him after a traffic stop on Jan. 7.
Attorneys representing Nichols' family, Benjamin Crump and Antonio Romanucci, said Tyre died days later on Jan. 10 and that an independent preliminary findings from an independent autopsy revealed he "suffered extensive bleeding caused by a severe beating."
Crump and Romanucci also alleged earlier this week that footage from the traffic stop, which has not yet been released to the public by state and local authorities, shows Nichols being subjected to "unadulterated, unabashed, nonstop beating" by police officers for three minutes.
The federal government opened an investigation earlier in January to determine whether Nichols' civil rights were violated by police during the encounter.
What they're saying: "Simply put, this shouldn't have happened," David Rausch, director of the Tennessee Bureau of Investigation, said during the Thursday press conference with Mulroy.
"I'm sickened by what I saw and what we've learned through our extensive and thorough investigation. I've seen the video," Rausch continued. "In a word, it's absolutely appalling. Let me be clear, what happened here does not at all reflect proper policing."
Crump and Romanucci said in a statement after the officers were charged: "The news today from Memphis officials that these officers are being held criminally accountable for their deadly and brutal actions gives us hope as we continue to push for justice for Tyre,"
"This tragedy meets the absolute definition of a needless and unnecessary death," they added.
The attorneys said they will hold a press conference at noon ET Friday.
President Biden said in a statement Thursday that "Tyre's family deserves a swift, full, and transparent investigation into his death."
His death is a "painful reminder that we must do more to ensure that our criminal justice system lives up to the promise of fair and impartial justice, equal treatment, and dignity for all."
The big picture: Memphis Police Chief Cerelyn Davis condemned the actions of the officers involved in Nichols' arrest, saying they were "directly responsible" for his "physical abuse" and that they had "a failing of basic humanity toward another individual."
Davis said the five officers were fired last week for violating departmental policies during the Jan. 7 stop and additional officers are under investigation for potential violations, though she did not say how many in total were being investigated.
She said footage of Nichols' arrest will show that the incident "was heinous, reckless and inhumane" when it is released "in the coming days."
Ahead of the video's release, NAACP President Derrick Johnson in a statement Thursday called on Congressional leaders to watch it.
"Tell us what else you need to vote 'yes' on police reform. By failing to write a piece of legislation, you're writing another obituary. By failing to pass the legislation, you're passing on your sworn duty to protect the people," Johnson said.
Editor's note: This story and headline have been updated with additional developments and reporting, including charges against the five ex-Memphis police officers.
Go deeper