City of Memphis releases footage of police fatally beating Tyre Nichols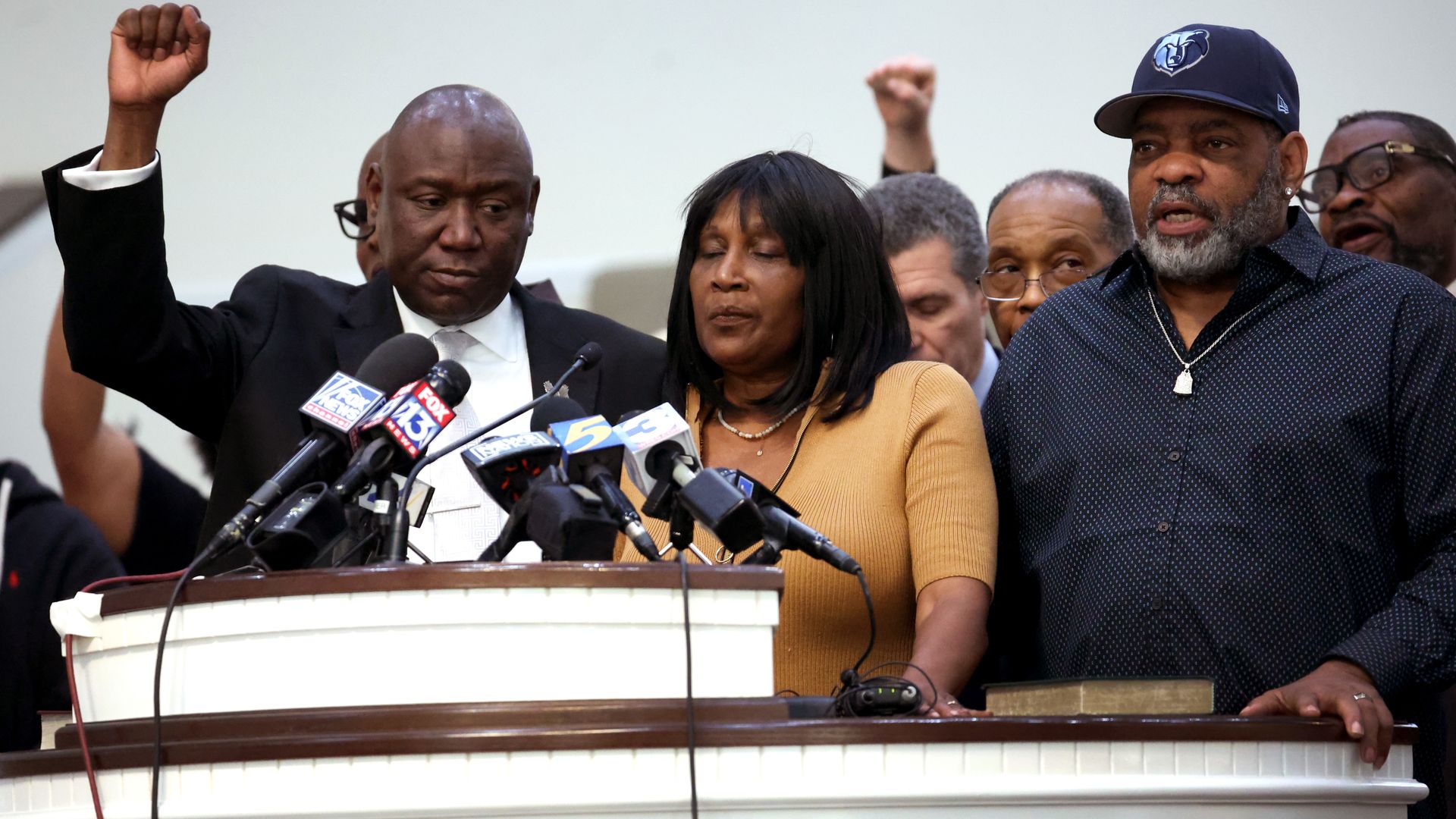 The city of Memphis on Friday released footage ​showing police officers ​fatally beating Tyre Nichols, a 29-year-old Black man​ who died days after he was pulled over during a traffic stop​.
Driving the news: Police body camera and neighborhood security camera footage​ from Jan. 7 show multiple Memphis Police Department (MPD) officers kicking, punching and striking Nichols with a baton as he screamed for help and pleaded for them to stop.
The latest: Two Shelby County Sheriff's deputies have been relieved of duty pending an impending investigation, Sheriff Floyd Bonner Jr. said Friday night. Shelby County is where Memphis is located.
"Having watched the videotape for the first time tonight, I have concerns about two deputies who appeared on the scene following the physical confrontation between police and Tyre Nichols," Bonner said.
"I have launched an internal investigation into the conduct of these deputies to determine what occurred and if any policies were violated," he added.
Bonner did not say what the deputies' roles were in Nichols' arrest.
Details: In the footage, which includes graphic and violent content and depicts two encounters, two police officers hold Nichols on the ground at a residential street corner, while a third officer kicks and punches him in the head.
A fourth officer then repeatedly hits Nichols with what appears to be a baton while the first two officers continue to restrain him.
At one point, Nichols appears to be briefly stumbling as officers hold his arms but falls back to the ground after the third officer punches him several more times in the head.
After Nichols is on the ground again, three of the officers hold him down, and a fifth officer approaches and kicks Nichols.
After the assault, which lasts at least three minutes, two officers drag Nichols to the side of a police car, where he is left without medical attention for around 20 minutes.
During the initial encounter after police pulled Nichols over, officers with guns drawn appear to approach him in the driver's seat of a vehicle.
Officers drag Nichols from the vehicle, footage shows. After he is restrained and on the ground, officers can be heard yelling at him to lie down. Nichols repeatedly said "alright" and "OK" as multiple officers restrain him. At one point he said, "I'm just trying to go home."
During another moment shown in the footage, Nichols can be heard while he is restrained on the ground screaming for his mother.
Catch up quick: The five former officers were booked into the Shelby County Jil on Thursday.
Former officers Tadarrius Bean, Demetrius Haley, Emmitt Martin III, Desmond Mills Jr. and Justin Smith, who are Black men, were also each charged with aggravated assault, aggravated kidnapping, official misconduct and official oppression.
The Department of Justice and the FBI Memphis Field Office are investigating whether Nichols' civil rights were violated by police.
Attorneys for the Nichols family, Benjamin Crump and Antonio Romanucci, previously said the footage shows Nichols being subjected to "unadulterated, unabashed, nonstop beating" by police officers for three minutes.
President Biden spoke with Nichols' mother and stepfather Friday afternoon to express his condolences and commend "the family's courage and strength," the White House said in a statement.
What they're saying: Nichols' mother, RowVaughn Wells, asked Thursday at a vigil that demonstrations over his death be peaceful, saying, "tearing up the streets ... that is not what my son stood for," according to local media.
Nichols' stepfather, Rodney Wells, said during a news conference earlier Friday the family encourages people to hold demonstrations but to "protest safely."
Attorney General Merrick Garland during a news conference earlier Friday urged people to remain calm. He said he did not see the video ahead of its release but was briefed on it, calling it "deeply disturbing" based on descriptions.
"I want to repeat what the family has said, that expressions of concern when people see this video — we urge that they be peaceful and nonviolent," Garland said. "That's what the family has urged."
Context: The Memphis Police Department said in its initial Jan. 8 statement on Nichols' arrest that he was pulled over for "reckless driving" on Jan. 7 before a "confrontation occurred" between Nichols and police as officers approached the vehicle.
It said Nichols fled the scene on foot before another "confrontation" occurred while officers were attempting to take him into custody.
After he was arrested, the department said Nichols complained of shortness of breath. An ambulance was called, and he was taken to a hospital "in critical condition," its statement reads.
Crump and Romanucci said Nichols died days later on Jan. 10 and that preliminary findings from an independent autopsy performed by a pathologist hired by the family revealed he "suffered extensive bleeding caused by a severe beating."
An official cause of death for Nichols has not been issued by the Shelby County medical examiner's office.
Memphis Police Chief Cerelyn Davis said earlier Friday the department, through a review of the footage, was not able to substantiate its earlier claim that Nichols was driving recklessly, which was the stated probable cause for the traffic stop.
Davis went further, saying the cameras did not record any evidence of probable cause for the traffic stop, though she stressed that that did not mean none existed.
What sparked the first confrontation between Nichols and the officers "is just unknown," she said.
An attorney for one of the accused, Desmond Mills Jr., released a statement Saturday urging "caution and patience." The footage "produced as many questions as they have answers," lawyer Blake Ballin said.
"Some of the questions that remain will require a focus on Desmond Mills' individual actions; on what Desmond knew and what he was able to see when he arrived late to the scene; on what Desmond knew and what he was able to see after he was pepper sprayed; and on whether Desmond's actions crossed the lines that were crossed by other officers during this incident," Ballin said.
"We are confident that the questions of whether Desmond crossed the lines that others crossed and whether he committed the crimes charged will be answered with a resounding no."
The big picture: The police chief condemned the actions of the officers involved in Nichols' arrest earlier this week, saying they were "directly responsible" for his "physical abuse" and that they had "a failing of basic humanity toward another individual."
Davis said the five officers were fired last week for violating departmental policies during the Jan. 7 stop and additional officers are under investigation for potential violations.
Davis said two paramedics are also under investigation by the Memphis fire chief over their actions throughout the incident. Based on her assessment of the footage, they delayed in giving medical care to Nichols, she said.
The police chief said she respected citizens' right to exercise their First Amendment to hold demonstrations over the footage, which she described as "heinous, reckless and inhumane," but she discouraged people from "inciting violence or destruction on our community or against out citizens."
Go deeper ...
Editor's note: This story has been updated with additional details throughout.
Go deeper