VP Harris at Tyre Nichols' funeral: He "should have been safe"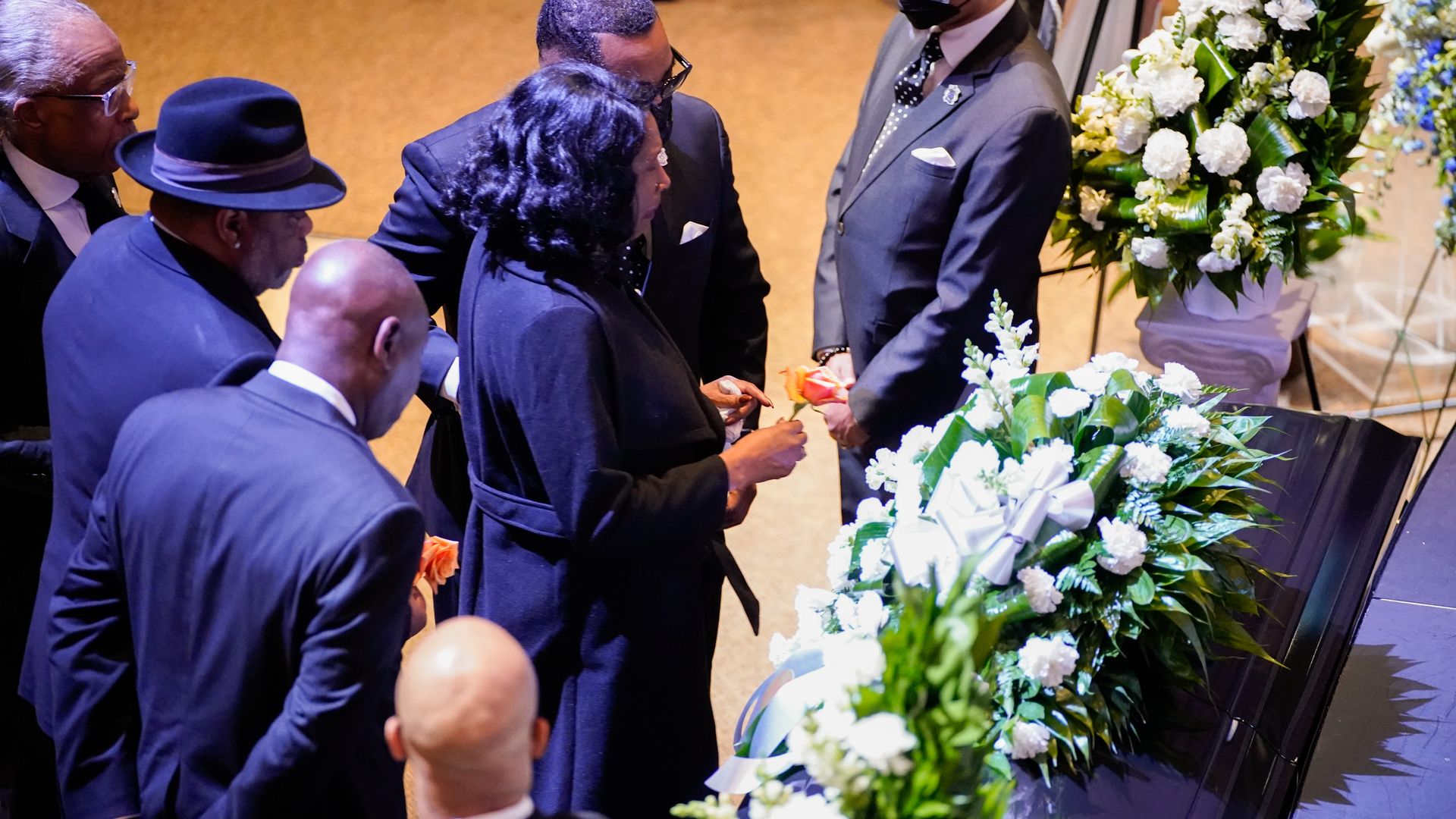 Tyre Nichols was remembered by friends, family, community members and activists at a funeral Wednesday in a Memphis, Tennessee, church.
Driving the news: Vice President Kamala Harris, Rev. Al Sharpton — who delivered the eulogy, as he has for other Black people who have died because of police violence — other White House officials and political figures and the director Spike Lee attended the funeral.
The latest: "Mrs. Wells, Mr. Wells, you have been extraordinary in terms of your strength and your courage and your grace," said Harris, who gave impromptu remarks, addressing Nichols' mother and stepfather.
"And we mourn with you, and the people of our country mourn with you," the vice president added. "This violent act was not in pursuit of public safety. It was not in the interest of keeping the public safe."
Harris called on Congress to pass the George Floyd Justice in Policing Act, promising President Biden would sign it.
What they're saying: "Man said, 'I didn't go nothing,' you kept on going anyhow," Sharpton said during the eulogy. "Why do they go ahead? Because they feel that there is no accountability."
"They feel that we are going to get angry a day or two then we're going on to something else. But some of us do this everyday. Some of us believe the dream has to come true. Some of us are going to fight until we make this legislation happen," he added.
"I don't know when, I don't know how, but we won't stop until we hold you accountable and change the system," the reverend said.
Nichols' stepfather, Rodney Wells, promised to work toward justice for his son and other victims of police brutality.
"We have to fight for justice. We cannot continue to allow these people brutalize our kids," Rodney Wells said. "Justice for Tyre. Justice for all the families that lost loved ones through brutality of police or anybody.
"The only thing that's keeping me going is the fact that I really, truly believe my son was sent here on an assignment from God," Nichols' mother, RowVaughn Wells, said. "And I guess now his assignment is done if he's been taken home."
Details: The family of other Black victims of police violence — including George Floyd, Breonna Taylor and Eric Garner — attended the funeral as well, Sharpton said.
Attorney Ben Crump, who has worked with the Nichols and Taylor families, also delivered a "call to action" during the funeral.
Crump noted that Taylor and Nichols shared a birthday: June 5, 1993.
Sharpton pointed out that both Floyd and Nichols both cried out for their mothers during violent arrests. "All he wanted to do was get home," Sharpton said.
The service was delayed by several hours because of a major ice storm hitting the southern U.S.
Nichols is survived by his mother, his stepfather, a sister and two brothers and his 4-year-old son, Milo.
He worked at FedEx and loved skateboarding and photography.
Nichols grew up in Sacramento, California, and was a fan of the San Francisco 49ers, per AP. He reportedly "came to Memphis just before the coronavirus pandemic and got stuck."
Axios recently spoke with Rev. J. Lawrence Turner, who lead the service at Mississippi Boulevard Christian Church.
Turner said he hopes Nichols' funeral would become a rallying cry to encourage mourners to channel their outrage into the ongoing fight for systemic change.
"We wouldn't be fully human if we couldn't admit that there are times where we're like, you know, 'What's the use?'" Turner said. "But we don't allow ourselves to stay there. We find the energy and the strength to keep pressing on."
Video of a teenage Tyre Nichols skateboarding, recorded by friends more than a decade ago, has given the world a joyful way to remember his life.
"I want him to be remembered as the kid smiling in the skate video, and not the kid that was fighting for his life," Nichols' friend Austin Robert told NPR.
Part of a GoFundMe created by Nichols' mother will go toward building a skatepark in his honor in the city.
Nichols' family called for police reform on Tuesday inside Memphis' historic Mason Temple, where Martin Luther King Jr. delivered his famous "Mountaintop" speech on the eve of his assassination in 1968.
"The only thing I can say this evening is going to be sweet and short. Keep fighting for justice for our son and my family," Rodney Wells, Nichols' stepfather, said. "Justice for Tyre."
The big picture: The Memphis officers' assault on Nichols, seen publicly in graphic and violent footage released by the city of Memphis last week, has prompted shock, sadness, and outrage around the country.
President Biden called it "yet another painful reminder of the profound fear and trauma, the pain, and the exhaustion that Black and Brown Americans experience every single day."
Go deeper:
Editor's note: This article and headline have been updated with additional developments, including Vice President Kamala Harris' remarks.
Go deeper