Police reform could skip Congress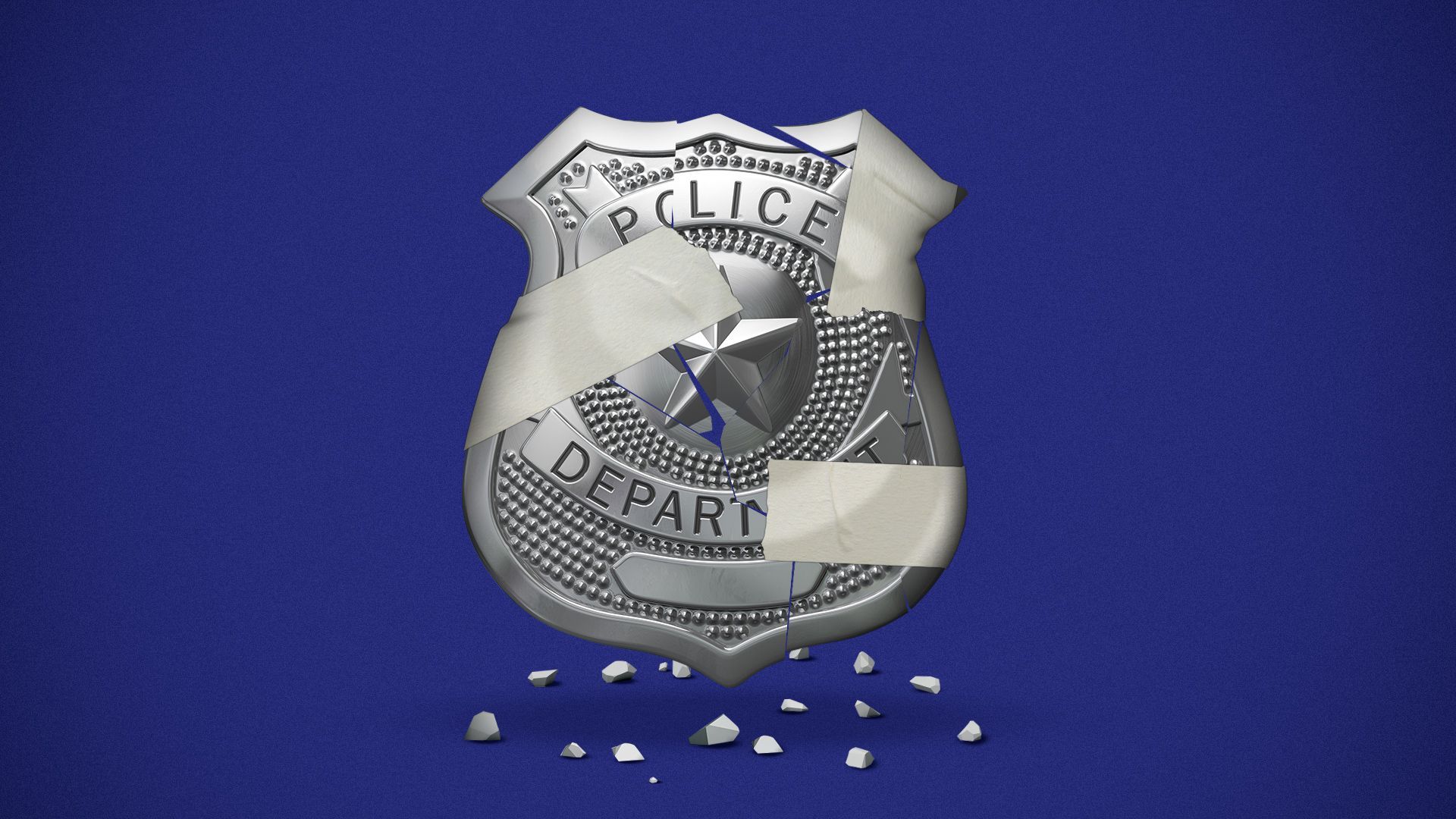 Some Democrats are looking past a divided Washington for action on police reform in light of the killing of Tyre Nichols, choosing instead to put their hopes in state and local officials.
Why it matters: Activists and lawmakers have little hope that D.C. will deliver meaningful legislation — especially after Democrats couldn't pass the George Floyd Justice in Policing Act while they had the majority.
The big picture: Democrats who want to go around Congress say they've seen serious changes at the local level driven by city council members, state legislators and voters supporting ballot measures.
The reforms include increasing police oversight and accountability, disbanding special task forces and crime units, banning the use of dangerous practices like chokeholds and no-knock warrants, and empowering civilians to get involved through community boards and groups.
Funding the police and hiring more police officers have also been part of those reforms.
The skepticism about what D.C. can do extends to and from the White House.
President Biden did "everything that he could" when he signed an executive order on policing last year, press secretary Karine Jean Pierre told reporters this week. Biden's order included restrictions on chokeholds, required anti-bias training and created a nationwide database for police misconduct.
Some civil rights leaders privately anticipate Biden won't talk about police reform in a more nuanced way at next week's State of the Union, but they're watching what he says about his previous plan to hire 100,000 more cops.
Zoom in: Police officers in Memphis, Tennessee, on Jan. 7 stopped 29-year-old Nichols for what they said was "reckless driving," then beat him until he was hospitalized. He died several days later.
Five officers have been charged with second-degree murder.
Color of Change, a progressive nonprofit civil rights group, launched a petition seeking justice for Nichols that's a direct appeal to the Memphis City Council.
The backdrop: The Congressional Black Caucus (CBC) is meeting with Biden on Thursday for a discussion about police reform.
"Our goal is a legislative action with the Senate going first," an aide for CBC Chairman Rep. Steven Horsford (D-Nev.) told Axios. They'll also be pressing the president to deliver parts of the executive order that he signed last year, the aide said.
The George Floyd Justice in Policing Act passed the House before bipartisan negotiations fell apart in the Senate.
One of the main sticking points was qualified immunity, which protects police officers from lawsuits over the use of excessive force.
Senate Republicans, including Tim Scott of South Carolina, who led these negotiations last time, aren't signaling a sudden change of heart on the parts of the bill that they opposed.
"We should have simple legislation that we can agree upon that has been agreed upon in the past. But too often, too many are too concerned with who gets the credit," he said Monday on the Senate floor.
"Let's do our jobs. We can make a difference in this nation. Had the duty to intervene been law of the land on the federal level, it could have made a difference in Memphis."
Between the lines: Some say that restructuring law enforcement won't happen without also addressing racism, which can't be eradicated via legislation.
The city of Memphis voted in 2020 to enact policies that would reduce the use of excessive force by Memphis Police Department officers.
"You can't legislate cultural change," Tennessee State Sen. Raumesh Akbari said Monday on MSNBC.
Karen Finney, a longtime Democratic strategist and former spokesperson for Hillary Clinton's 2016 presidential campaign, told Axios that most Democrats are "afraid" to talk about race. "These are tough issues, but as a party we have to get over that and have these conversations," she said.
What to watch: Vice President Kamala Harris' allies say that her experience as a state attorney general and federal legislator gives her a layered understanding of how policing works (and doesn't) at different levels, potentially setting her up as a key player in these discussions.
Go deeper