McCarthy talks escalate as speaker vote adjourns on Day 3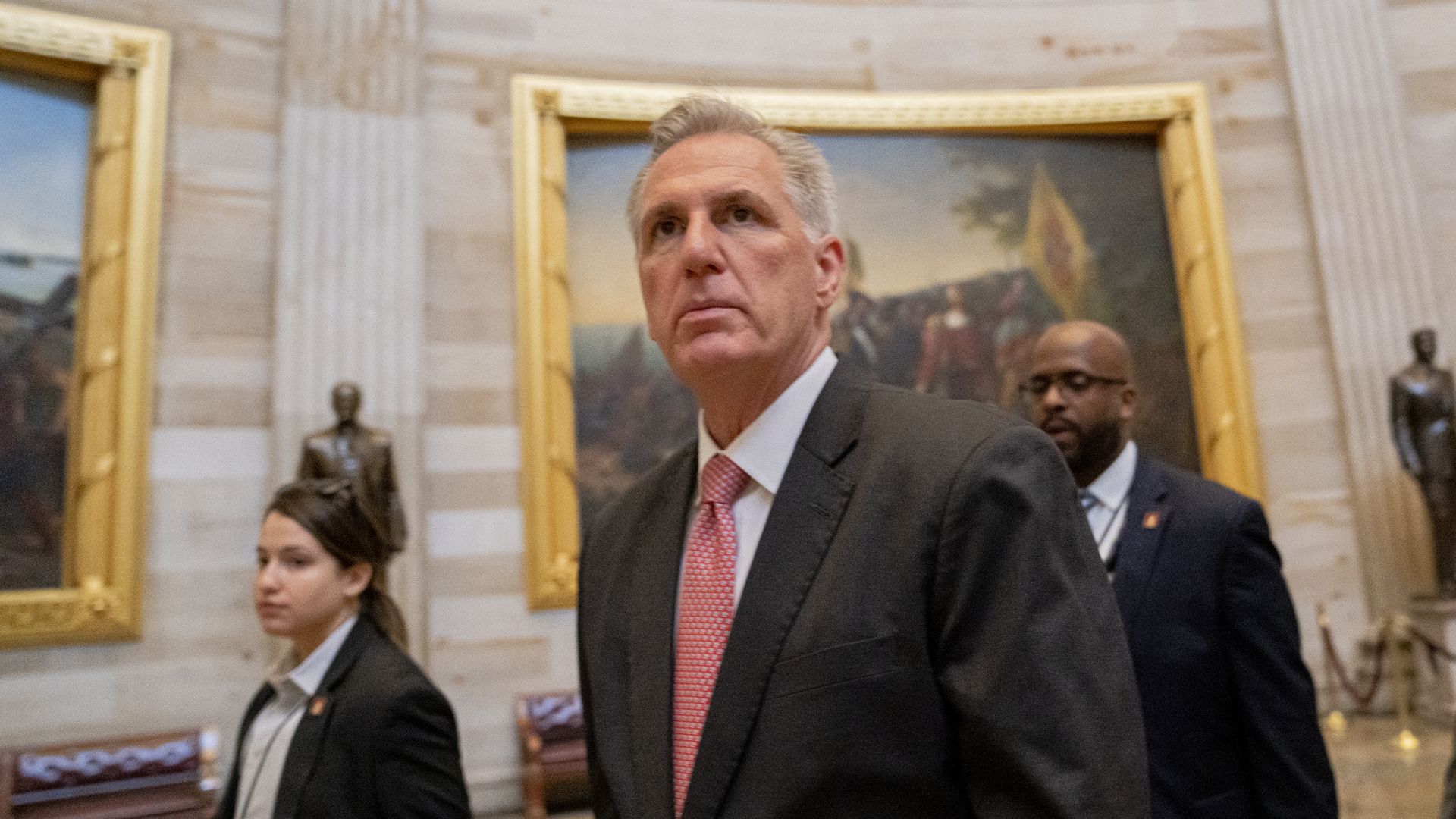 The House voted to adjourn Thursday night until Friday at noon after House GOP Leader Kevin McCarthy lost a speakership bid for an 11th time. The ongoing Republican failure to reach a consensus has ground the chamber's work to a halt.
The big picture: The House spectacle this week has put GOP infighting on display and may be a preview of what's to come in the 118th Congress, which ushers in a return of a divided government.
Talks between McCarthy's allies and GOP holdouts escalated on Thursday, per Punchbowl News.
The adjournment will allow both sides to further negotiate a deal.
This is the second straight day where the sides adjourned with reports of new concessions from GOP leadership.
"I'm not putting any timeline on it. We've got some progress going on. Members are talking," McCarthy said Thursday.
Context: Without a speaker, members of the 118th Congress can't be sworn in, and the House can't set rules or consider legislation.
State of play: The embattled California lawmaker lost six votes earlier this week in his bid for the speakership, with 20 of his Republican colleagues voting for alternative candidates, including Reps. Jim Jordan (R-Ohio) and Byron Donalds (R-Fla.).
The House adjourned Wednesday night after three unsuccessful votes, giving McCarthy more time to negotiate. The House had three dead-end votes on Tuesday.
Between the lines: McCarthy as part of earlier concessions proposed adding more House Freedom Caucus members to the House Rules Committee and promised holding votes on term limit and border security bills.
He also proposed allowing a one-member motion to vacate, instead of five, a sticking point for some Republicans.
The other side: House Democratic leaders on Thursday slammed Republicans for the "historic turmoil" in the chamber.
"It's my hope that today, the House Republicans will stop the bickering, stop the backbiting and stop the backstabbing of each other so we can have the back of the American people," Minority Leader Hakeem Jeffries (D-N.Y.) said during a news conference.
By the numbers: A speaker can win with fewer than the conventionally necessary 218 votes if not every member shows up, or if some vote present.
Of note: McCarthy's continued losses came after former President Trump on Wednesday urged Republican lawmakers to vote for McCarthy — one of his staunchest allies in the House during and after his presidency, despite McCarthy's initial public criticism of Trump after the Jan. 6 insurrection.
Editor's note: This story has been updated with new details throughout.
Go deeper