Rep. Byron Donalds boosted for speaker by anti-McCarthy group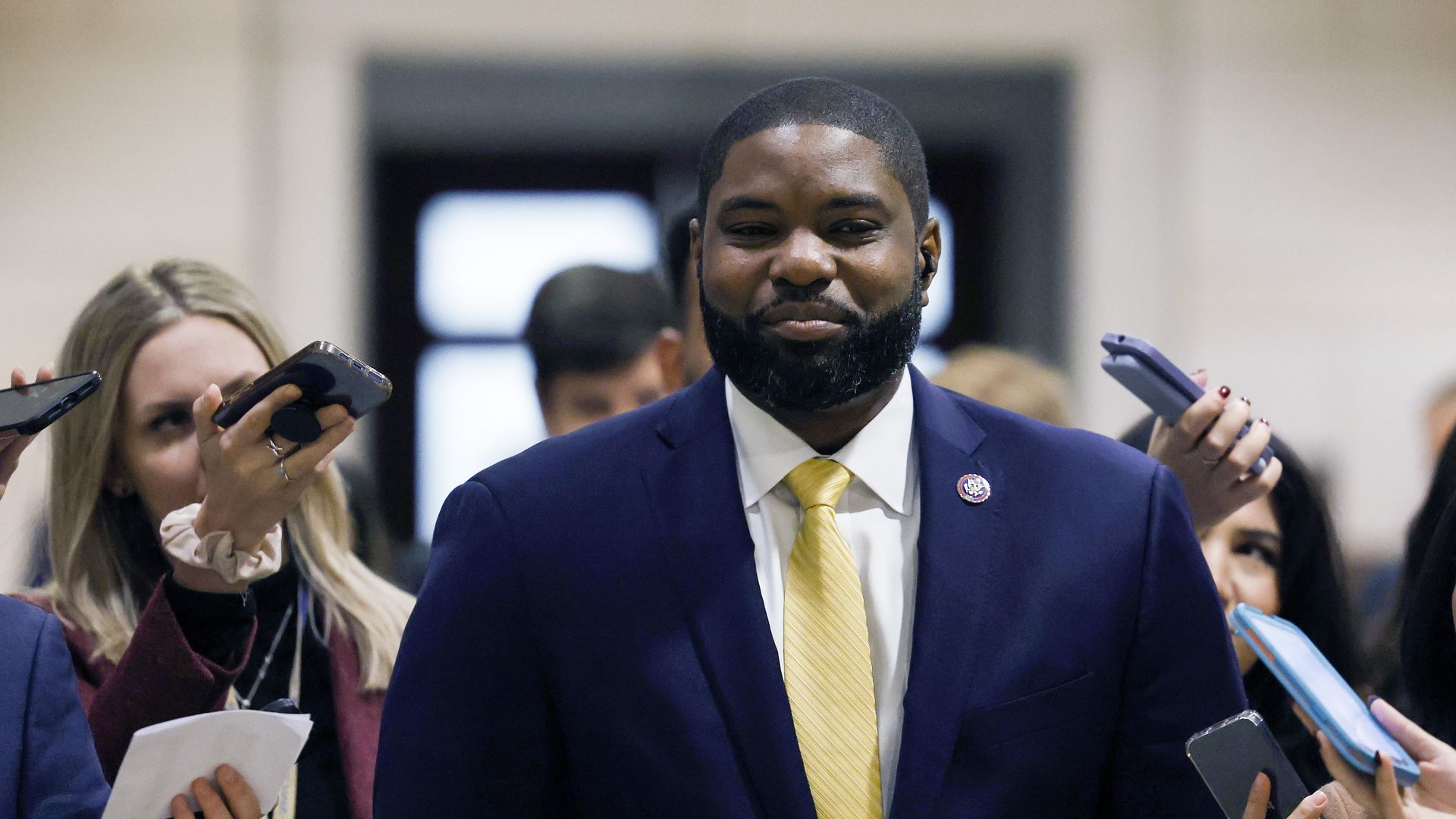 Rep. Byron Donalds (R-Fla.) won a bloc of House Republican votes for speaker over multiple rounds of voting on Wednesday and Thursday, blocking GOP Leader Kevin McCarthy (Calif.) from taking the position.
Driving the news: This marks the first time both major parties have nominated a Black person to lead the House, per the Washington Post, with Democrats supporting Rep. Hakeem Jeffries (D-N.Y.) for the role.
Donalds, a sophomore representative, had voted for McCarthy in the first two rounds of voting on Tuesday, but on the third round flipped his vote from McCarthy to Rep. Jim Jordan (R-Ohio).
Rep. Chip Roy (R-Texas) nominated Donalds ahead of the fourth round of voting, praising Donalds as a "solid conservative" and a "family man" before adding that "there's an important reason for nominating Byron, and that is, this country needs a change."
20 House Republicans backed Donalds in Wednesday's fourth and fifth round of voting for speaker, and he continued to garner votes on Thursday.
Aa break in the unified faction of 20 House Republicans occurred during the seventh round of voting Thursday, when Rep. Matt Gaetz (R-Fla.) voted for former President Trump to be speaker.
Who is Byron Donalds?
Donalds was first elected to the Florida state legislature in 2016, where he focused on issues of criminal justice reform and improving Florida's education system, the Wall Street Journal reported.
Before running for office, Donalds had authored a newsletter for former Republican presidential candidate Herman Cain.
Donalds won his seat in the House of Representatives in 2020 after running as an ally of then-President Donald Trump.
Donalds told voters that he was a "a strong, Trump-supporting, gun-owning, liberty-loving, pro-life, politically incorrect Black man," per the Journal.
He was among the 139 House Republicans who voted to overturn the 2020 presidential election on Jan. 6, 2021 and had been endorsed by Trump ahead of the 2022 midterms, per the New York Times.
State of play: At the end of the 4th vote, McCarthy had garnered 201 votes compared to Jeffries' 212 votes, while Donalds had won 20.
Rep. Victoria Spartz (R-Ind.) voted present.
The big picture: Ahead of the fourth vote, Donalds told "CNN This Morning" during an interview Wednesday morning that "a lot of that remains to be seen" but he left the door open to potentially supporting McCarthy again.
"What I'm going to do right now is vote for who I think is in the best interest of the conference" Donalds said.
"Right now, he doesn't have a pathway to get there. If that reemerges, yeah, I can be there. That's fine. But what is necessary now is that Republicans come  together and find a way to elect a speaker," he added.
Republicans voting for Donalds did so hours after former President Trump urged Republicans to vote for McCarthy.
In November, Donalds lost a bid to become the House GOP Conference Chair to Rep. Elise Stefanik (R-N.Y.), in a 144-74 vote.
Following a round of voting Wednesday, Donalds told Fox News Channel's "America Reports" that he intended "to make sure that we get a speaker elected and that we start this process. It may be me, it may not be me, but those are my intentions."
"These leadership challenges are a good thing for our party, and they're actually a good thing for America. The days of just power by acclamation, those days are over. It needs to be earned," he added.
Zoom out: The disarray over the speakership is emblematic of a wider, ongoing civil war within the Republican party, following an underperformance in November's midterm elections that left them with a razor-thin House majority, Axios' Erin Doherty writes.
The House can't swear in its new members until a speaker is elected.
Go deeper