The ungovernable House GOP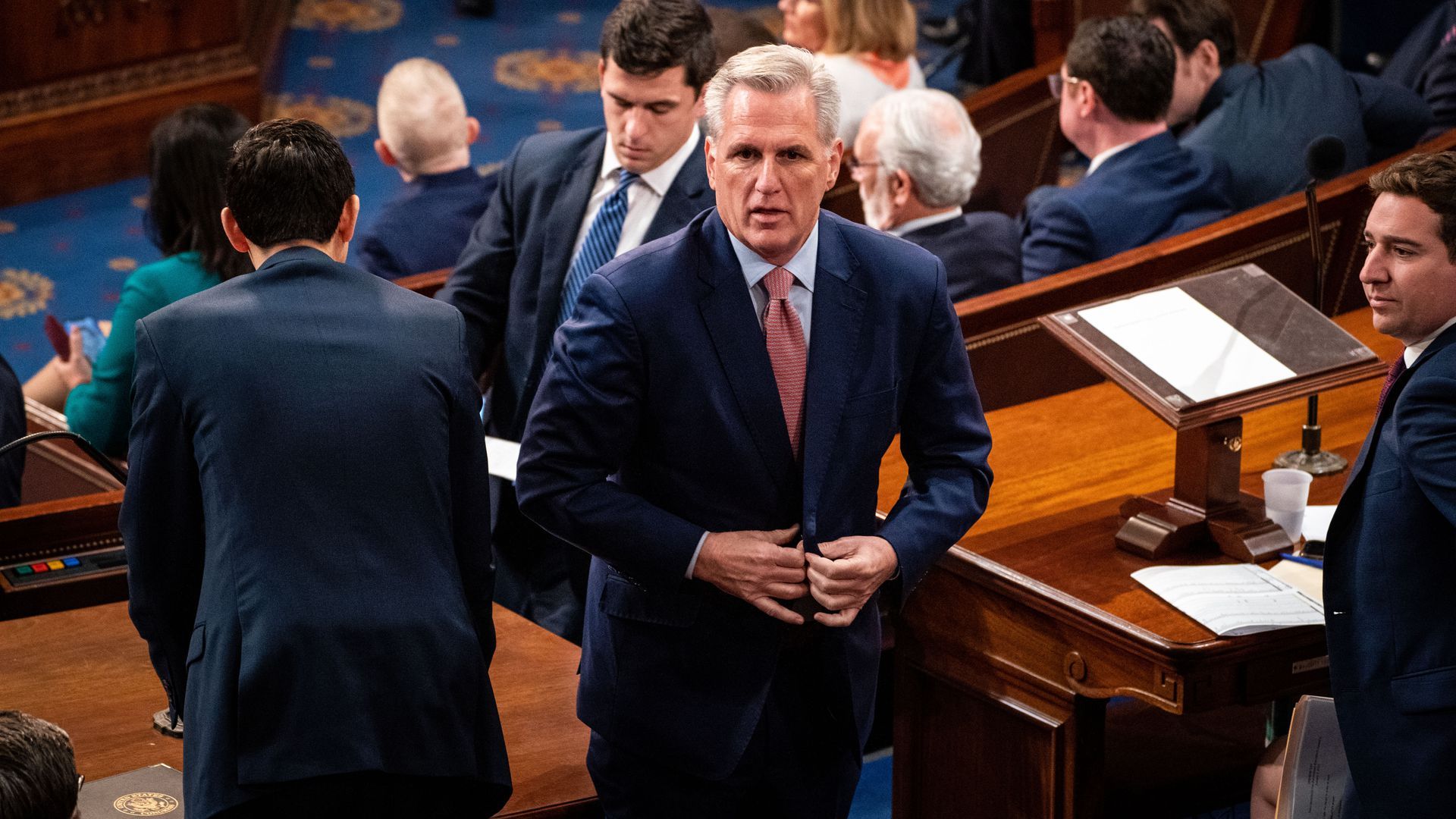 The new House of Representatives adjourned for the first time Tuesday evening with no speaker, no new members sworn in, and no clear path to functioning as a governing body in the near future.
Why it matters: We've long known — and previewed — the perils of a narrow House GOP majority. But the scale of the challenge that emerged after the "red wave" didn't has never been more clear.
State of play: Three times, House GOP Leader Kevin McCarthy (R-Calif.) fell short of the 218 votes needed to become speaker, with 19 Republicans voting for alternative candidates on the first and second ballots.
On the third ballot, Rep. Byron Donalds (R-Fla.) switched his vote from McCarthy to Rep. Jim Jordan (R-Ohio) — calling on the GOP conference to huddle and "come to a consensus" given that McCarthy "doesn't have the votes."
"Hard to overstate the psychological/optical blow of *losing* support on the third ballot when you desperately need things to be heading the opposite direction," Cook Political Report's Dave Wasserman tweeted.
What's next: McCarthy and the rebels are both digging in, threatening to turn the speaker battle into a war of attrition when the House returns tomorrow at noon.
Asked how long he's willing to let this go on, leading anti-McCarthy Republican Rep. Ralph Norman (R-S.C.) told reporters this evening: "Six more months."
For McCarthy, withdrawing from the race is not on the table. But there's little else he can offer up in the spirit of compromise, given the raft of concessions he's already made.
Between the lines: Bloomberg opinion columnist Joshua Green traces today's crisis to the chaos blueprint perfected by Donald Trump.
"Unlike their Tea Party predecessors a decade ago who made life miserable — and short — for two previous Republican speakers, John Boehner and Paul Ryan, McCarthy's enemies aren't driven by a desire for aggressive conservative policy reforms," Green writes.
"They want to blow things up. They want McCarthy's scalp. And the narrow Republican margin in the House makes it extremely difficult for anyone to stop them."
The big picture: Even if McCarthy gets through this somehow, he will be at the mercy of these rebels when it comes to getting anything done — including must-pass legislation like raising the debt ceiling.
With the full faith and credit of the United States on the line, House Republicans' game of chicken suddenly gets a lot more serious than one man's political career.
Go deeper