Updated Mar 11, 2022 -

World
Which global companies are abandoning Russia, and why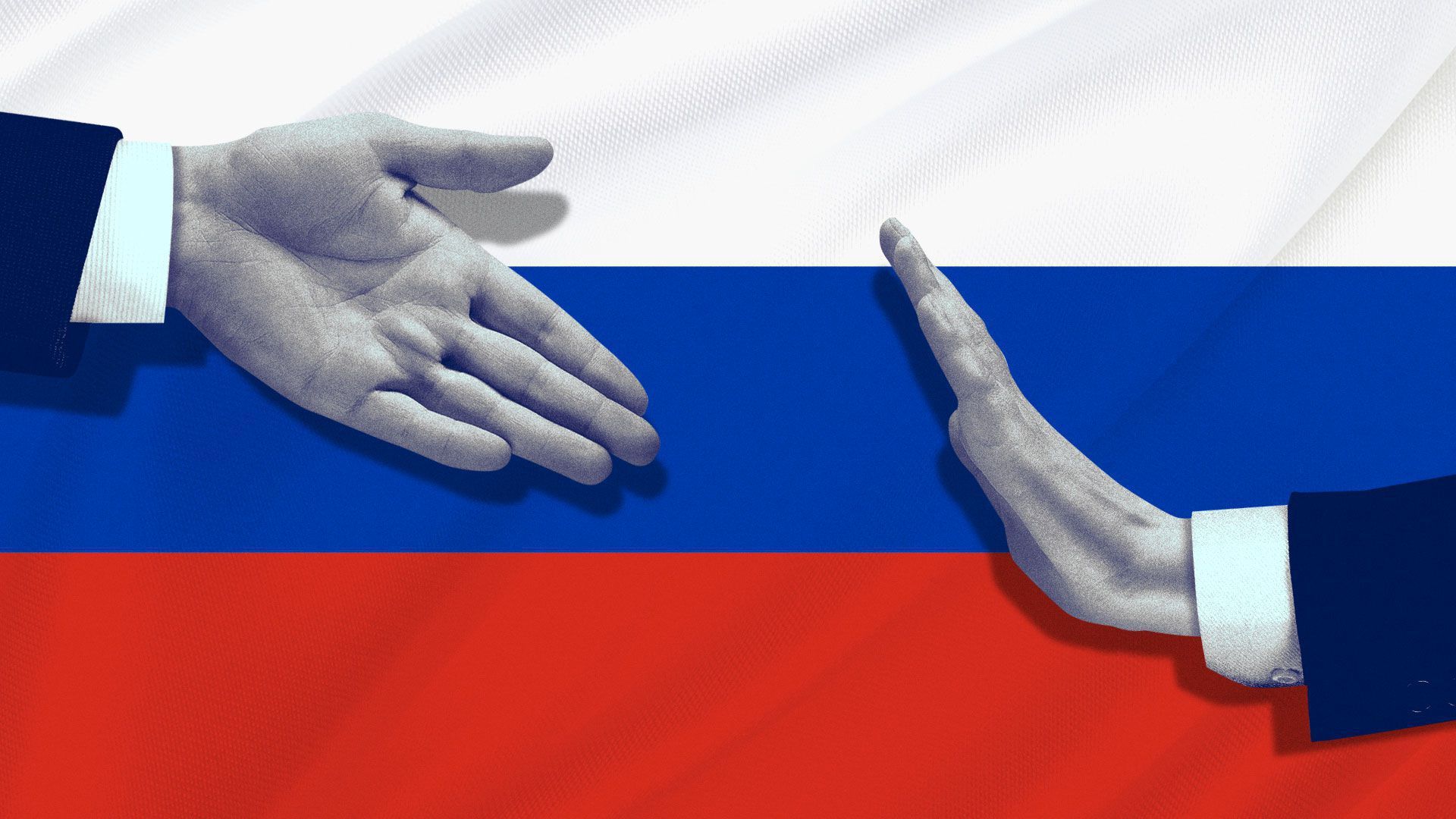 Giant global businesses in every sector are abandoning Russia following the invasion of Ukraine.
Why it matters: In addition to condemning the invasion, the companies see an impossible environment — from worker safety to the logistics of getting supplies, financial and sales disruption and the complexity of complying with sanctions.
State of play: Financial sanctions have isolated Russia from the rest of the world. Businesses operating in Russia have an increasingly limited ability to collect revenue or pay workers and suppliers. 
Economic sanctions, including export controls, have curtailed imports.
Some workers were being moved out of Russia.
Restricted airspace and travel are preventing companies from getting equipment they need to continue to operate.
Between the lines: Some companies that have very little physical presence in Russia — including many in tech, retail and media — are limiting how products are used in Russia or have pulled them.
Flashback: Since the Soviet Union's collapse three decades ago, Russia had been seen as an emerging market with long-term growth potential.
Since the invasion began:
Adidas suspended its partnership with the Russian Football Union.
Nike ceased online sales because it can't guarantee delivery.
FedEx and UPS suspended shipments.
Yoox Net-A-Porter Group and Farfetch, luxury e-commerce platforms, are suspending deliveries in Russia.
Apple has paused product sales and limited services (including Apple Pay), on top of ceasing exports to Russia and restricting features in Apple Maps in Ukraine to safeguard civilian safety.
Dell stopped selling products.
Ericsson was suspending deliveries to Russia.
Walt Disney was pausing film debuts in Russia. Warner Bros., Sony, Paramount and Universal say they won't release films in the country.
Sony also suspended selling the PlayStation video game console in Russia and suspended the PlayStation Store in Russia. Sony also suspended Sony Music Group's operation in Russia.
Ikea was closing its Russian stores and pausing all exports and imports in the country and ally Belarus.
Airbnb said it was "suspending all operations in Russia and Belarus."
Google suspended all online advertising in Russia.
Microsoft suspended all new sales of its products and services in Russia.
Hermès temporarily closed all of its stores in Russia.
Amazon Web Services was no longer accepting new customers Russia and Belarus.
Uniqlo's owner, Fast Retailing, temporarily suspended operations in Russia.
Hitachi Group is suspending exports to Russia and pausing manufacturing in the country. The exception, said the company, are products that are "indispensable to the daily lives of people," in Russia.
Nintendo confirmed to Axios that it will be suspending shipping of all Nintendo products to Russia, citing the "volatility surrounding the logistics of shipping and distributing physical goods."
Warner Music Group suspended all operations in Russia.
Editor's note: This article has been updated with new details throughout.
Go deeper