House Judiciary Committee hears impeachment evidence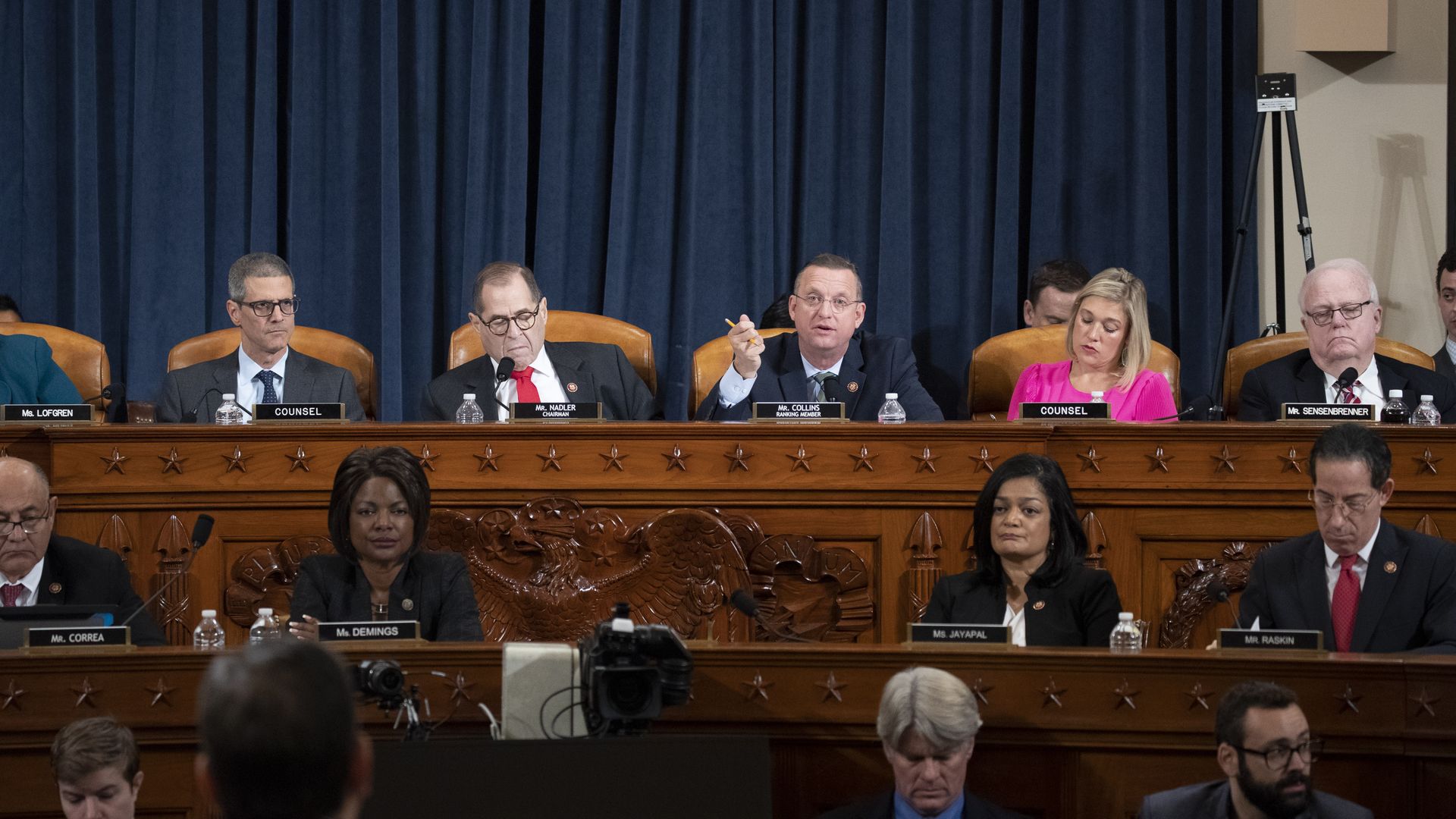 The House Judiciary Committee heard the evidence behind the impeachment inquiry on Monday in a marathon nine-and-a-half hour hearing.
Why it matters: The committee is likely only days away from drafting formal articles of impeachment against President Trump — and this hearing was one of House Democrats' last chances to summarize their case against the president to the public.
The highlights:
The hearing saw much more parliamentary wrangling than past impeachment hearings — as Judiciary Republicans have attempted to use House rules during breaks in testimony to delay and stymie the proceedings.
The counsel for the House Intelligence Committee's Democrats, Daniel Goldman, laid out a lengthy, fact-based opening statement detailing why Trump should be impeached.
The counsel for the House Intelligence Committee's Republicans, Steve Castor, faced a sharp line of questioning over the minority's impeachment report, which argues that Trump did nothing wrong regarding Ukraine, and its representation of witness testimony during the impeachment hearings.
House Republicans, especially Rep. Matt Gaetz (R-Fla.), argued that political donations to Democrats from Goldman and House Judiciary counsel Barry Berke undercut their testimony and cast it in a partisan light.
What's happening: Goldman presented the facts behind Intel Democrats' 300-page report, summarizing the committee's public and closed-door impeachment hearings on the Ukraine investigation.
Judiciary has heard from its own counsel, led by Berke.
The hearing has given Republicans an equal amount of time for their final public opportunity to rebut Democrats' case.
The White House has refused to participate in this hearing, as well as the larger impeachment inquiry.
Watch:
Read:
How it's playing: Fox News' Chris Wallace said Monday that the Ukraine-linked allegations against President Trump are "far broader than the Clinton impeachment," calling them "an issue of foreign policy, national security."
The bottom line: This hearing is largely just a formality, as there is almost no doubt that Judiciary's Democrats will quickly move toward drafting articles of impeachment.
Axios' Alayna Treene reports that there are no other impeachment hearings scheduled for this week, per committee aides.
The articles are expected to be marked up in the next few days — with a full committee vote by the end of the week.
Go deeper:
Go deeper