Highlights from Laura Cooper's and David Hale's impeachment testimonies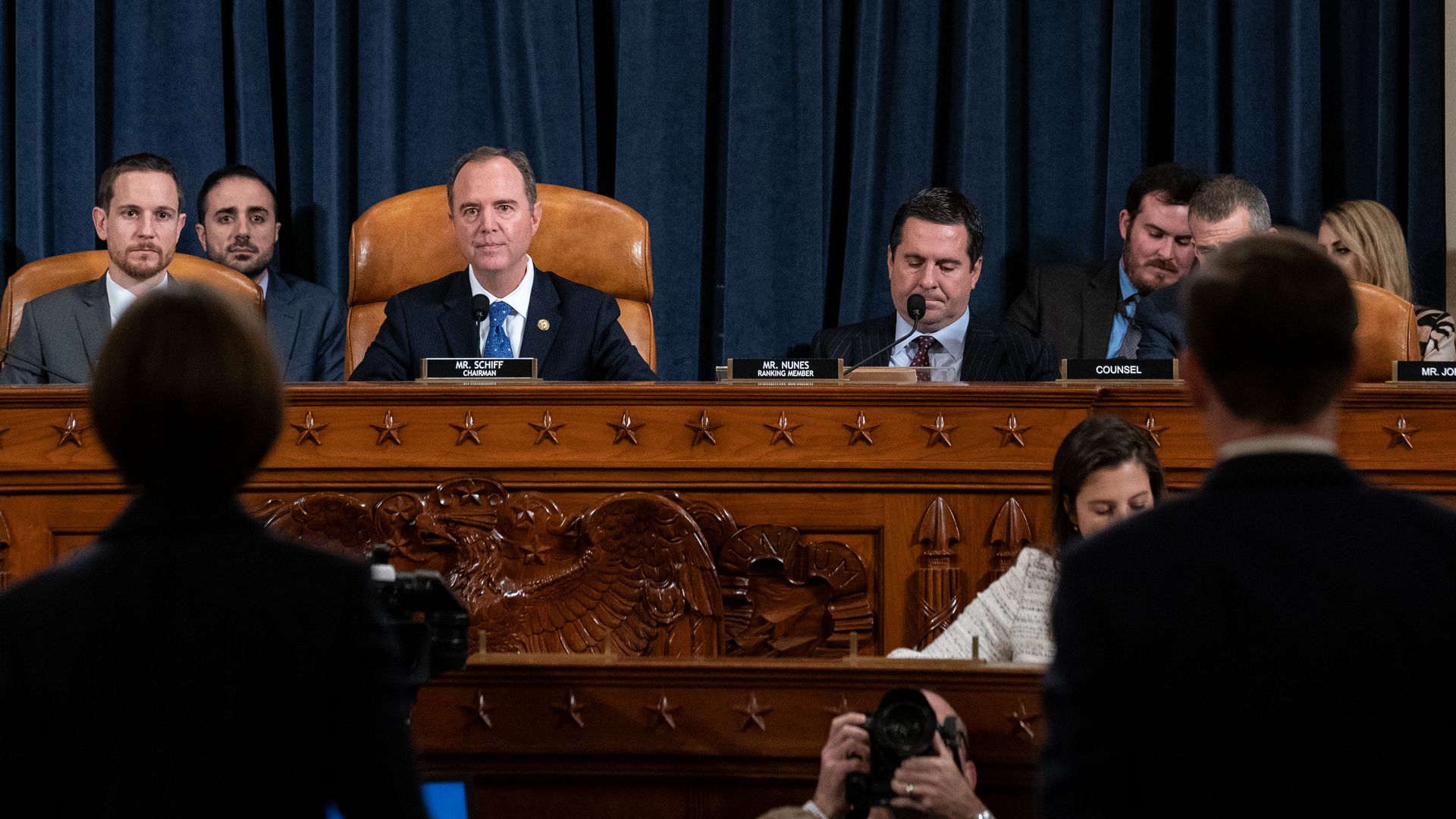 Defense Department official Laura Cooper and Undersecretary of State for Political Affairs David Hale testified Wednesday in the second impeachment hearing of the day.
Driving the news: Cooper testified that, after the transcript of her closed-door deposition was released on Nov. 11, members of her staff brought her two unclassified emails from the State Department revealing that the Ukrainian Embassy was inquiring about the military aid on July 25 — the same day as Trump's phone call with Ukrainian President Volodymyr Zelensky.
The backdrop: Cooper, the first Pentagon official that the public will hear from, testified in her closed-door deposition that the order to freeze military aid to Ukraine came from the White House. She was informed it was related to President Trump's "concerns about corruption" and testified that other officials raised questions about the legality of the decision.
Hale is the third-highest-ranking official at the State Department. He testified that agency leadership declined to put out a statement of support for former U.S. Ambassador to Ukraine Marie Yovanovitch, who was removed after a smear campaign promoted by Rudy Giuliani and right-wing media.
The highlights:
Cooper said that Ukrainian officials were aware "there was some kind of issue" with the aid on July 25 and that they were aware the aid had been suspended by August. This suggests Ukraine knew about the aid freeze earlier than previously believed, potentially undermining a key Republican defense.
Cooper testified that the Defense Department certified Ukraine as complying with anti-corruption requirements for security assistance in May, before Trump froze the aid. She stated that she did not know why the hold for the aid was lifted in September.
Hale testified that the smear campaign against ousted Ambassador Marie Yovanovitch was "wrong" and that she "should have been able to stay in post and continue to do the outstanding work that she was doing."
Watch:
Read:
The past hearings:
Go deeper:
Go deeper