The highlights from all of the public impeachment hearings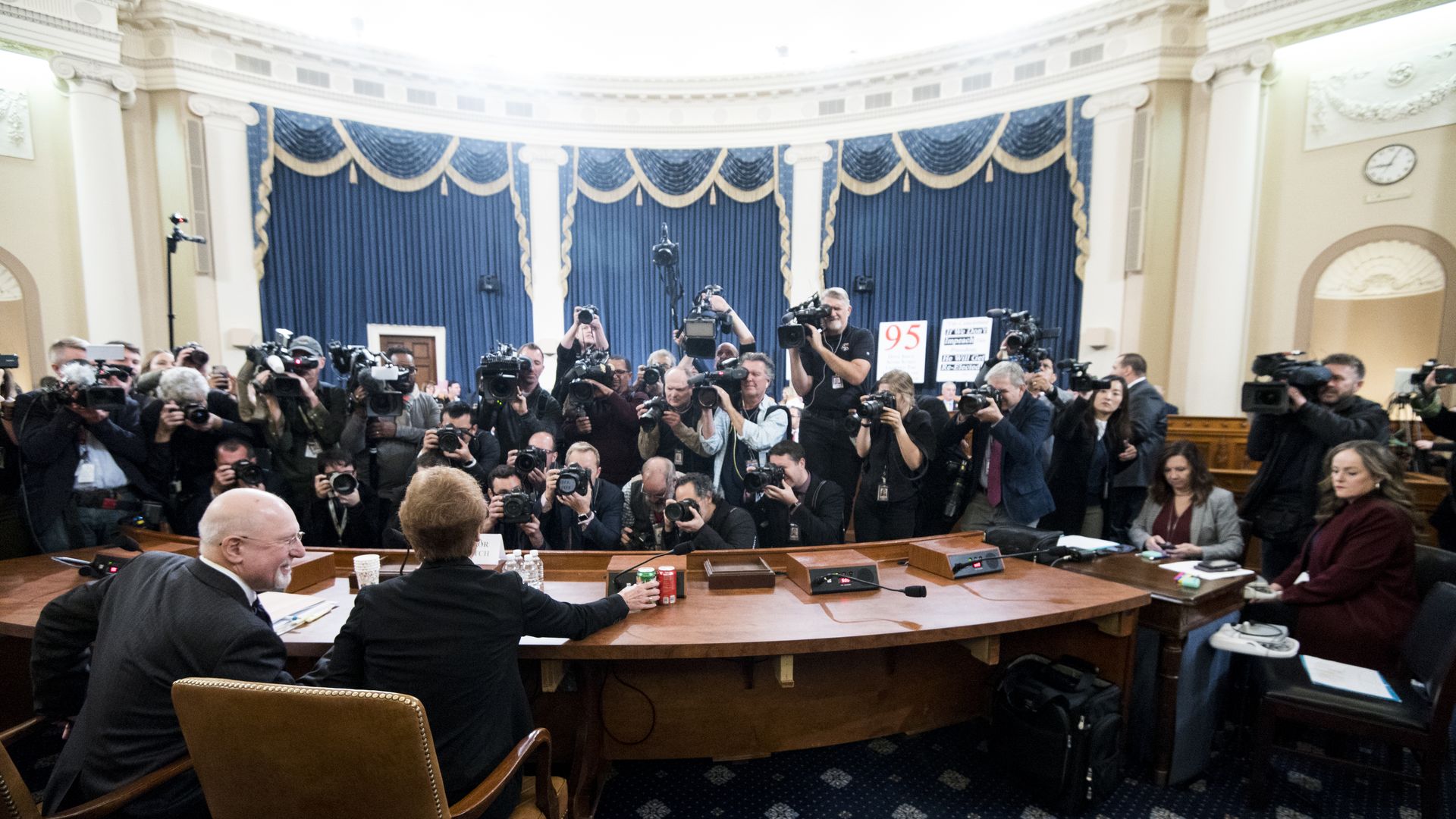 The House Intelligence Committee wrapped up on Thursday its planned schedule of public testimony in its impeachment inquiry, holding seven hearings with 12 witnesses over the past two weeks.
The big picture: The committee heard hours of testimony from witnesses who were both working on the ground in Ukraine and within the Trump administration at the time of the alleged White House pressure campaign against the Ukrainian government to secure an investigation into the Biden family's business dealings.
Nov. 13: Bill Taylor and George Kent's testimony
In a new revelation, Taylor, the top U.S. diplomat in Ukraine, testified that a member of his staff overheard EU Ambassador Gordon Sondland on July 26 discussing "the investigations" on a phone call with Trump.
Nov. 15: Marie Yovanovitch's testimony
Trump took to Twitter as Yovanovitch, the former U.S. ambassador to Ukraine, testified to attack her diplomatic career, saying that everywhere she served "went bad." Yovanovitch said that she felt the tweets were "very intimidating" after House Intelligence Chairman Adam Schiff (D-Calif.) read them to her.
Nov. 19, a.m.: Alexander Vindman and Jennifer Williams' testimony
Vindman, the National Security Council's top Ukraine expert, and Williams, an aide to Vice President Pence, both used their opening statements to say that they found the July 25 call between Trump and Zelensky to be "improper" and "unusual," respectively.
Nov. 19, p.m.: Kurt Volker and Tim Morrison's testimony
Volker, the former U.S. special envoy to Ukraine, was part of a group of officials who worked with Rudy Giuliani to push Ukraine to announce investigations into Trump's political rivals, though he testified Tuesday that he was not aware that the investigation would involve Joe Biden.
Morrison, the former National Security Council Russia adviser, testified that Sondland informed him that nearly $400 million in military aid to Ukraine would be released if Zelensky announced the investigations.
Nov. 20, a.m. Gordon Sondland's testimony
Sondland said that he worked with Rudy Giuliani "at the express direction" of President Trump on matters involving Ukraine.
He also confirmed that a quid pro quo preconditioning a White House meeting in exchange for an investigation into the Biden family's business dealings in Ukraine took place and "reflected President Trump's desires and requirements."
Nov. 20, p.m.: Laura Cooper and David Hale's testimony
Cooper, a Pentagon official, testified that, after the transcript of her closed-door deposition was released on Nov. 11, members of her staff brought her two unclassified State Department emails revealing that the Ukrainian embassy was inquiring about the military aid on July 25 — the same day as Trump's call with Zelensky.
Nov. 21: Fiona Hill and David Holmes' testimony
Hill, Trump's former top Russia adviser, testified that a "fictional narrative" about Ukraine and a conspiracy theory alleging its interference in the 2016 presidential election, driven by partisan politics, distracted Trump from the real threat that Russia poses to America's democracy.
Hill also said she had a conflict with Sondland over his claim that he was working on Ukraine policy at Trump's direction — to pursue what she termed a "domestic political errand."
What's next, via Axios' Alayna Treene: House Intelligence Committee staffers have been drafting a report that they plan to deliver to the Judiciary Committee in the coming weeks that lays out their case for impeachment, two sources familiar with their plans tell Axios.
Democratic members on the Intelligence Committee say they expect the impeachment inquiry to be handed off to Judiciary soon after Thanksgiving recess, if not immediately upon Congress' return.
House Democratic leadership is still hoping to wrap their role in the impeachment process by the end of 2019, but they are hesitant to lay out a distinct timeline in case key witnesses close to Trump — like his former national security advisor John Bolton — decide to comply.
Go deeper ... Trump-Ukraine scandal: The key players, dates and documents
Go deeper