Where 2020 Democrats stand on gun control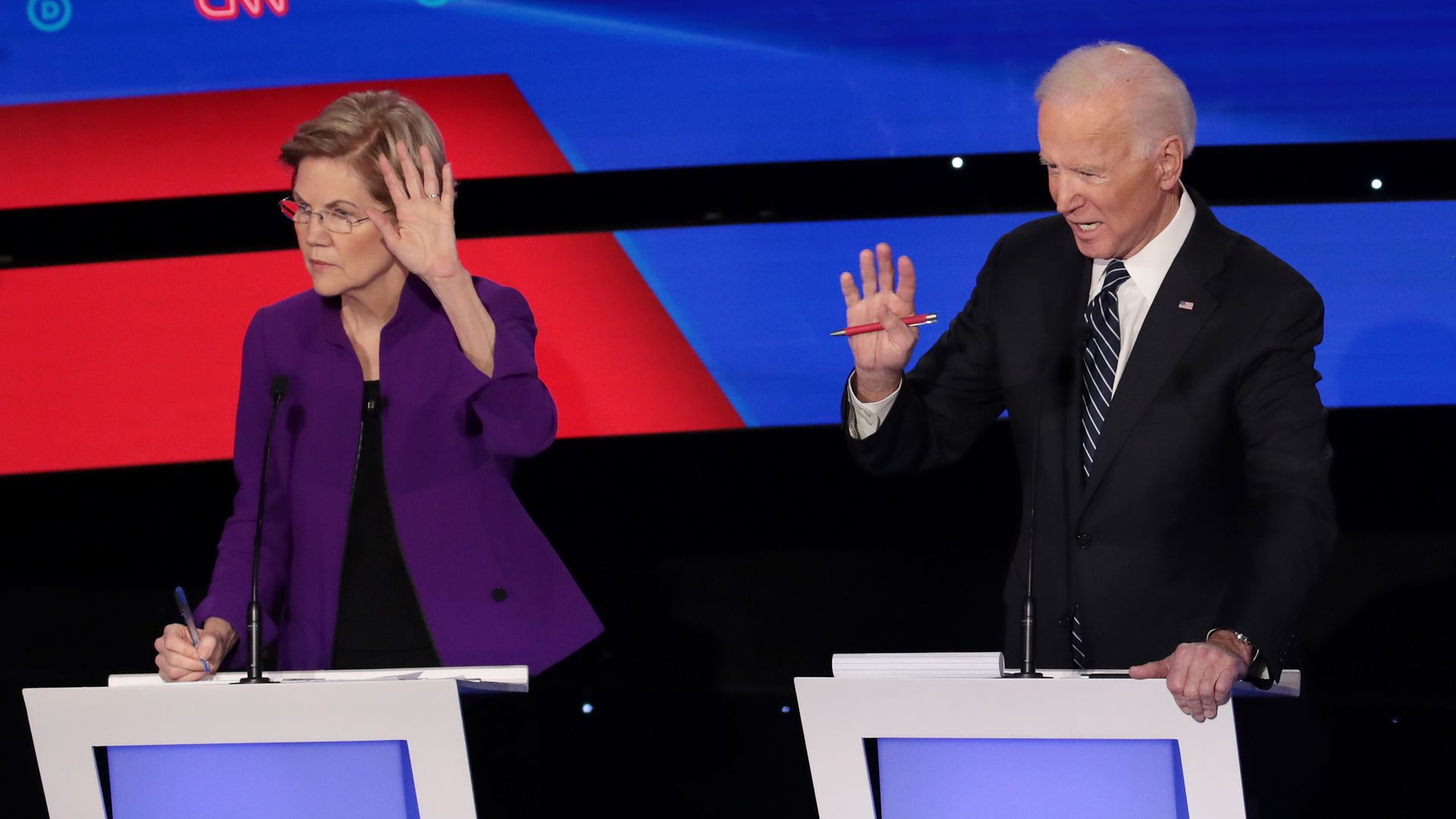 Sen. Elizabeth Warren introduced a new gun reform bill on Thursday with Rep. Hank Johnson (D-Ga.) that calls for raising the minimum age for all gun purchases to 21 and increasing the excise tax on gun sales to 30% and ammunition sales to 50%.
The big picture: 2019's mass shootings in El Paso, Texas; Dayton, Ohio; Virginia Beach; and near Odessa, Texas, have pushed 2020 Democrats to take harder stances on gun control than in the last presidential election, when Bernie Sanders and Hillary Clinton only briefly addressed the issue in their primary debate.
Policy standouts
Sen. Elizabeth Warren: Wants to reduce the number of U.S. gun deaths by 80%, noting 39,773 Americans died in 2017 alone. Her plan includes appointing an attorney general to investigate the NRA's business practices and making it harder to export guns from the U.S. Warren would also try to pass a federal assault weapons ban.
Her plan wraps gun control into a broader anti-corruption package and includes identifying white nationalism as a form of domestic terrorism, in reference to the alleged shooter in El Paso.
Former tech executive Andrew Yang: Wants to require a federal background check and federal buyback program, eliminate the gun show loophole, ban high-capacity magazines and prohibit the manufacture and sale of bump stocks, suppressors, incendiary/exploding ammunition and grenade launcher attachments.
Yang references smart guns in his policy and says he plans to "invest in innovative technology that would make firearms harder to fire for non-owners of the gun."
Those who currently own firearms under Yang's plan would be grandfathered in with their existing licenses and receive one-time "Good Gun Owner" tax credits for adhering to additional requirements.
Former Vice President Joe Biden: Biden released a plan in October that calls for banning the manufacture and sale of assault weapons and high-capacity magazines. It stops short of a mandatory buyback program, but gives those who own such guns two choices: sell the weapons to the government or register them under the National Firearms Act.
It also mandates universal background checks for all gun sales, except for gifts between close family members.
Biden also would like to end the online sales of guns and incentivize states to implement gun licensing programs of their own.
Mayor Pete Buttigieg: Wants to spend $1 billion to help law enforcement combat white nationalism and "respond to domestic terrorist attacks before they occur," in reference to recent mass shootings. His plan would ban assault weapons and high-capacity magazines, institute universal background checks and a national gun licensing system, and fund gun violence research at the federal level.
The National Counterterrorism Center would arrest white supremacist suspects internationally under his plan.
Online platforms like 8chan would also be monitored by law enforcement.
Billionaire Tom Steyer: Wants to establish a national assault weapon registry and includes classifying white supremacists as domestic terrorists in his gun reform plan. He says he would partner with March for Our Lives.
Standard fare
Sen. Bernie Sanders: Wants to ban the sale and distribution of assault weapons, institute universal background checks and end the gun show loophole. He says he has a D- voting record from the NRA.
Sen. Amy Klobuchar: Wants to implement universal background checks, close gun show loopholes and ban assault weapons, bump stocks and high-capacity magazines.
Former New York City Mayor Michael Bloomberg: Calls for a national gun licensing system, tighter background checks, closing the so-called "boyfriend loophole," adding a red-flag law allowing gun confiscation from people thought to be dangerous, and hundreds of millions in funding for law enforcement.
Rep. Tulsi Gabbard: Supports a federal ban on "military-style assault weapons and high capacity magazines," stronger background checks and ending the gun show loophole.
Editor's note: Cory Booker, Kamala Harris, Beto O'Rourke, Julián Castro, Kirsten Gillibrand, Marianne Williamson, Tim Ryan and Jay Inslee have been removed after dropping out of the 2020 presidential race.
Go deeper