Axios Sneak Peek
January 06, 2023
Welcome back to Sneak. On the eve of the second anniversary of the Jan. 6 Capitol attack, Donald Trump received a vote for House speaker.
Smart Brevity™ count: 974 words ... 3.5 minutes.
⭐ Situational awareness: Tonight's is the last edition of Sneak for our all-star congressional reporter Alayna Treene, an Axios original who climbed the ranks to become one of the best-sourced reporters on Capitol Hill. Follow her on Twitter for news about her next role.
1 big thing: 2024's Senate surprise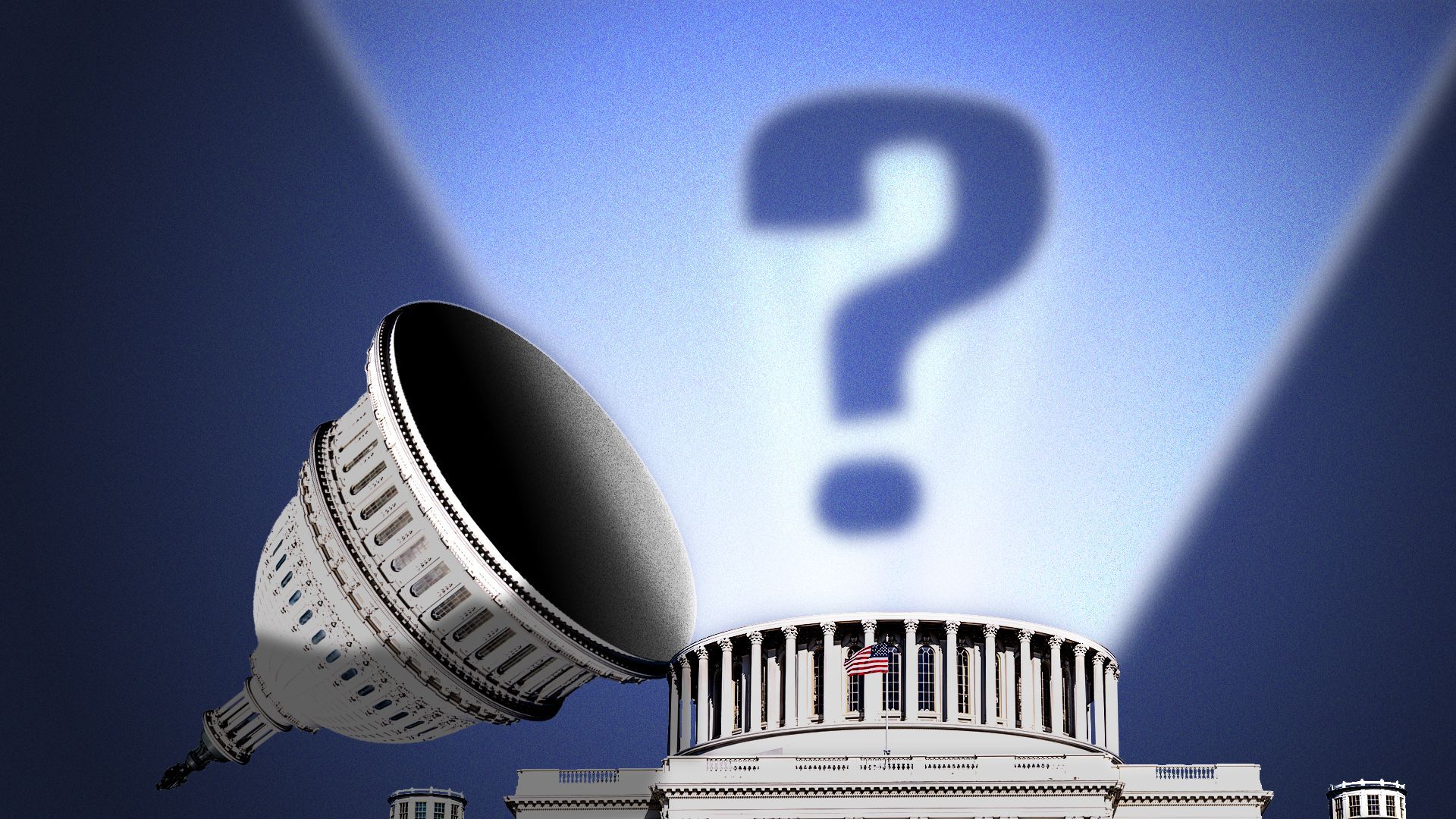 Sen. Debbie Stabenow's (D-Mich.) surprise retirement announcement has exposed the polar realities each party is facing in Michigan, a perennial battleground where the MAGA movement was firmly repudiated in 2022, Axios' Alexi McCammond and Josh Kraushaar report.
Why it matters: Michigan has become ground zero for Democratic talent, boasting a deep bench of rising stars — mostly women — whom party insiders view as equally qualified to ascend to the Senate, House or even the governorship in 2026.
Democratic operatives are eagerly discussing at least six state and federal incumbents they consider to be serious contenders in the race to replace Stabenow.
Republicans, so far, have their eye on one top candidate they hope could flip the seat, which will be more competitive and expensive for Democrats now that the incumbent has bowed out.
Be smart: The 2024 Senate map is highly favorable to Republicans, and Democrats still have no one to chair their campaign committee after Sen. Gary Peters (D-Mich.) decided not to serve again.
But with the notable exception of former President Trump's shocking win in 2016, Republicans have struggled to materialize their gains in Michigan.
Democrats swept all statewide offices in 2022 after President Biden's 2020 victory, and a Republican has not won a Senate seat in Michigan since 1994.
State of play: Though Gov. Gretchen Whitmer is beloved by Democrats, it's unlikely she'll ditch the governor's mansion for the Senate. But sources say her approval will be sought by all and will play a critical role in shaping the primary field.
Reps. Elissa Slotkin and Haley Stevens are weighing runs, but Democratic strategists say Slotkin is the likely frontrunner. She beat her Republican opponent last year in one of the most competitive and expensive races in the country.
Michigan Attorney General Dana Nessel and Secretary of State Jocelyn Benson are both considered viable Senate candidates, but Nessel's outspoken progressive views could make her a tough sell in a general election.
Benson has earned national recognition for her role in protecting the outcome of the 2020 election in Michigan, for which Biden will award her the Presidential Citizens Medal in a Jan. 6 ceremony Friday.
The other side: Republicans have few formidable prospects who could endure a nasty GOP primary (certain to be shaped by Trump) and go on to defeat a Democrat in the general.
All eyes will be on Rep.-elect John James, who narrowly won his congressional race last cycle after running unsuccessful races for the Senate in 2018 (against Stabenow) and 2020.
James, one of four Black House Republicans, delivered a speech nominating Rep. Kevin McCarthy (R-Calif.) for speaker on the seventh ballot today.
2. 🔒 Straitjacket speakership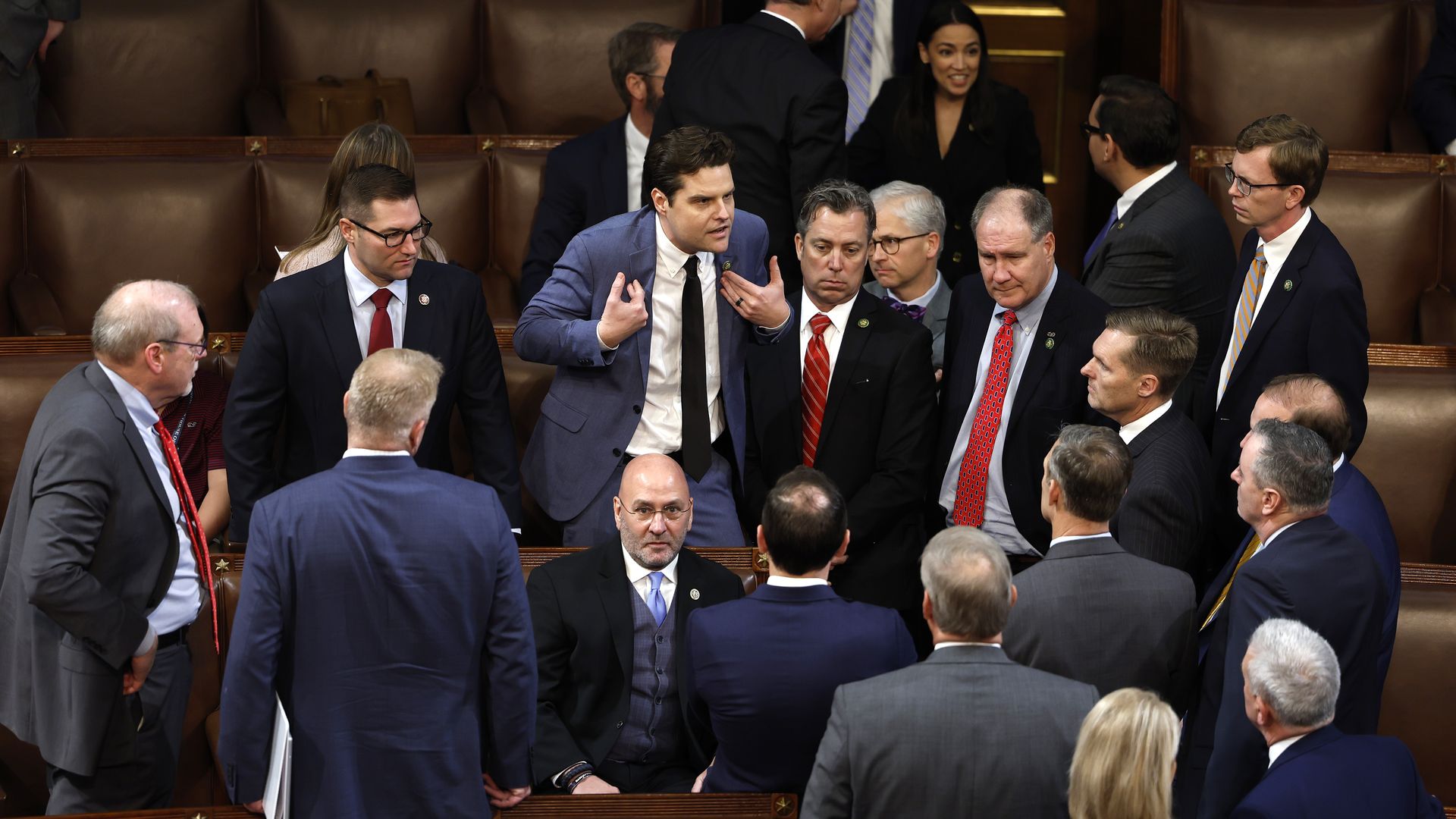 The House broke a post-Civil War record today by failing to elect a speaker after a 10th ballot, with no movement in Rep. Kevin McCarthy's (R-Calif.) direction from any of the 20 Republican rebels.
🚨 State of play: Punchbowl News reports that McCarthy allies have cut a tentative deal with some of his opponents and are circulating a written draft. If it fails to swing any votes tonight, McCarthy will be in serious danger.
Zoom in: Even moderates are not so blindly loyal that they'd vote for McCarthy regardless of the vast concessions he makes to his far-right detractors — thus creating an extremely fraught tightrope.
Asked if there was anything that could make him drop his support for McCarthy, Rep. Chris Stewart (R-Utah) said on MSNBC: "There actually is. And honestly, there's many of us who feel we're very, very close to that."
Rep. Matt Gaetz (R-Fla.), a leading rebel who has been brutally honest in his hostility toward McCarthy, told reporters that the standoff ends either with McCarthy withdrawing or agreeing to a "straitjacket" that fully constrains him as speaker.
The bottom line: "If [McCarthy] somehow wins, he's going to be the weakest speaker in modern times, maybe ever. He has simply no power left. He's given away the store," UVA Center for Politics director Larry Sabato said on CNN today.
3. 💰 Rebels cash in on McCarthy misery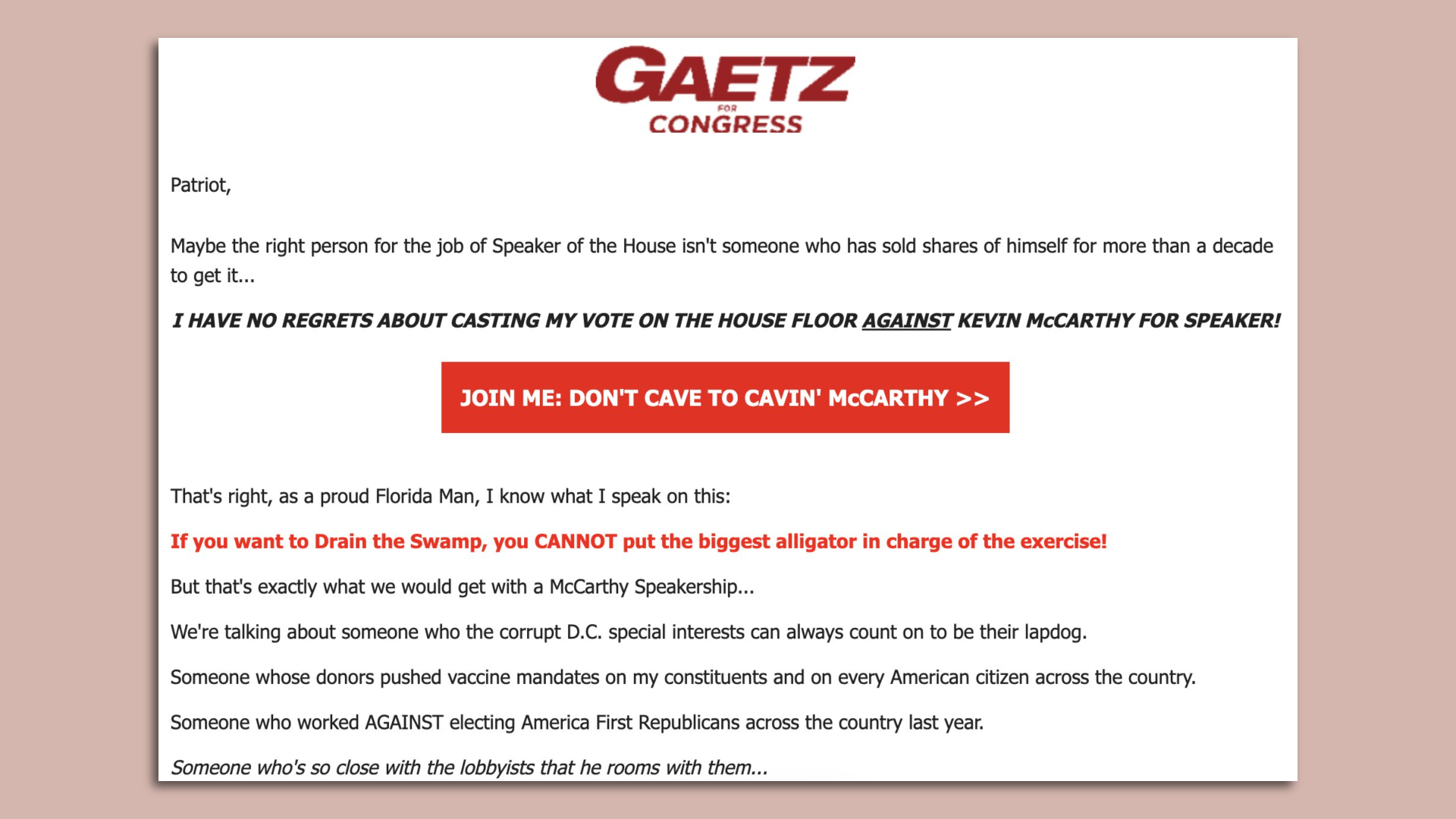 Several GOP rebels have used the speaker standoff to send fundraising appeals this week, fueling criticism from McCarthy backers who say they reek of opportunism, Axios' Lachlan Markay reports.
Rep. Matt Gaetz's (R-Fla.) campaign asked potential donors to "support our fight with critical reinforcements" and in one email dubbed McCarthy "Kiev Kevin" in reference to his support for Ukraine.
Rep. Andy Biggs (R-Ariz.) asked donors "to turbocharge our emergency efforts to break the Establishment." His campaign emails link to a payment processing page that claims "every dollar helps secure the Speaker position."
An email from Rep. Bob Good's (R-Va.) campaign claimed that McCarthy "spent millions of dollars trying to defeat conservatives in Republican primaries" and closed with a donation plea.
4. ✈️ Scoop: Emhoff to visit Europe with antisemitism envoy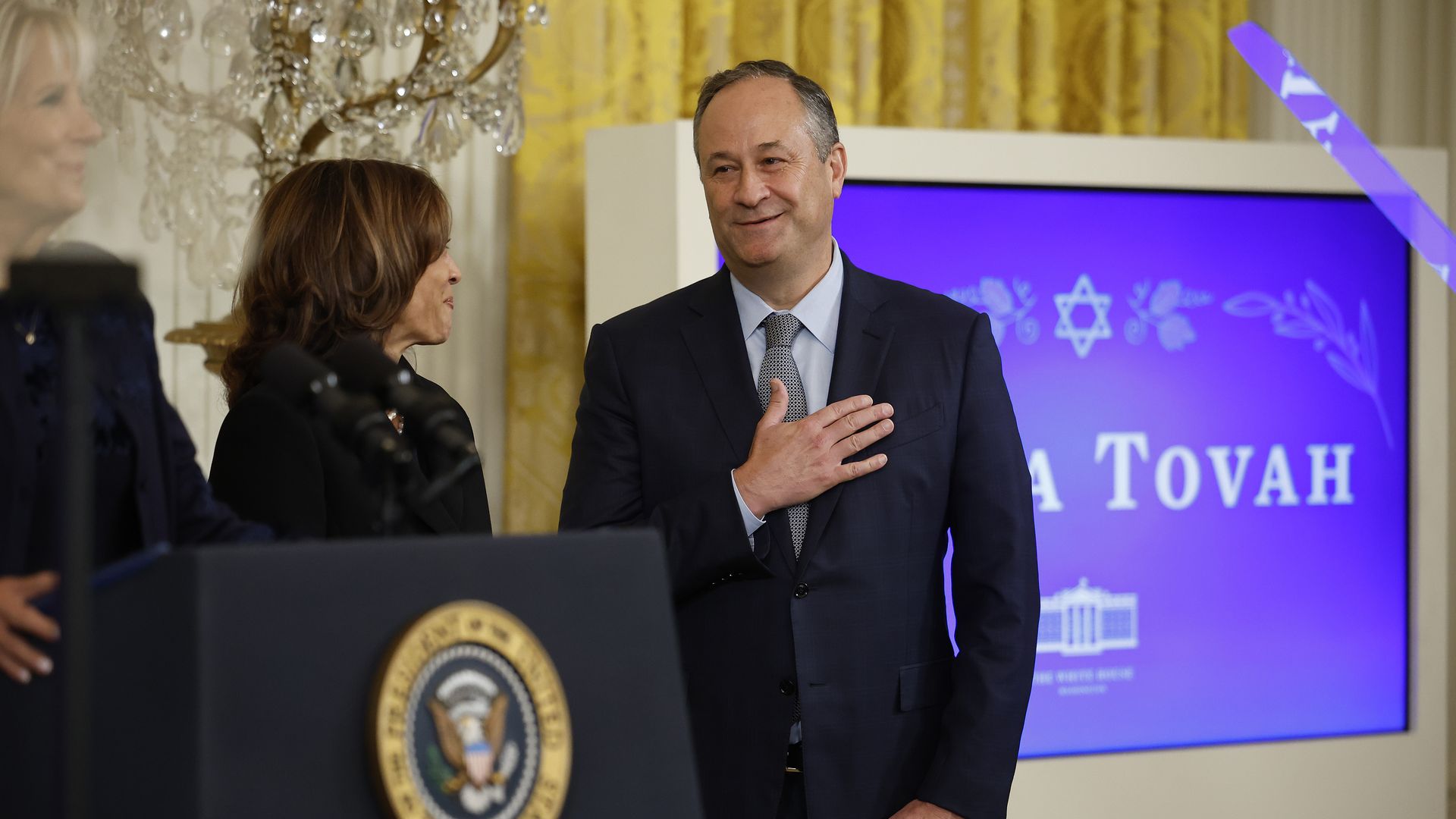 Second gentleman Doug Emhoff is planning to travel to Germany and Poland this month with Ambassador Deborah Lipstadt, Biden's special envoy to monitor and combat antisemitism, Axios' Hans Nichols reports.
Why it matters: The foreign trip will present an opportunity for Emhoff, Vice President Kamala Harris' husband, to speak out against antisemitism on a global stage in two countries where the worst acts of the Holocaust were committed.
5. 🖼️ Parting shot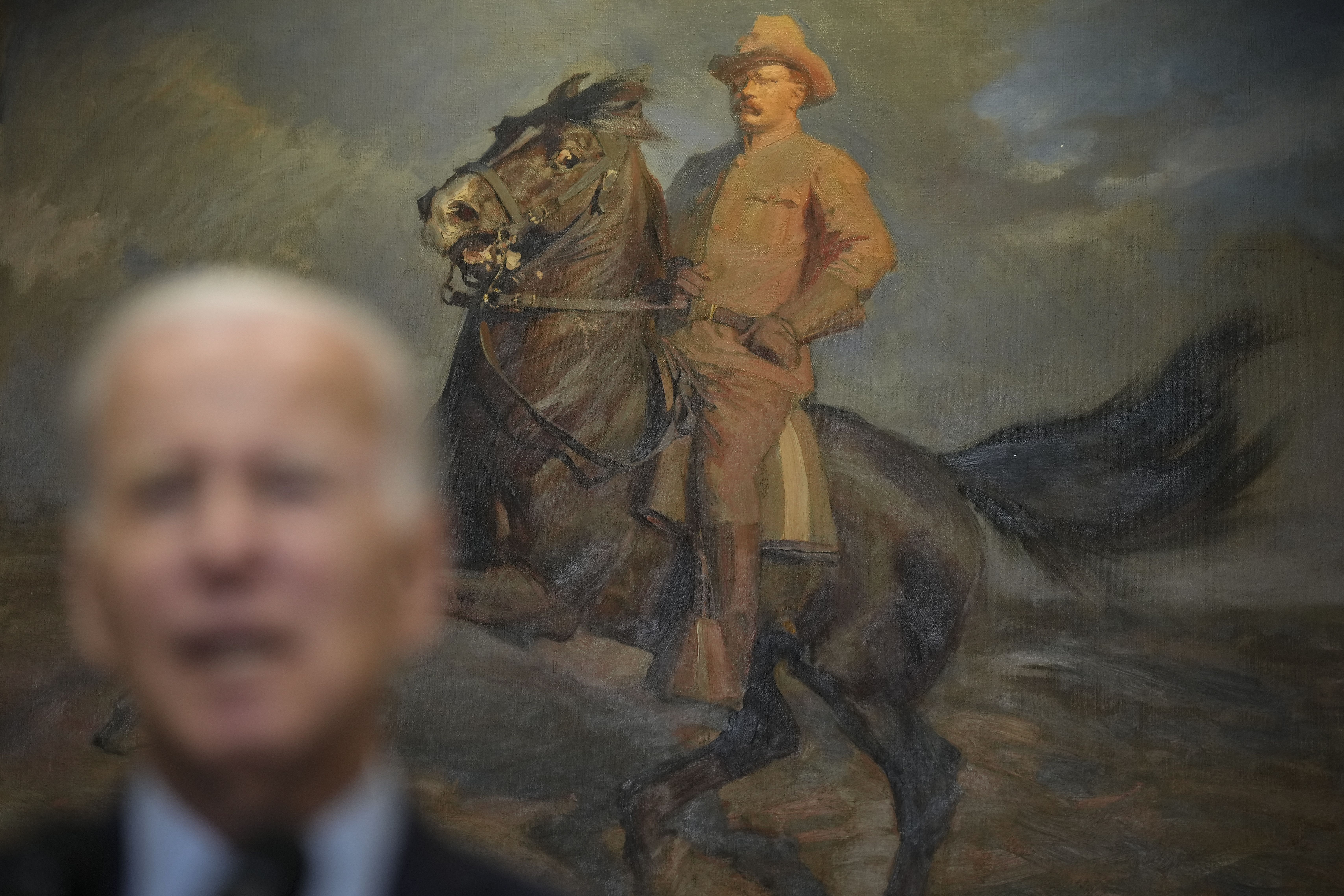 President Biden's Roosevelt Room address unveiling new border restrictions prompted a wave of anger from Democrats and immigration activists.
📬 Thanks for reading this week. This newsletter was edited by Zachary Basu and copy edited by Brad Bonhall.