GOP rebels cash in on McCarthy misery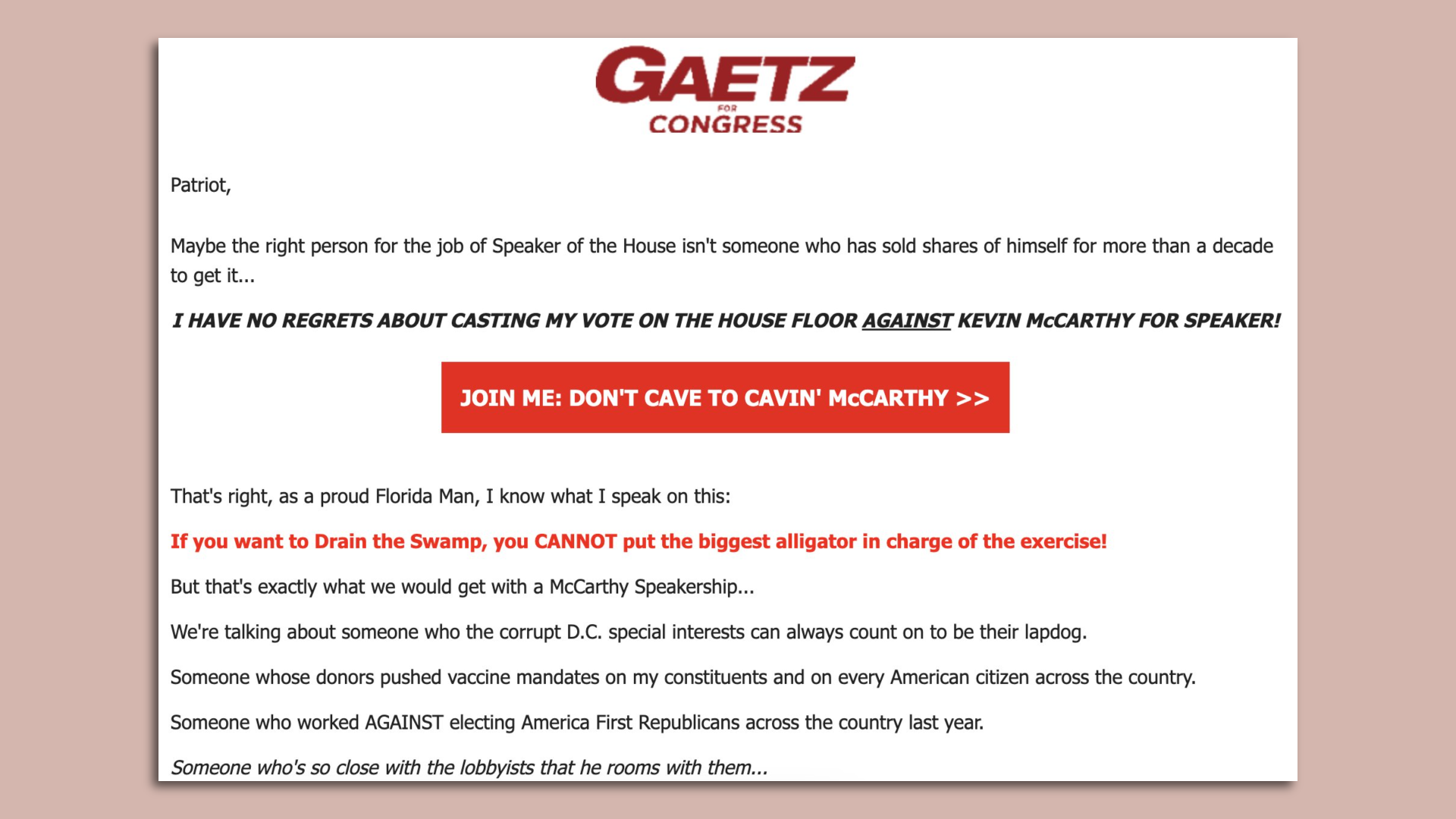 House Republicans leading the fight against Rep. Kevin McCarthy's speaker bid are using the push to help finance their campaigns.
Why it matters: The three-day deadlock has brought the House to a standstill and prevented newly elected members from being sworn in. For some members, though, the fight itself has a financial upside.
What's happening: Multiple McCarthy holdouts have used the fight to raise campaign cash this week.
Rep. Matt Gaetz's (R-Fla.) campaign asked potential donors to "support our fight with critical reinforcements" and in one email dubbed McCarthy "Kiev Kevin."
Rep. Andy Biggs (R-Ariz.) asked donors "to turbocharge our emergency efforts to break the Establishment." His campaign emails link to a payment processing page that claims "every dollar helps secure the Speaker position."
An email from Rep. Bob Good's (R-Va.) campaign Thursday claimed that McCarthy "spent millions of dollars trying to defeat conservatives in Republican primaries" and closed with a donation plea.
Be smart: It's common for campaigns to peg fundraising appeals to high-salience issues. But these emails are already fueling criticism from McCarthy backers who say they reek of opportunism.
"Just got a fundraising email from [Colorado Rep.] Lauren Boebert," tweeted former Trump budget director and House Freedom Caucus member Mick Mulvaney on Thursday. "Which I assume is what a lot of her NeverKevin stuff is all about."
Outside groups are also getting in on the action.
Ultra MAGA PAC, a group run by ex-Trump aide Corey Lewandowski, sent a fundraising email Thursday that called for McCarthy, Senate Republican Leader Mitch McConnell and RNC chair Ronna McDaniel to be replaced.
McCarthy "stopped the Red Wave single-handedly by weighing in on primaries against good MAGA candidates," the email claimed.
Even Democrats are using the fight in their fundraising efforts.
The Democratic Congressional Campaign Committee has sent a handful of fundraising emails this week under the name of Rep. Hakeem Jeffries (D-N.Y.), Democrats' presumptive House leader.
"Republicans have fallen into complete chaos," one email Wednesday declared. "Will you help me prove that grassroots Democrats can get more support than Republicans in these first hours of the new Republican House?"
Go deeper