Scoop: Emhoff to visit Germany and Poland with antisemitism envoy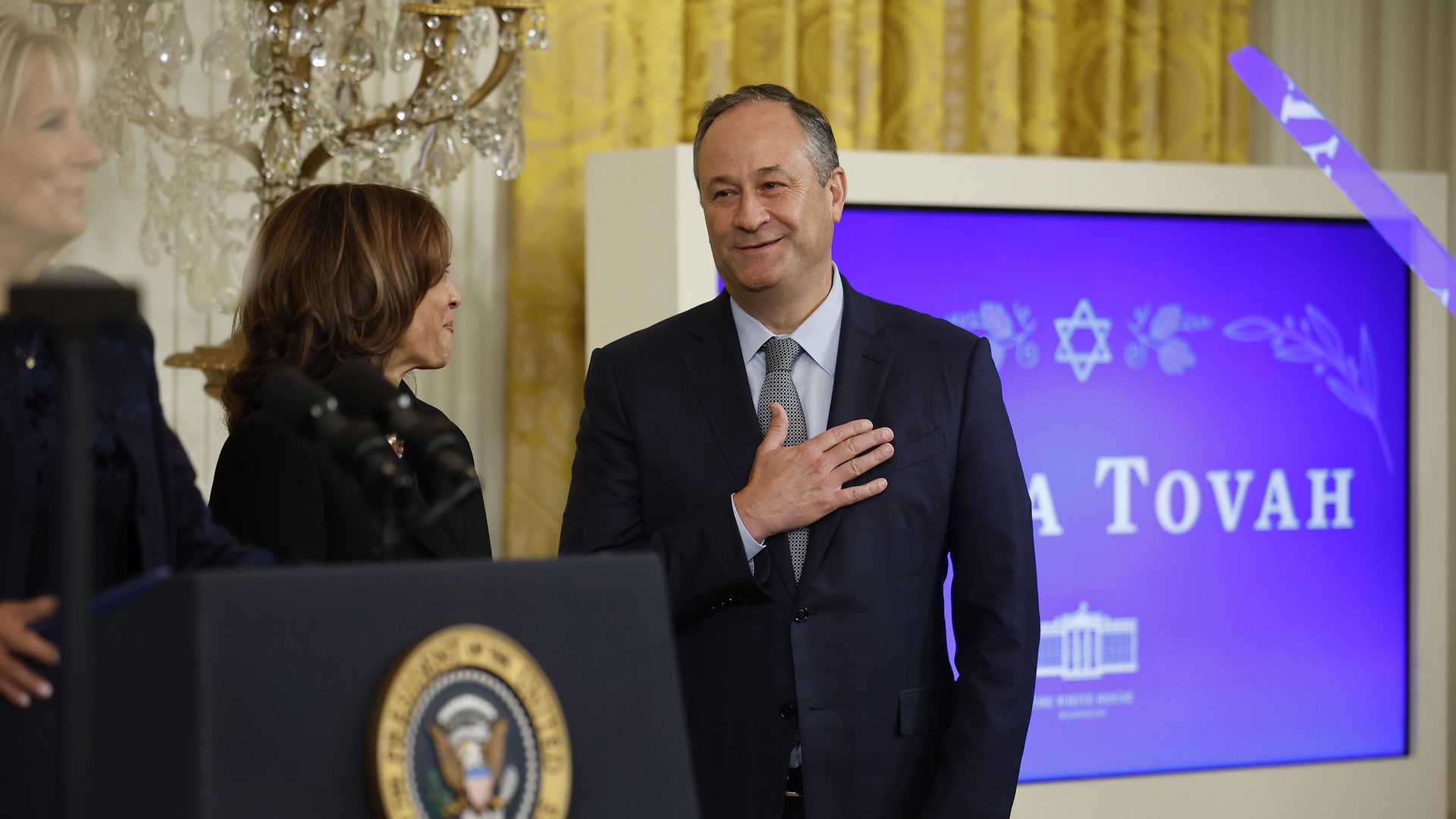 Second gentleman Doug Emhoff is planning to travel to Germany and Poland this month with Ambassador Deborah Lipstadt, Biden's special envoy to monitor and combat antisemitism, according to people familiar with the matter.
Why it matters: The foreign trip will present an opportunity for Emhoff, Vice President Kamala Harris' husband, to speak out against antisemitism on a global stage in two countries where the worst acts of the Holocaust were committed.
It's also a sign of how seriously the Biden administration is taking the rise in antisemitism and that it perceives it as a global problem.
Emhoff, the first Jewish spouse of a president or vice president, has made combating antisemitism a signature issue — calling out an "epidemic of hate" last month at a White House roundtable focused on domestic incidents.
What to watch: Emhoff and Lipstadt are expected to visit the Auschwitz-Birkenau memorial in Poland around International Holocaust Remembrance Day on Jan. 27.
Between the lines: Biden officials have been increasingly alarmed by the uptick in antisemitic rhetoric, including hateful comments from Ye, the rapper formerly known as Kanye West.
What they're saying: "We do not have any travel announcements to make at this time," a White House official said. "The Second Gentleman will continue to engage on antisemitism issues."
The big picture: Emhoff, an entertainment and media lawyer, has been bolstering his policy portfolio, drawing on expertise from past pro bono work, Axios' Sophia Cai has reported.
He stopped practicing when his wife took office but teaches a course at Georgetown University Law Center.
Last month, Emhoff, who keeps an office in the Eisenhower Executive Office Building, kicked off a roundtable discussion with Attorney General Merrick Garland on how the federal government can make it easier for economically disadvantaged people to receive legal aid.
From the moment Biden picked Harris in the summer of 2020, Biden political aides began working on how to put him to political use. He frequently serves as a surrogate for his wife.
Go deeper