Axios Login
June 29, 2020
Happy Pride to all who celebrated it, whether IRL or at home.
Axios will host a live, virtual event on the impact of Black Americans' underrepresentation in venture capital. Join Dan Primack and me tomorrow at 1:30pm ET for a conversation with Precursor Ventures founder Charles Hudson, Cleo Capital managing director Sarah Kunst and partner at Bessemer Venture Partners Elliott Robinson.
Today's Login is 1,460 words, a 6-minute read.
1 big thing: Facebook boycott battle goes global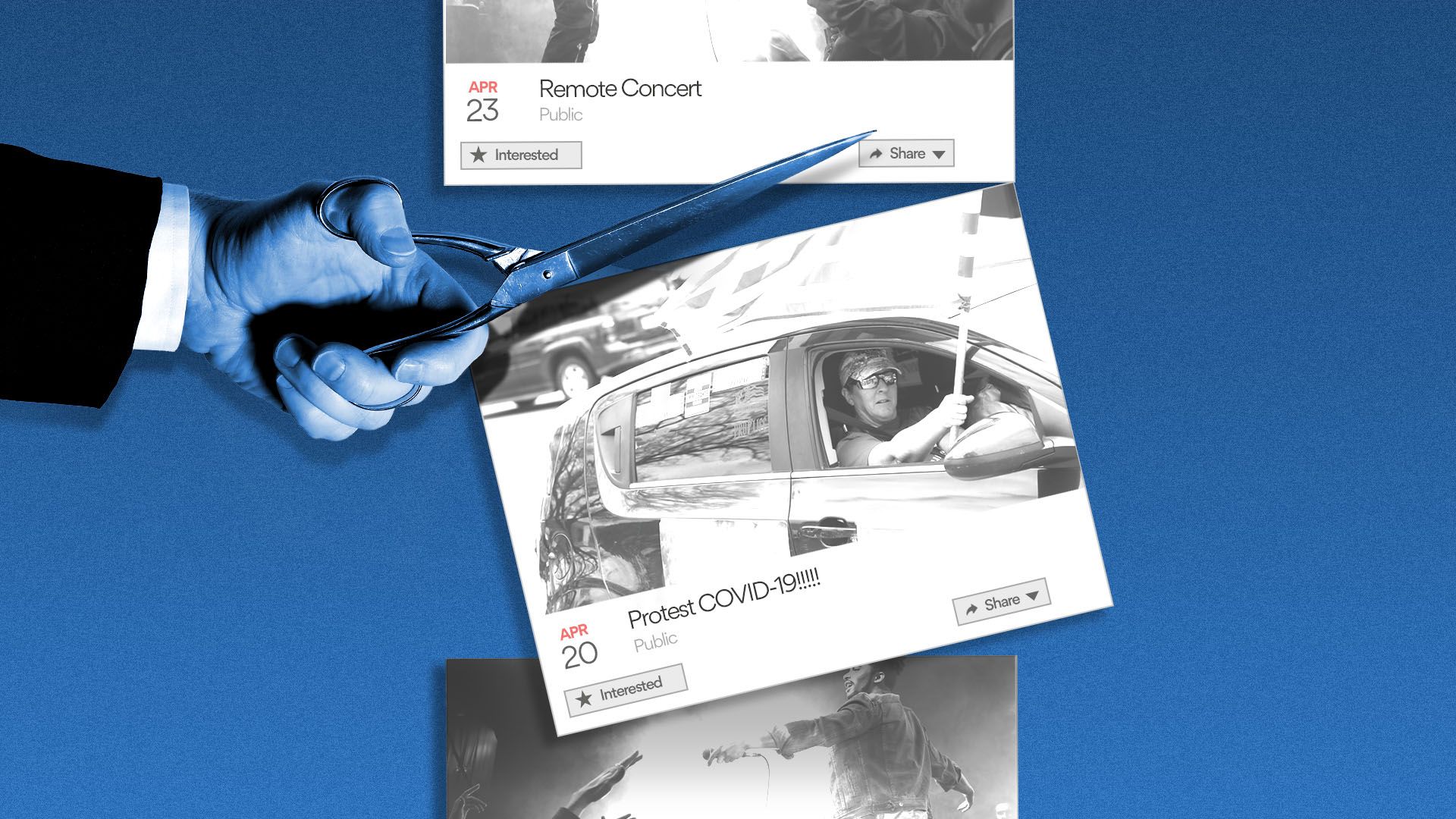 The Madison Avenue boycott against Facebook has quickly grown into a worldwide movement against the content moderation policies of social media giants, Axios' Sara Fischer reports.
Why it matters: The initial Facebook boycott among advertisers, prompted by Facebook's refusal to fact-check a post by President Trump, has hit a nerve among people outside of the marketing community, who think boycotting social media advertising altogether could help to create a healthier internet.
Driving the news: Jim Steyer, the CEO and founder of Common Sense Media, an advocacy organization that's part of the campaign organizing the boycott, tells Axios that the #StopHateForProfit campaign is moving its focus to marketers overseas, where many big brands spend a large portion of their marketing dollars.
"It will go global because the world will agree with us, we are on the right side of history, period. And Facebook is on the wrong side of history, period, and people know that," Steyer said.
Steyer says that the campaign's leaders are not pressuring political campaigns to boycott social media advertising, as they fear that would just leave the field clear for the Trump campaign.
Prince Harry and Meghan Markle have been privately advocating for the #StopHateForProfit campaign, according to multiple sources working closely with the couple.
Sources say the duo has been instrumental in personally pushing several CEOs of large companies to pull their dollars.
Catch up quick: The pressure to boycott Facebook is primarily being driven by the #StopHateForProfit effort, which is being organized by several advocacy groups, including Color for Change, NAACP, Anti-Defamation League, Sleeping Giants, Free Press and Common Sense Media.
The pressure campaign first took off when big outdoor companies like The North Face and Patagonia said they would boycott Facebook.
In recent weeks, hundreds of companies have joined them, causing Facebook to acknowledge to advertisers privately that it was facing a "trust deficit."
Over the weekend, a slew of big-name beverage companies like PepsiCo, Coca-Cola, Starbucks, Diageo and Jim Beam joined the boycott.
Be smart: Most analysts still don't see Facebook facing a revenue crisis from the pullback. And at this point, the boycott is getting broader, as some companies choose to halt ads on platforms like Twitter as well.
Facebook has over 8 million active advertisers, so a boycott by dozens of the world's biggest brands won't sink the company financially, which relies mostly on advertising dollars from a very large number of small and medium-sized businesses.
"The financial impact is, this is relatively modest," said Rich Greenfield, a media analyst and Partner at LightShed, in a recent Bloomberg TV interview.
By the numbers: The top 100 brands on Facebook accounted for less than 6% of all of Facebook's revenue last year, according to data from advertising analytics firm Pathmatics, cited by CNN.
For millions of small businesses around the globe that can't afford to buy ads on television or billboards — mediums that reach lots of people broadly but have much higher rates — Facebook and its rival Google are two of the most efficient platforms online to market goods and services.
This is especially true during the pandemic, as many marketing budgets are getting slashed.
The big picture: Brands have boycotted social media platforms before, and earnings afterwards have proven that boycotts, even from lots of big brands, don't typically affect revenue all that much.
History also shows that social media boycotts don't usually last very long. But they do create a public relations nightmare, and put pressure on tech companies to make changes.
The question for Facebook is whether the boycotts leave any lasting reputational damage — with more of the public lumping the social network in with cigarette companies and the fossil fuel industry as a purveyor of toxins.
2. Facebook will label more rule-breaking posts
In a modest change to how it handles controversial posts, Facebook said Friday it will begin labeling posts that break its rules but are deemed otherwise newsworthy.
The big picture: The move comes as Facebook is under pressure from advertisers and at the same time as a Washington Post report that Facebook has long crafted its rules to smooth the way for President Trump — a charge it denies.
Between the lines: The adjustments represent Facebook's attempt to thread the needle between allowing inflammatory posts from politicians and tamping down on problematic content.
The company previously let figures like President Trump freely post material that appeared to violate policies around issues like targeted harassment and hate speech.
The new policy echoes Twitter's approach to such content, which has drawn ire from Trump and other conservatives.
Meanwhile: On Sunday, the Washington Post reported that for years Facebook has specifically crafted its rules to ensure it doesn't have to remove Trump's posts.
What they're saying: Facebook denies the allegation.
"The Washington Post's insinuation that we developed policies intended to please the Trump administration is wrong. While many Republicans think we should do one thing and many Democrats want us to the do just the opposite, our job is to create one common set of rules that applies equally to everyone. We don't believe Twitter, YouTube, Facebook or any technology company should determine what words people should or shouldn't see from their elected leaders in a democracy."
— Facebook spokesperson, in a statement
3. Performance art via emoji and a phantom app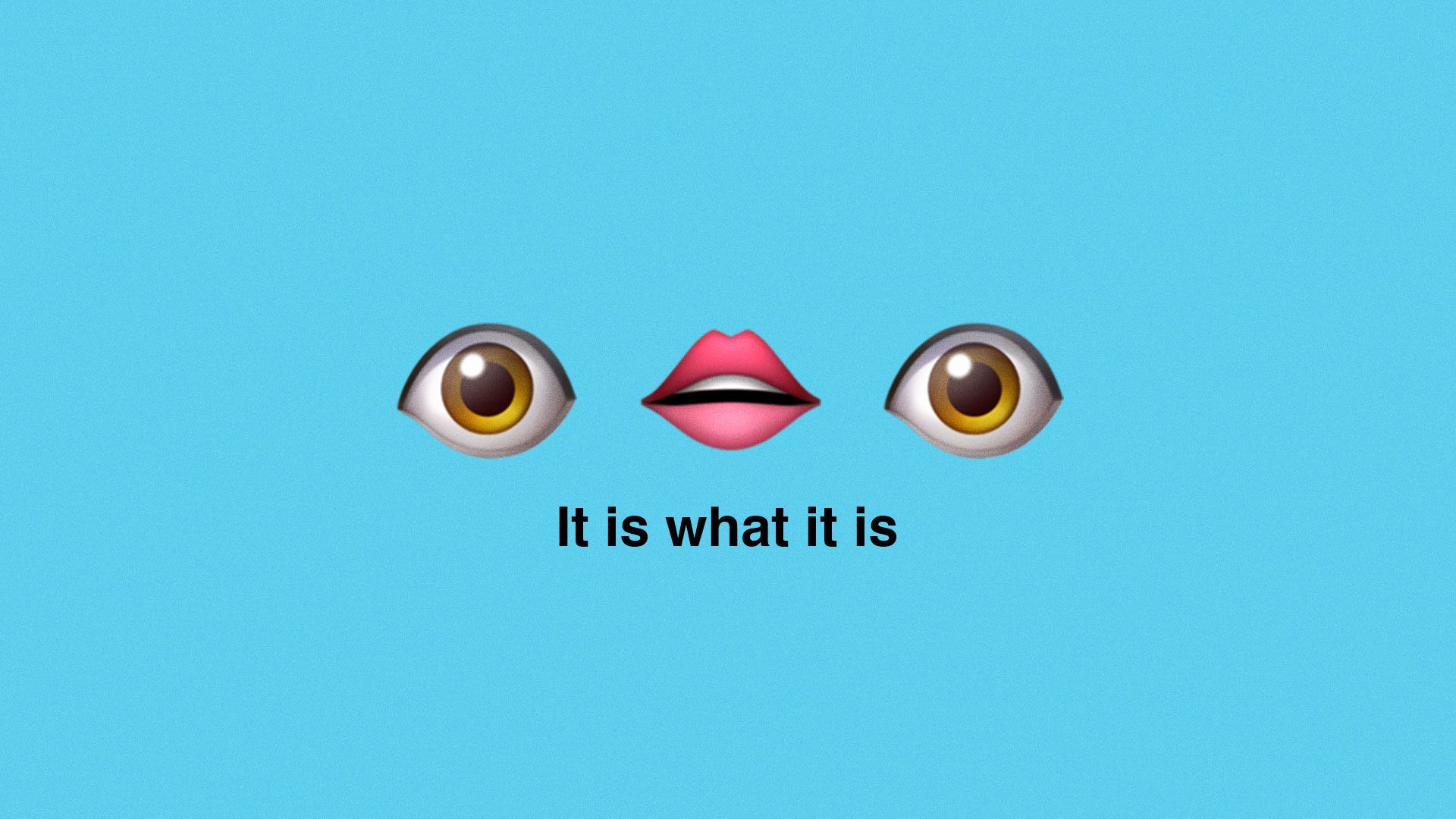 Tech insiders on Twitter last week were fed a dose of their industry's own marketing medicine by an impromptu group of young tech workers who stumbled into what they called a "hype cycle," Axios' Kia Kokalitcheva reports.
What happened: The group of about 60 mostly 20-somethings began tweeting "👁👄👁" as a lark, along with the phrase "it is what it is," and then linked to an email signup form that appeared to be for a secretive invite-only app launch. When signs-ups reached about 30,000 email addresses, they began encouraging donations to organizations helping Black Americans and selling merchandise.
Why it matters: The performance art-like stunt held a mirror up to the tech industry's marketing tactics in an attempt to get it to self-reflect, and to showcase the absurdity of some aspects of its culture.
What they're saying: "Despite calls-to-action like that 'It's Time to Build' essay we've all read, most of the industry (from product teams to VC) still stays obsessed with exclusive social apps that regularly ignore — or even silence — real needs faced by marginalized people all over the world, and exclude these folks from the building process," the group wrote in a statement revealing its purpose on Friday. "As an industry, we need to do better."
Between the lines: "It's funny because a meme is the most accessible thing on the internet," group member and entrepreneur Reggie James tells Axios of the lampooning of the invite-only tactic some apps employ. "You just copy-paste it. There's nothing that's excluding you."
One example of the sort of marketing the stunt's creator's took aim at: Clubhouse, a mobile app for live audio discussions that's made headlines for being mostly only accessible to select Silicon Valley insiders, as it's still in testing phase and raising funding from top investors.
The tactic is far from new, but Clubhouse's early users notably bragged about having access on Twitter, creating buzz and envy.
As others on Twitter caught onto the "It is what it is" joke, they began to help the effort with their own contributions — one person created a fake screen shot of the alleged app, while others pretended to have gained access to it.
Yes, but: It wasn't without its missteps.
The merchandise shop, whose proceeds are aiding nonprofits, named one of its shirts "Breathtaking," which reminded some of the cries of "I can't breathe" from Black victims of police violence.
"It was a copy-and-paste slip. The minute someone called it out, we changed it," says James, adding that the group worker quickly and used a widely lampooned Pepsi ad campaign as a model.
Go deeper: Read the group's full statement
4. Intuit sets up trans youth mentorship program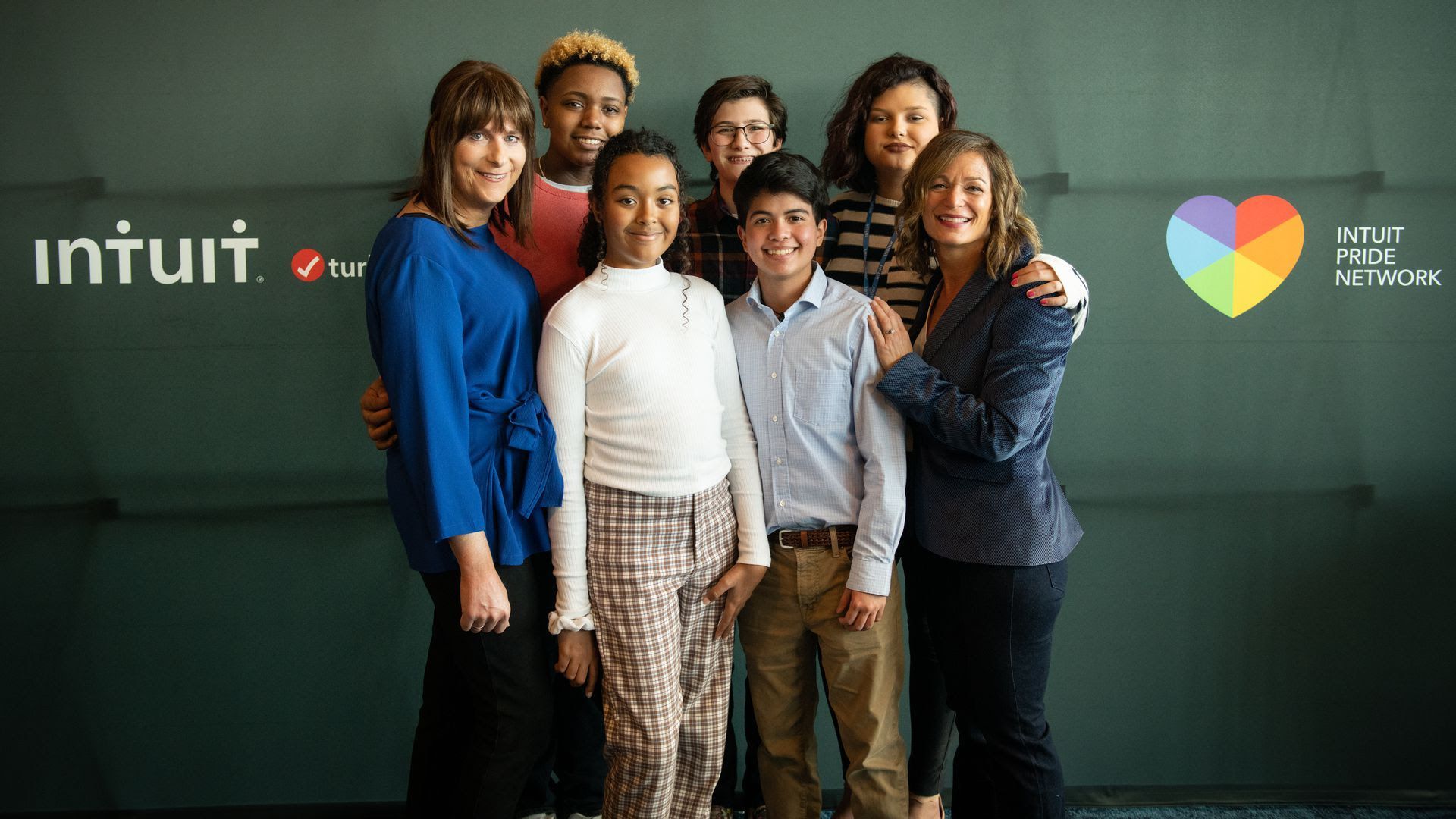 In February, Intuit brought in youth from the GenderCool Project to help the company better understand the experience of being transgender. Now, it is flipping the script and providing an opportunity for transgender youth to get a taste of working in the tech industry.
Why it matters: Transgender youth still face huge barriers around employment and economic empowerment.
Details: The Intuit and GenderCool Champions' Mentorship Program is a six-week virtual experience pairing one of the project's youth with an Intuit employee.
"We hope to lead the way for other companies so they too can initiate meaningful and tangible programs to support the LGBTQ+ community," Intuit Global Pride chair Cherise Slover said in a statement.
Take Note
On Tap
Trading Places
Reddit co-founder Alexis Ohanian is leaving his role at Initialized Capital, Axios' Dan Primack scooped on Friday.
ICYMI
6. After you Login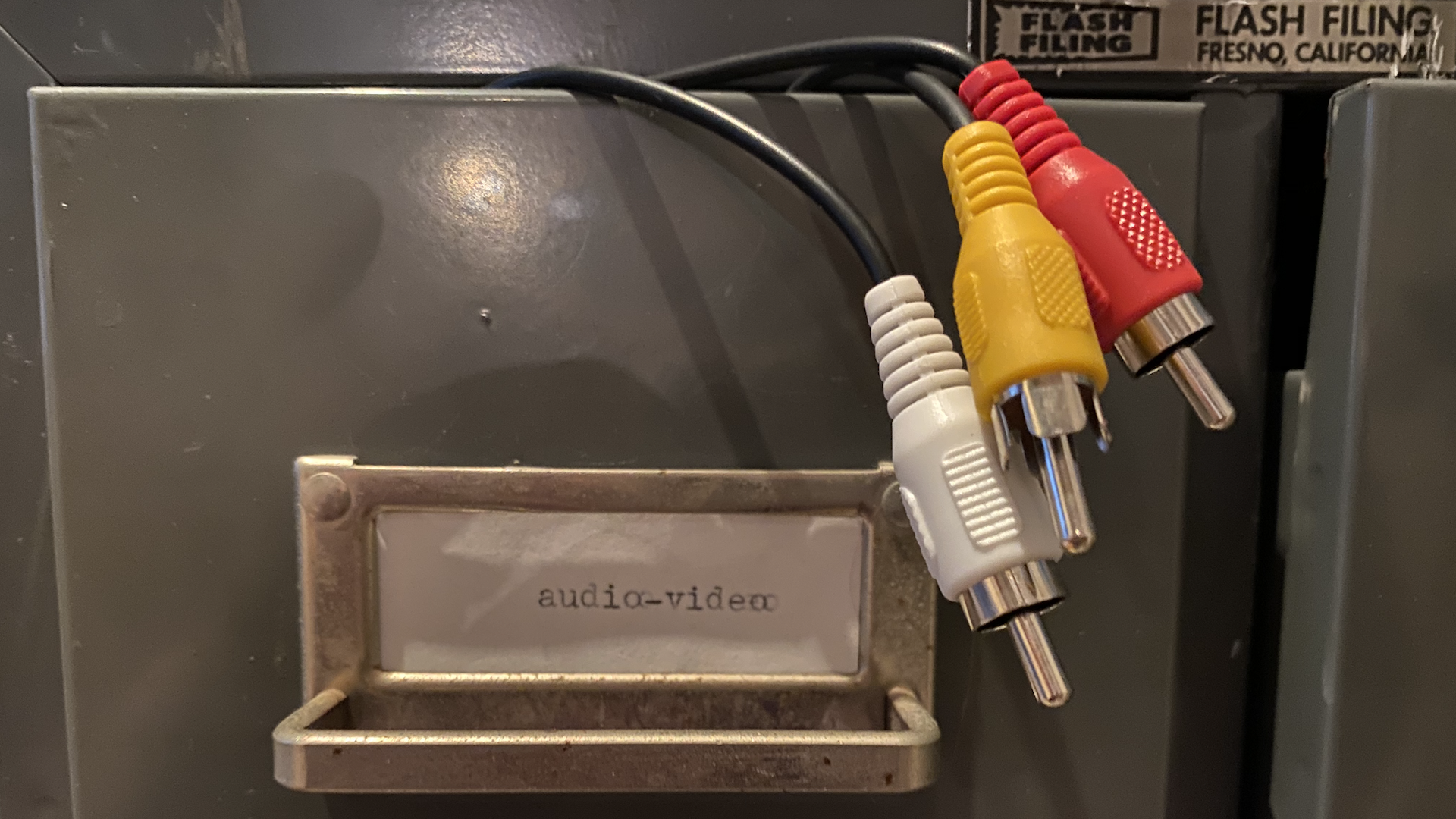 Are you overrun with cords? Same here. So I decided to take some unused vintage card catalog drawers and make them into a Cord Catalog, with drawers for Apple cords, USB-C, micro-USB, audio/video costs, and so on. To complete the vintage look, I pulled out my trusty Remington Noiseless Portable typewriter for the labels.