Axios Login
October 28, 2020
I was going to write a clever intro but I made popcorn balls instead. Really.
Today's Login is 1,354 words, a 5-minute read. A heck of a lot less time than it takes to make popcorn balls.
1 big thing: For tech CEOs, Capitol Hill is now mandatory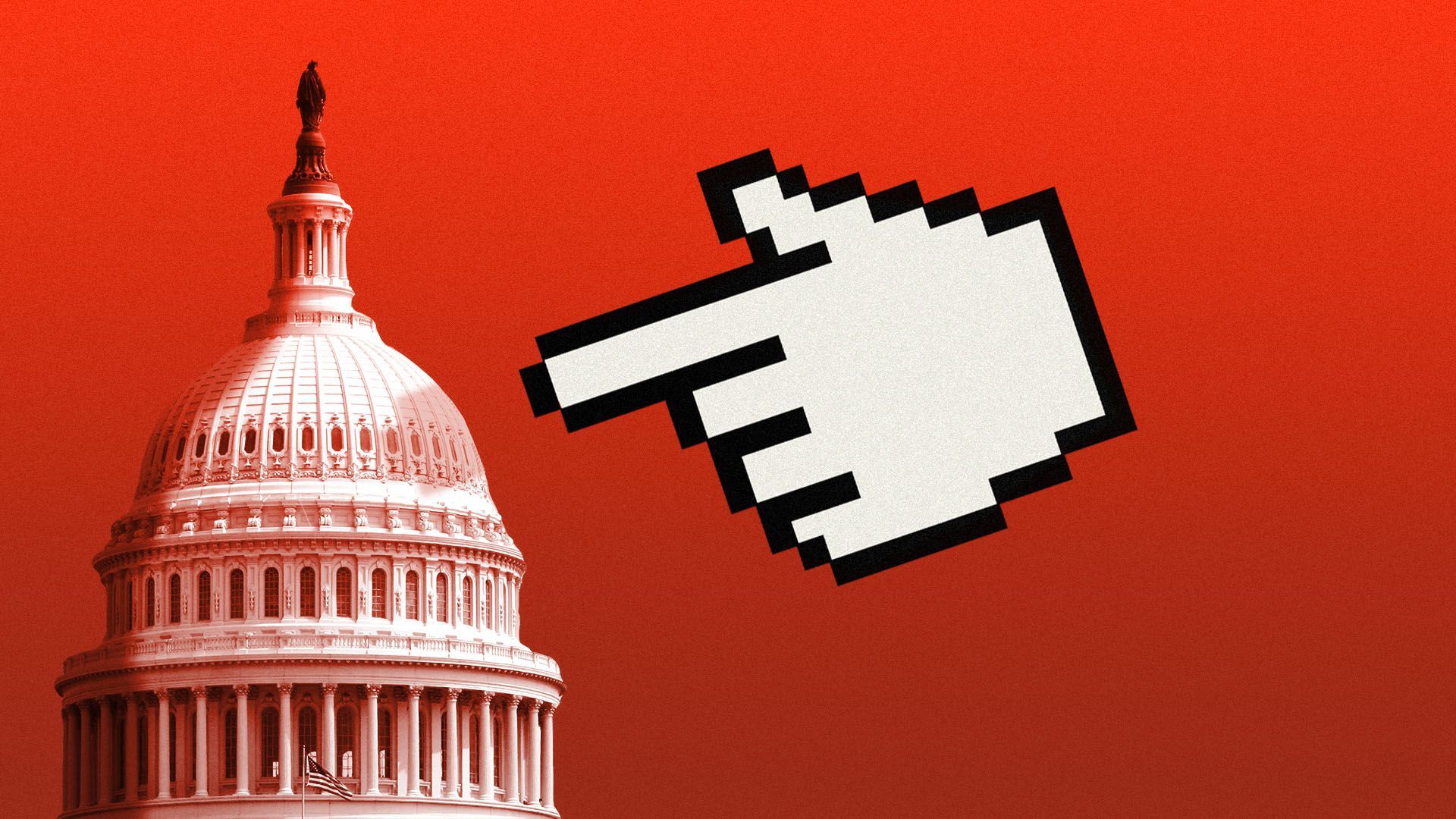 Silicon Valley CEOs used to be a rare sight on Capitol Hill, but that's changing due to rising pre-election anger at Big Tech, along with a pandemic-spurred shift to video testimony, Axios' Ashley Gold reports.
Why it matters: The shift means Congress hears more from the CEOs of powerful companies shaping our world. But the hearings' partisan rancor tends to drowns out the policy debate.
Driving the news: Twitter CEO Jack Dorsey, Facebook CEO Mark Zuckerberg and Google CEO Sundar Pichai will testify this morning before the Senate Commerce Committee to talk about Section 230 of the Communications Decency Act, the much-debated law that protects them from liability when their platforms moderate content.
Beyond Section 230, the CEOs will face questions about alleged anti-conservative bias and how they're handling election threats and controlling misinformation.
Zuckerberg and Dorsey will then return to the hot seat Nov. 17, when the Senate Judiciary Committee will grill them over the election and the companies' moves to limit the spread of the New York Post's controversial Hunter Biden story.
Between the lines: Both committees landed the CEOs by dangling the threat of subpoenas, only days after inviting the CEOs to testify in the first place.
It's a stark turnaround from earlier days, when committees would spend months negotiating timing and circumstances for hearings, to which companies would typically send deputies and policy experts, whom they say are better equipped to answer questions than the CEOs.
Forcing CEOs to testify under threat of subpoena used to be a last resort for Congress, raised only if companies stonewalled — and sometimes not even then.
Flashback: The Senate Intelligence Committee left an empty chair for Google at a September 2018 hearing after the company declined to send Pichai or Alphabet CEO Larry Page.
That hearing did, however, mark Dorsey's first appearance before Congress. Zuckerberg testified before Congress for the first time in April 2018.
Meanwhile: Jeff Bezos made his Capitol Hill debut this summer before the House Judiciary Committee. Tim Cook testified before Congress in 2013 over taxes before returning to the Hill to talk antitrust this summer, in that same hearing with Bezos (alongside Zuckerberg and Pichai).
Be smart: Tech hearings are scheduled around a specific policy topic, but recently they have often ended up with lawmakers leveling well-worn accusations about bias or generally expressing anger at the role of technology in society without offering specific policy proposals.
What they're saying: One tech industry official who formerly worked on Capitol Hill told Axios: "There used to be a supposition built into the discussion of [the CEOs] being busy running important companies, and being respectful of their time," the source said. "A subpoena is quite a powerful tool and not to be taken lightly."
The intense moment in politics — along with the video format, which means no one has to fly across the country to testify — has made it easier to demand CEO testimony, the source said.
The intrigue: All this testifying may actually blunt the impact of lawmakers' would-be blows against the CEOs.
"The companies used to push back against any hearings and now they're monthly events. The increased frequency does take the sting out of them. The execs are better witnesses, and there's less new ground to cover," Nu Wexler, a veteran of the policy communications teams at Twitter, Facebook and Google, told Axios.
2. Scoop: Polls show support for tech antitrust action
About half of Americans of both parties back the Justice Department's antitrust lawsuit against Google, while fewer than a third oppose it, according to a new poll from progressive groups Demand Progress and Data for Progress shared exclusively with Axios.
Meanwhile, a separate Harris Poll survey, also shared first with Axios, similarly finds Americans overwhelmingly see the big tech companies as having monopoly power that limits competition.
Why it matters: There's a growing pile of evidence that regulatory action against Big Tech has bipartisan support, as state and federal antitrust regulators move against companies like Google and Facebook.
While there are many party-line splits on tech policy issues like content moderation, privacy and misinformation, more policymakers and average Americans than ever agree tech is too big and powerful.
Reality check: It's tough for the government to win antitrust suits or pass new antitrust legislation.
By the numbers: In an online survey of 979 likely voters polled by Demand Progress and the Demand Progress Education Fund from Oct. 24–25 (with a margin of error of +-3.1 percentage points), 48% said they strongly or somewhat support the DOJ's lawsuit. 32% strongly or somewhat oppose it.
The numbers were fairly consistent across both parties, with 52% of Republicans supporting the suit, compared to 49% of Democrats. 26% of Republicans polled opposed it, while 32% of Democrats did.
In the Harris Poll, nearly three quarters (74%) of Americans said Amazon, Apple, Facebook and Google have a monopoly in their respective sectors that limits competition and innovation, with men slightly more likely than women to agree with that conclusion.
Yes, but: People were less ready to single out particular companies as needing breaking up.
Facebook was the most targeted company on that front, with 45% of respondents saying it should be split up.
37% thought so about Amazon. Even smaller numbers called for the break-ups of Apple (29%), Twitter (28%) and Microsoft (27%).
3. WebEx launches a version for governments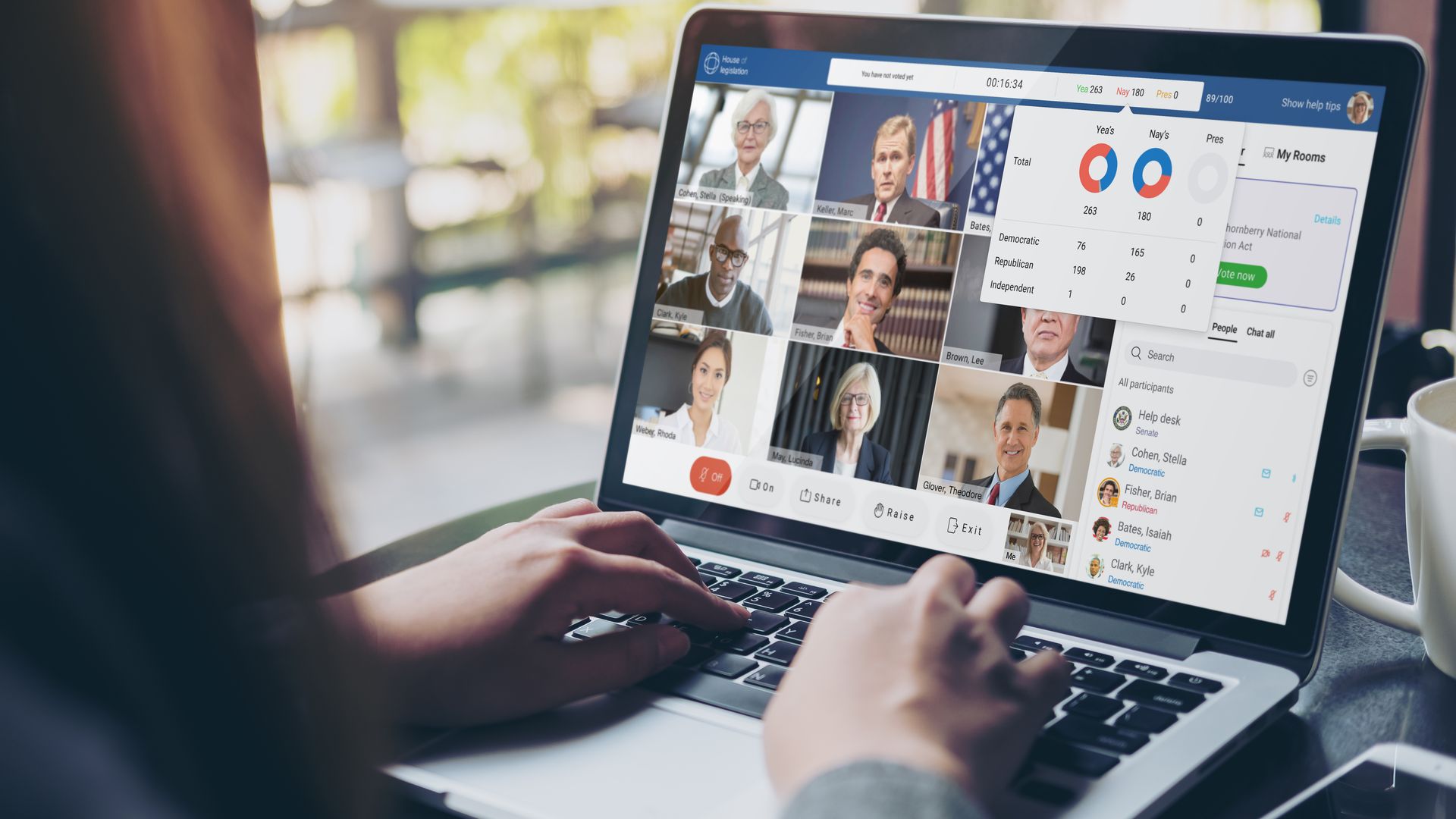 Cisco's WebEx will announce today a new version of its conferencing software designed specifically for legislatures and other governmental bodies.
Why it matters: With the pandemic, governments around the world are trying to function remotely and securely.
How it works: WebEx Legislate offers features like secure voting and a way for members to meet one-on-one or in groups on a virtual "floor," as well as breakouts designed to mimic a caucus meeting. It will be offered globally and is slated to be available before the end of the year.
The big picture: Tools like WebEx and Zoom are being called on to do an array of tasks beyond corporate meetings, ranging from IPO roadshows to kids' birthday parties. Cisco already has a custom version of its software designed for correctional institution visits and courtrooms.
My thought bubble: Expect to see more video tools customized to specific tasks and industries.
4. Right-wing misinformation continues to spread
With less than a week until the 2020 election, researchers have expressed concern that the information ecosystem today is ripe for an unprecedented level of exploitation by bad actors, particularly hyper-partisan media and personalities on the right, Axios' Sara Fischer reports.
Why it matters: The misinformation-powered right-wing media machine that fueled Donald Trump's 2016 victory grew stronger after that win, and it's set to increase its reach as a result of the upcoming election, whether Trump wins or loses.
Driving the news: There are messaging and economic incentives to spreading misinformation online, academics tell Axios.
Dipayan Ghosh, a senior fellow at the Harvard Kennedy School and Nick Couldry, a media and social theory professor at the London School of Economics, argue in a new paper that misinformation will continue to rule online and in media because that's what spreads most efficiently.
"Right now, there's a whole lot of people on the right ... quite happy to spread misinformation, because it's more effective," says Couldry.
"The business models of internet companies don't differentiate between the type of actor and whether it is incentivized to tell the truth or not."
Evidence of this reality is already coming into view.
A new investigation from NewsGuard, a service that uses trained journalists to rate thousands of news and information sites, finds that more than three dozen Facebook groups have become "super-spreaders" of election-related misinformation, meaning they have shared false content about voting or the electoral process to their audiences of at least 100,000.
The vast majority of the 40 pages that NewsGuard found spewing this type of misinformation leans right or is affiliated with right-wing movements, including pages like Gateway Pundit, Viral Patriot and MAGA Revolution.
5. Take Note
On Tap
Trading Places
Longtime Goldman Sachs tech stock analyst Heather Bellini is joining Israeli cybersecurity startup Deep Instinct as its CFO.
Facebook India executive Ankhi Das is leaving the company, per TechCrunch, following allegations she interfered with the company's enforcement of its policies to favor the country's ruling party.
Former Daily Show host Jon Stewart has signed a deal to create a new current affairs show for Apple TV+.
ICYMI