Your Joe Hill playlist for Labor Day in Salt Lake City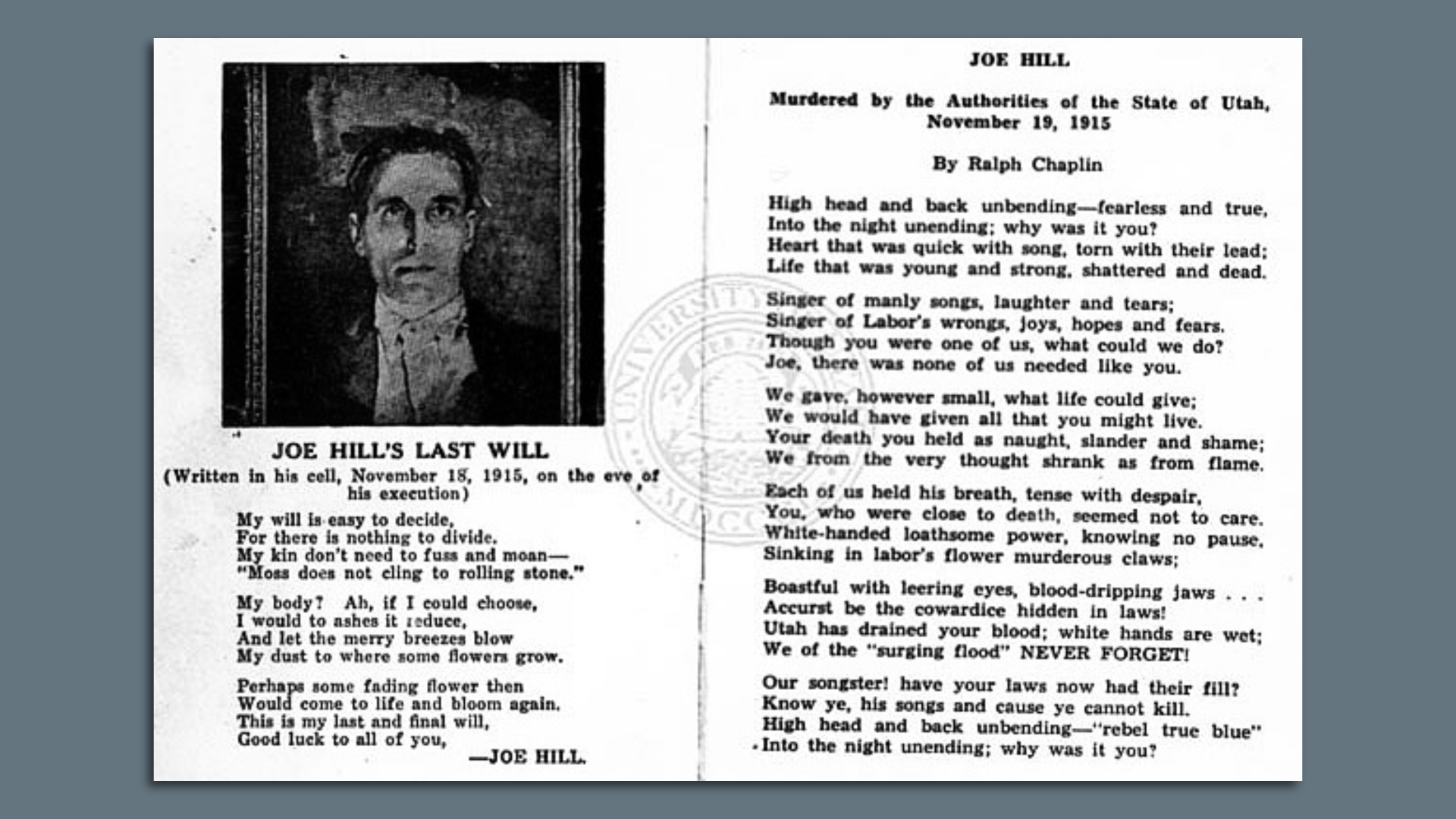 In Utah's labor history, one figure gained immortality in story and song: the Wobbly martyr Joe Hill.
The laborer-turned-troubadour was executed by firing squad at the old Sugar House prison in 1915, but his music and poetry live on.
Catch up quick: Joe Hill was a miner and organizer with the International Workers of the World — a.k.a. the "Wobblies" — when police arrested him in 1914 after a grocery store shoot-out that left the owner dead.
The circumstantial case against Hill was fairly strong: He also was shot that night, and he more or less matched witness descriptions of the killer.
Yes, but: There was some forensic evidence in Hill's favor and signs of bias during his trial.
The intrigue: After Hill was convicted and sentenced to die, pleas for clemency poured into Utah from union leaders, the Swedish embassy, Helen Keller and even President Woodrow Wilson.
His attorneys argued he was targeted because of his union leadership and fame as a writer of protest songs.
What happened: Hill became a cause célèbre for the early 20th-century labor movement.
The latest: We've compiled a playlist of Joe Hill songs for your Labor Day enjoyment.
Of note: Hill coined the term "pie in the sky" in the song "The Preacher and the Slave."
ICYMI: Check out our recent Old News series to learn more about Utah's surprisingly prominent role in the labor movement.
More Salt Lake City stories
No stories could be found
Get a free daily digest of the most important news in your backyard with Axios Salt Lake City.