Readers sound off: Your dreams for Salt Lake City's State Street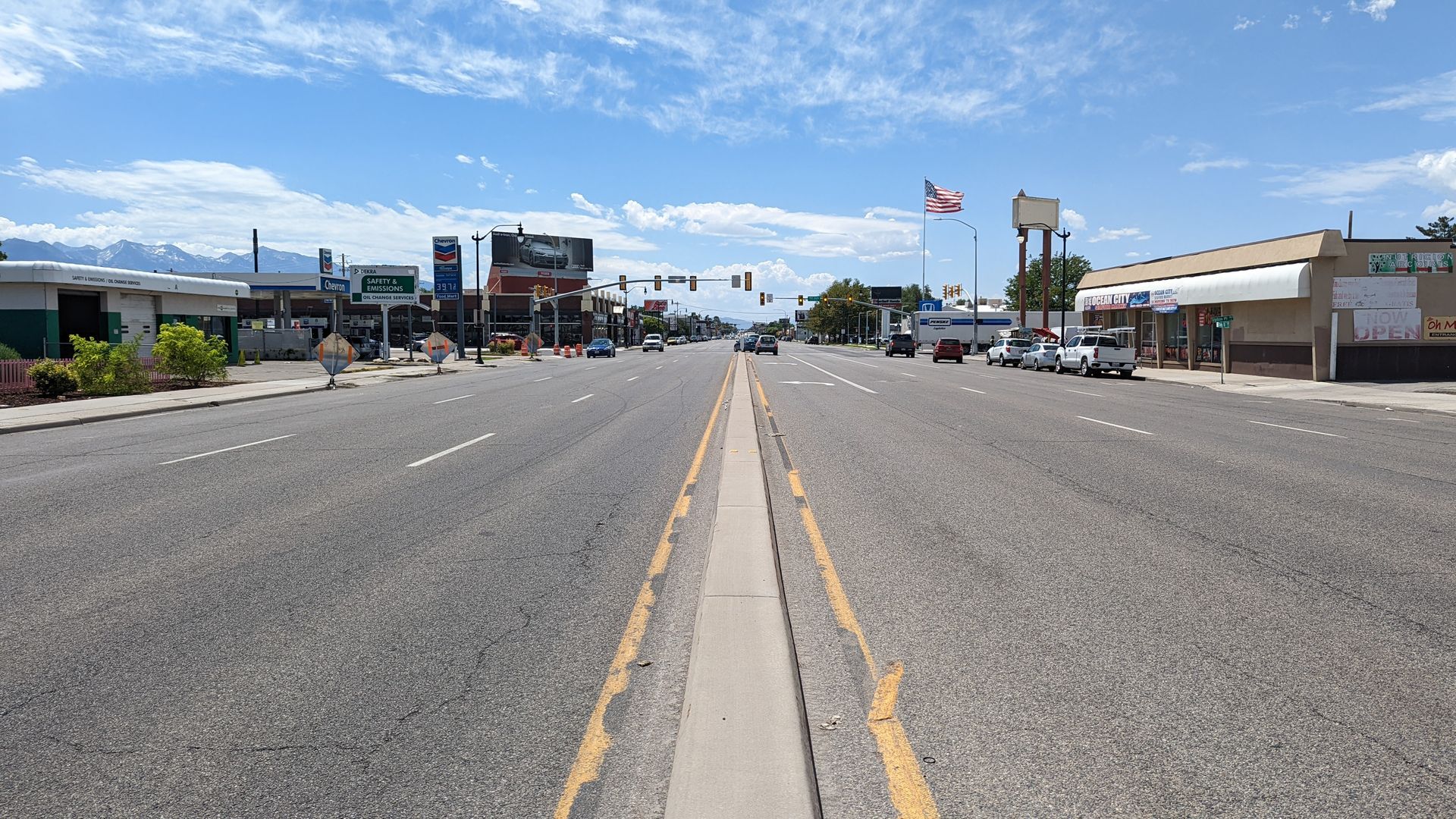 With new apartments and retail coming to State Street — plus one big pending hospital development — we asked about your dreams for Salt Lake's main north-south drag.
Why it matters: State Street, also U.S. 89, is the city's most central — and possibly most-despised — thoroughfare.
Its sprawling parking lots between crumbling buildings are widely viewed as a waste of valuable space amid a housing crisis.
The glare of corner-to-corner pavement makes it a painfully hot path for any pedestrians or cyclists who may be willing to brave its six-lane breadth and high-speed traffic.
Details: Shade was your No. 1 wish for State Street, followed closely by reduced traffic lanes.
Reader Stephen W. called for a combo: "Raised trees in a barrier instead of the turning lane," he wrote — similar to the median on 700 East.
Others imagined a more interactive cityscape: "Balconies. Dog parks. Small business on ground floors. Trees trees trees!" reader Karen wrote.
"Any change that can make it look more like Unter den Linden in Berlin," wrote Alessandro Rigolon, a professor of urban planning at the University of Utah. The major multi-lane route in Germany's capital was redesigned in the past two years for more bus and bike space.
The latest: Roadwork is underway on a short stretch near downtown to make it more like the boulevard of your dreams.
The median is widening from 600 to about 850 South and will be planted with trees, along with trees in the sidewalks and extended curbs to shorten crosswalks.
Mid-block bus stops will be connected by crosswalks to make north-south connections safer and easier.
Catch up quick: Those small modifications are the result of about a decade of planning, starting with a "Life on State" community brainstorm that included Salt Lake County's entire stretch of U.S. 89.
The goal is to create "a template that can be both shown as an example of what's possible on State Street [and] help inspire everyone up and down the State Street corridor, including us, to hopefully make future blocks even better," Jon Larsen, the city's transportation director, told Axios.
Of note: State Street is managed by the Utah Department of Transportation, which means the project is "not as aggressive of an overhaul as what we would be able to do if it was a city-owned street," Larsen said.
Even modest changes like the crosswalks and narrowed lanes near 600 South require state approval.
What's next: The City Council is considering rezoning the area just south of the road project for an "urban hospital" Intermountain Health wants to build at the old Sears location on 900 South.
That segment of State was supposed to be part of the current construction but was eliminated given the potential overhaul of the property. City planners will work with Intermountain to ensure the frontage conforms with the "Life on State" plan, Larsen said.
The bottom line: State Street might be built for fast movement — but any changes there tend to inch along slowly.
More Salt Lake City stories
No stories could be found
Get a free daily digest of the most important news in your backyard with Axios Salt Lake City.