How to navigate Salt Lake City's road work labyrinth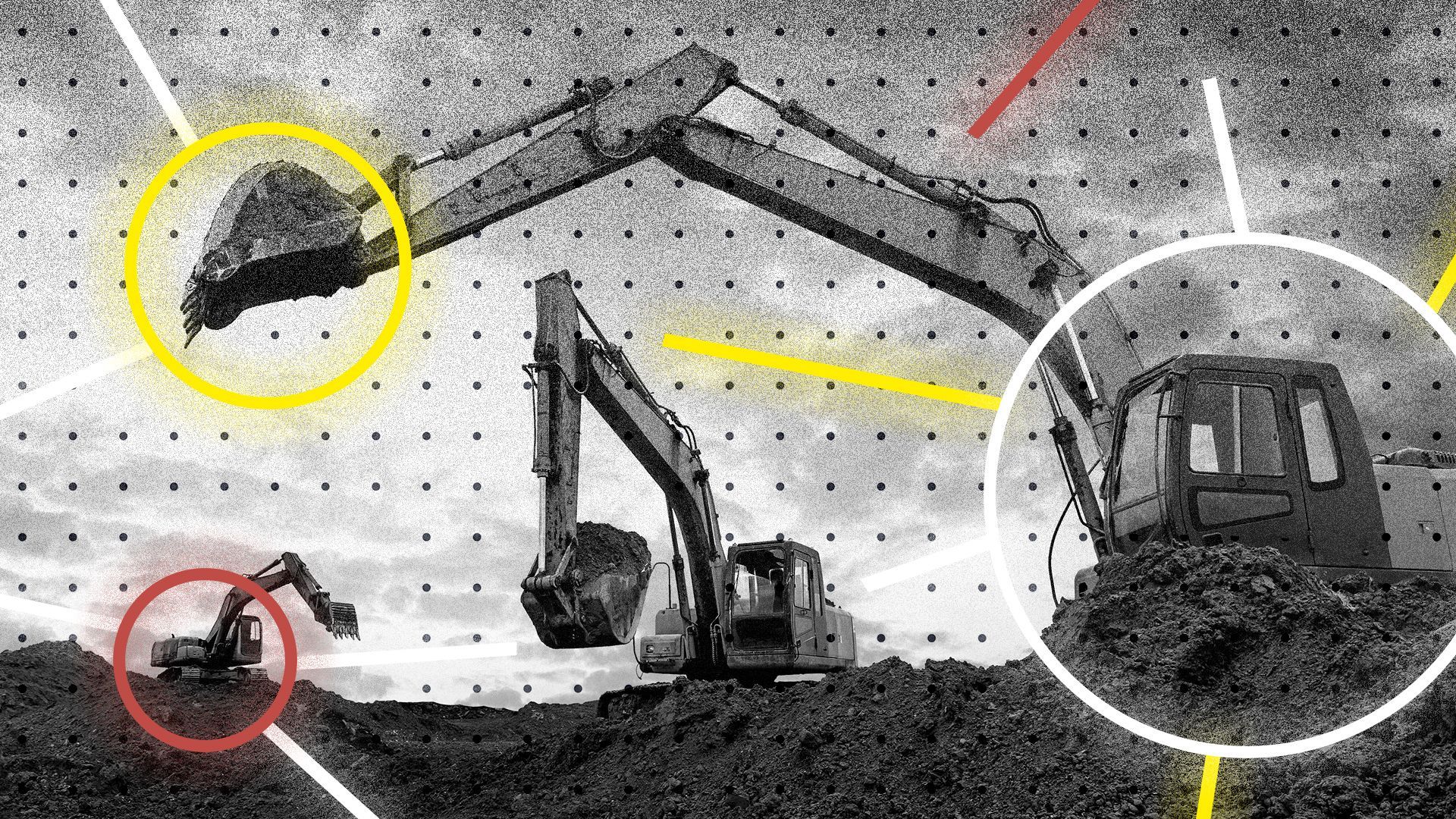 With spring weather finally upon us, orange cones are popping up as fast as tulips.
Major road construction and new private developments are happening simultaneously, boxing in some parts of town.
The big picture: "We have seen one of the biggest growth spurts in the city that we've had in history," city engineer Mark Stephens told Axios.
That means developers are seeking more permits for road and utility work, right as construction season gets underway.
Here's what to expect while navigating some of Salt Lake's major road closures in the coming weeks:
300 West
The city's main big box corridor has been chewed up since 2021 for a total reconstruction that includes utility upgrades and a badly needed pedestrian path.
Catch up quick: The project was already behind schedule a year ago thanks to a concrete shortage, COVID outbreaks and surprises like contamination from an old gas station and a stretch of underground pavement that required an extra layer of excavation.
What's happening: City officials said the traffic lanes were expected to reopen by last November or December — but crews encountered aging water lines that required more repairs than expected, project spokeswoman Stacee Adams told Axios.
Work had to stop earlier than expected as temperatures dropped below normal in mid-November, preventing crews from applying asphalt, Adams said.
The record snows delayed progress this spring, she added.
The latest: Crews working overnight on an unrelated private development at 1300 South ran overtime last week, leading to three-way blockages at the busy intersection with 300 West, Stephens said.
It was an example of the overlaps that can occur when city, county and state offices plus private developers and utility companies are managing multiple project schedules, Stephens said.
"When one entity doesn't communicate with the others, then that trickle-down effect for everyone involved can be exponential," he said.
What's next: Crews expect all traffic lanes from 1300 to 2100 South to reopen by mid-May, with 900 to 1300 South open by the end of June, Adams said.
Landscaping and other finishing touches should be done by July.
Sugar House
More than two miles of 1100 East (Highland Drive) are being rebuilt from 900 to about 2500 South alongside new housing developments, so congestion was expected.
Yes, and: Last week 1300 East and I-15 also were closed for a bridge replacement, diverting freeway traffic onto city streets while 1700 South remained barricaded at 1700 East due to flooding.
State of play: The 1300 East bridge is complete — but residents should brace for a bigger disruption next year, when 2100 South and 1300 East will be rebuilt.
What's next: Highland will be open to just one lane of southbound traffic from 2100 to 2700 South this year, with northbound traffic diverted to 900 East and 1300 East.
1100 East will also undergo intermittent lane reductions from 900 South to Logan Avenue.
Next year, 1100 East will become southbound only, while crews rebuild it from Logan to 2100 South.
900 South
The road reconstruction and 9 Line Trail extensions have been ongoing since 2021, and the road has reopened to eastbound traffic at 300 West.
Now westbound lanes are closed from 300 West to West Temple, and closures are coming this summer from 200 to 500 East. The north entrance of Liberty Park reopened this week.
Construction was completed last year from 900 to 300 West.
What we're watching: Construction is expected to reach the bustling 9th and 9th neighborhood in June or July, which could test the viability of the area's many new businesses.
The 9th & 9th intersection itself will be closed in all directions for a month beginning in September, Stephens said.
200 South
The road will generally remain open to one lane in each direction for the rest of the year as it's being rebuilt between 400 West and 600 East.
Yes, but: Dominion Energy is also replacing gas lines from 200 East to 400 West and may periodically block driveways and require detours.
More Salt Lake City stories
No stories could be found
Get a free daily digest of the most important news in your backyard with Axios Salt Lake City.