Prolonged cold spell could worsen Utah's flood risk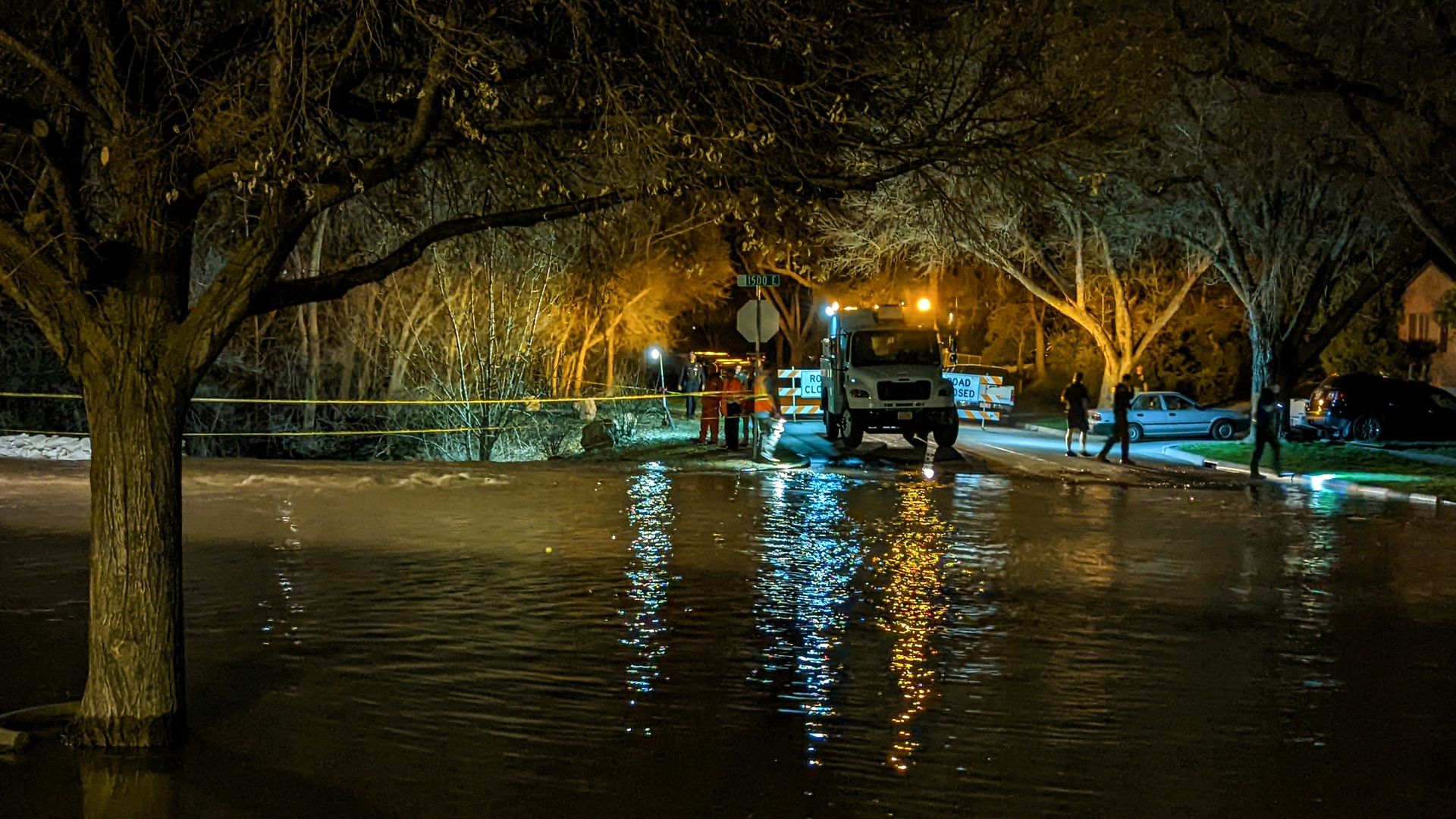 After weeks of bracing for flooding from a warm spring, Salt Lake's emergency managers are now wary of the opposite:
It might have stayed too cold for too long.
What's happening: Temperatures dropped sharply after a couple of hot days in April melted more snow than Emigration Creek could handle.
While the slower snowmelt initially allowed crews to clear a blockage that worsened flooding around Wasatch Hollow, last week's chilly spell meant a lost opportunity to melt snow that our creek beds had room for.
Why it matters: Warm weather will inevitably come, and the flood risk it brings will be higher if an abnormally cool April allows too much of Utah's record snowpack to linger frozen in the mountains.
"The window for measured runoff keeps getting shorter as it's been cooler in the higher elevations," Laura Briefer, Salt Lake City's public utilities director, told Axios. "We're running the risk of entering the time of year where we're going to get a fast warmup in those watersheds."
State of play: March's average temperature was colder than it's been in 20 years, and most of the first three weeks of April were below normal, too, per National Weather Service data.
The past week has been particularly cold — right when the mountains normally are warm enough for snow to melt.
Yes, but: This week is expected to bring highs in the 60s and 70s — temperatures that should allow lower areas to keep melting manageably, said Clint Mecham, emergency management director for Salt Lake County.
Threat level: While some of the mountain snow has melted, the remaining snowpack looms larger than at almost any point ever recorded in Utah.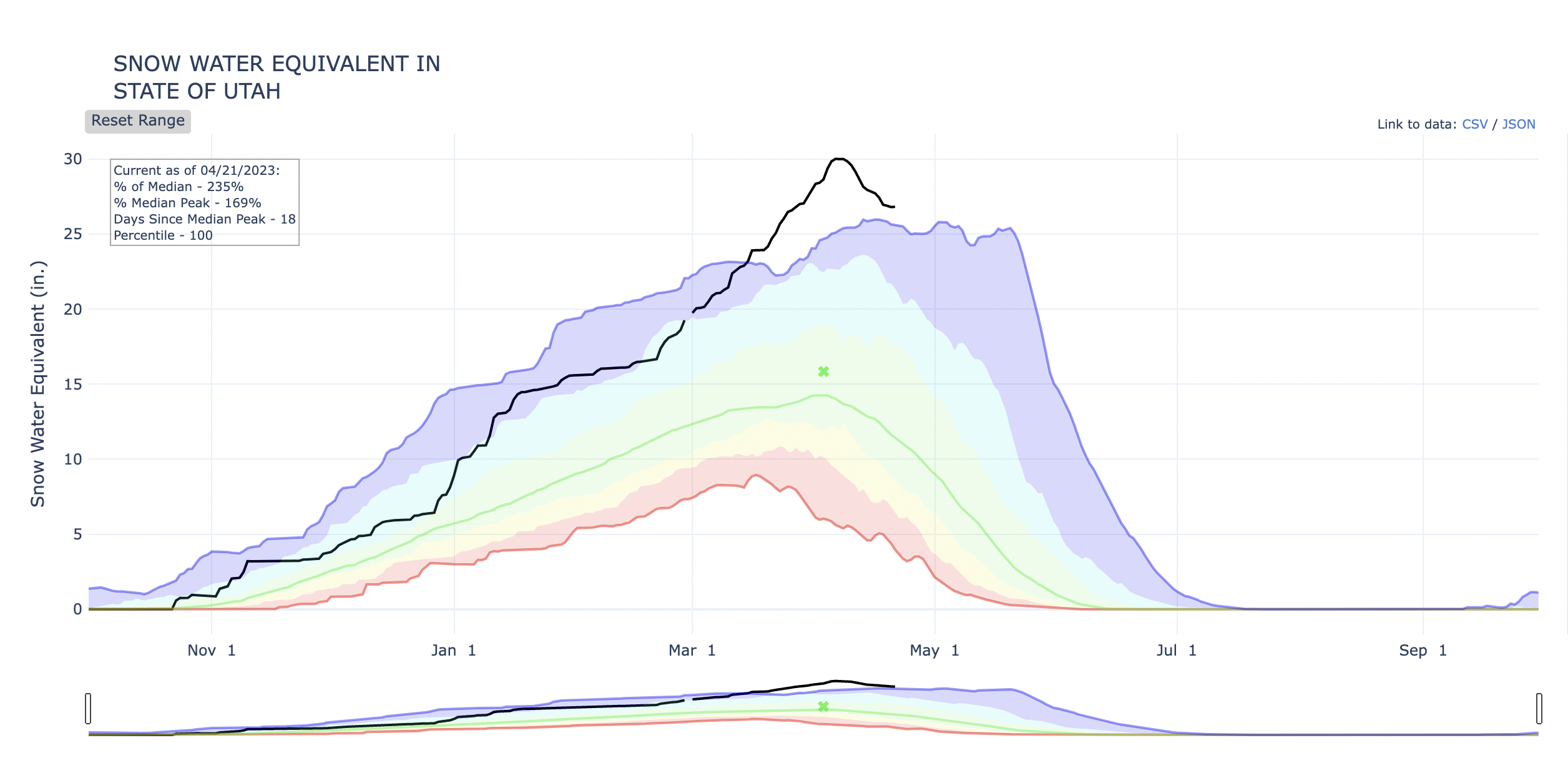 What's next: Flood risk rises in the order of the elevation of the creek's source, and Emigration Creek has likely already peaked. Red Butte Canyon also is at a low enough elevation for snow to have melted steadily and safely, Briefer said.
City Creek and Parley's Creek are the next to peak, and both canyons still have far more snow than usual.
Mill Creek fills after Parley's, followed by Big and Little Cottonwood creeks, Mecham told Axios. The delayed snowmelt is most severe in those canyons, where surrounding peaks soar well above 10,000 feet.
What we're watching: Along the creeks are known chokepoints, due to sharp turns in the waterway or "low head dams" — obsolete underwater structures that once generated electricity or controlled water flow and erosion.
Low head dams have previously contributed to flooding around Fort Union Boulevard, while Mill Creek has overflowed where it bends sharply between 700 and 900 East, Mecham said.
Others occur where creeks go underground — including Willow Creek in Draper and City Creek and Emigration Creek, which bubbled up through road grates earlier this month.
The X factor: When creeks run high and fast, they pick up debris and form blockages that can create surprise flood risks.
Crews spent last week clearing detritus from the forested banks of City Creek and examining culverts and a possible diversion path down 500 East if the combined flows exceed the capacity of the underground pipes.
Reality check: Some areas are designed to contain floodwaters, Mecham noted.
Don't get alarmed if the Sugar House Park pond starts to look more like a lake. It's "doing exactly what it's supposed to do" by relieving Parley's Creek of extra water, Mecham said.
More Salt Lake City stories
No stories could be found
Get a free daily digest of the most important news in your backyard with Axios Salt Lake City.