Portland restaurants embrace the service charge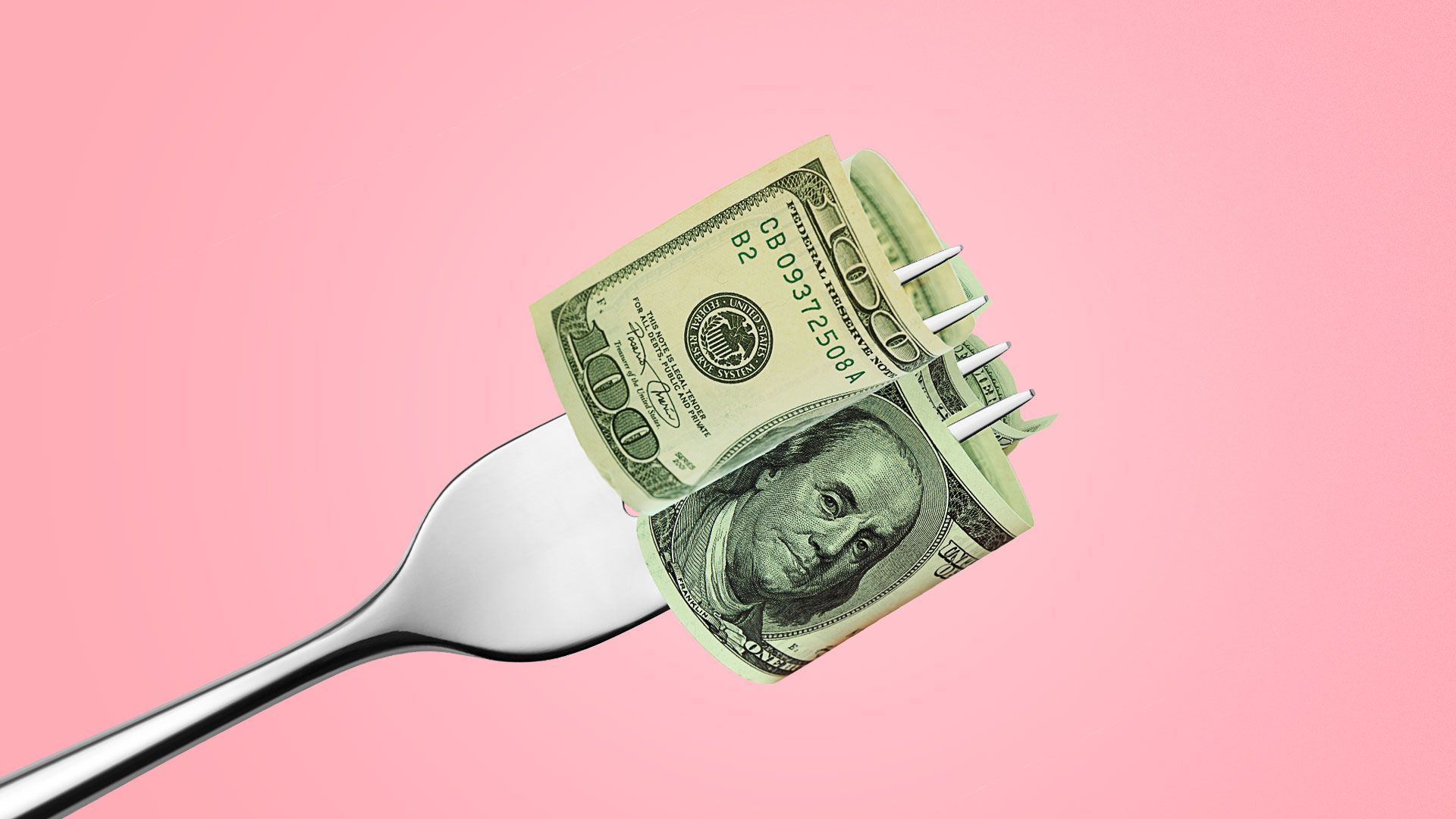 Some Portland restaurants — from counter service cafes to fine dining establishments — are implementing service charges in lieu of tipping to ensure higher retention and hourly pay for all staff as the industry experiments with a new business model amid rising costs.
Driving the news: Restaurant owners who've recently incorporated the fees, ranging from 15% to 22% of the bill, told Axios customers are overwhelmingly supportive and see the practice as a way to replace tipping, which is rooted in racial and gender discrimination.
"It's not the greatest feature of our industry and I'd love to see it just disappear eventually," Aaron Adams, chef and owner of Fermenter, which added an automatic 18% gratuity charge this month, tells Axios.
Why it matters: Service charges grew in popularity during the COVID-19 pandemic and were cited as a way to guarantee health benefits and equitable wages for both front-of-house and back-of-house employees.
However, they can also confuse customers who may be unsure what it goes toward or frustrate those who feel forced into a high gratuity.
What they're saying: "There's no consistency or understanding about what gratuity should be," Adams said. "You'll have one customer who's like, 'They did a really good job; I'm gonna give them 15%,' and another that says, 'They didn't do that great of a job; I'm gonna give them 15%.'"
Zoom in: When El Gaucho implemented its 20% service fee model in 2016 it hoped higher employee retention via added compensation and benefits would keep the company "well positioned" for the future. According to Cooper Mills, president of Fire & Vine Hospitality, which operates the steakhouse inside the Benson Hotel, it has.
"The service charge is the property of the company, which then pays hourly rates, commissions and revenue share to employees," he said. "The model keeps everything predictable, tracked and transparent."
Meanwhile, Kachka introduced its 22% service fee last year after witnessing "tipping fatigue" among customers. Since then, chef Bonnie Morales said it has benefited not only her restaurant's financial sustainability — to the point where they've introduced profit sharing — but employee morale, too.
"They're seeing a personal financial benefit to the success of the restaurant as a whole," she told Axios.
State of play: While some restaurants are adopting service charges for the first time, others decided to make it part of their business plan from the start.
When worker-owned pizzeria Cafe Olli opened in December 2021, a health and wellness fee was printed prominently on its menu.
That same year, Tusk, Cicoria and Ava Gene's re-emerged from the pandemic with a 20% fee to support an effective hourly wage ranging from $25 to $39 for servers and line cooks alike.
The minimum wage in Portland is $15.45.
The intrigue: Unlike tips, which are the sole property of the employee, there's no legal guarantee that service fees have to actually go toward wages, benefits or profit sharing.
"What we have to do as business operators and owners is to be transparent about where it's going," Brookes Decker, director of operations for Submarine Hospitality, said. "Because this is a way for everyone to be able to have the right to earn a living wage, or better, and survive in our industry."
The bottom line: Because service fees are still relatively new, it's too soon to tell whether the practice will become a trend nationwide — but in the meantime, Portland seems like the place to test it out.
"Portland is obviously a very progressive city," Decker said. "And this is definitely a progressive idea."
More Portland stories
No stories could be found
Get a free daily digest of the most important news in your backyard with Axios Portland.