Tipping onslaught pushes some consumers to close their wallets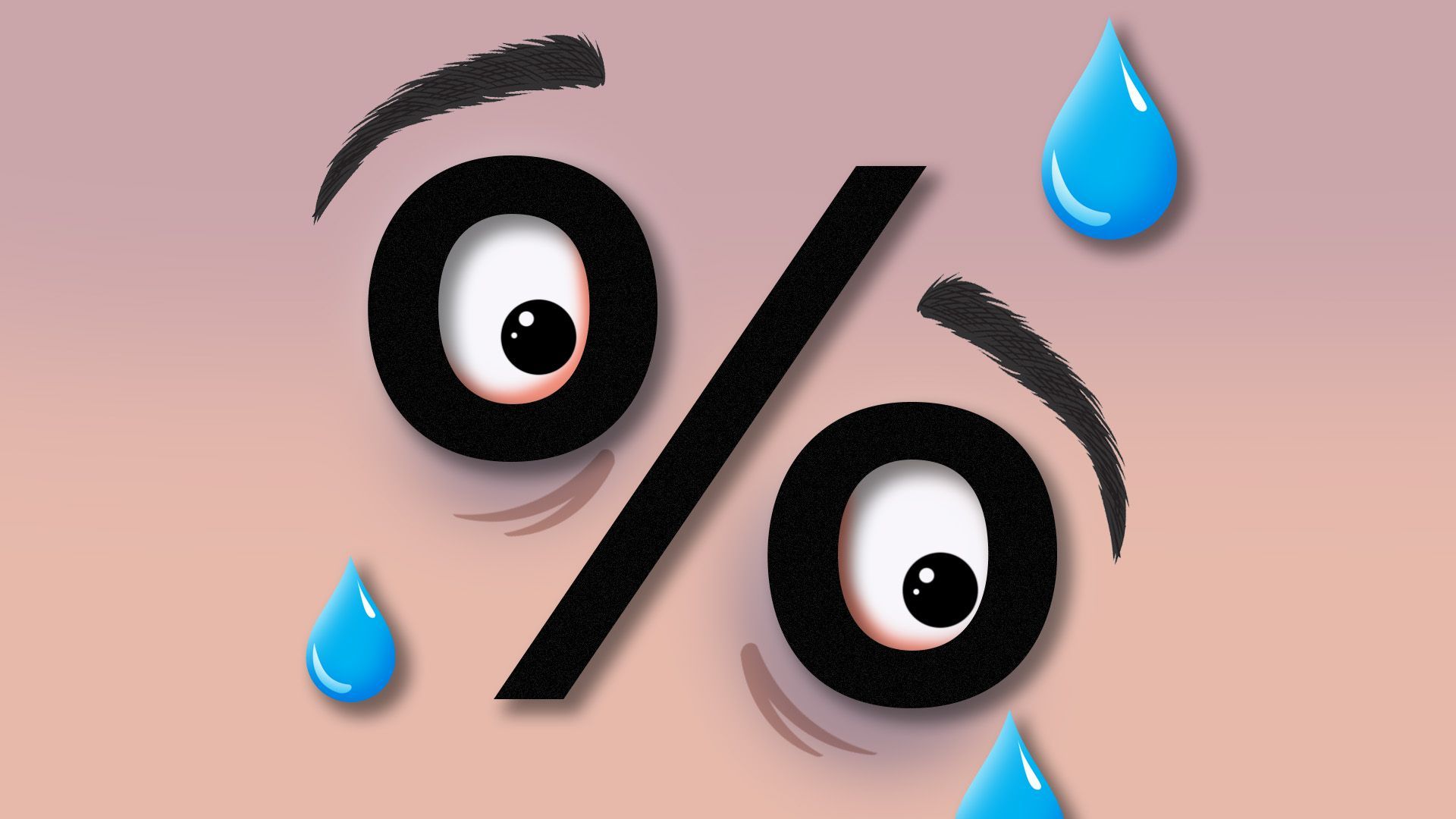 An onslaught of tipping requests — with employees often inches away — is increasing social pressure around gratuities and even pushing some consumers to give less.
The big picture: The economic stress of inflation coupled with confusion around who and how much to tip are pushing Americans against the practice: 66% have a negative view about tipping and 32% say they're annoyed about pre-entered tip screens, a new Bankrate survey says.
"It's gotten noticeably worse in the past year," Bankrate senior industry analyst Ted Rossman told Axios.
"We're being asked to tip more and more places," said Rossman, who has heard of tips being solicited at a doctor's office and at unmanned self-service kiosks at airports.
By the numbers: Bankrate's survey of 2,437 U.S. adults shows 65% of people say they always tip servers, down from 73% last year and 77% in 2019.
44% said they tip at least 20% at sit-down restaurants, with older adults tending to be the best tippers.
41% of Americans believe businesses should pay employees better rather than relying so much on tips.
18% tend to tip less or not at all when presented with tip screens, and 9% say they tip more.
State of play: The employee standing right in front of you is one factor driving the awkwardness of tip screens. In most cases, you also have to choose an option to check out.
"It's not like I can just wait and that tip screen will go away," Michael Lynn, a consumer behavior professor at Cornell University, told Axios. "I have to actively say 'no, I'm not going to tip.' That is a harder thing to do than to passively let it go by or ignore it."
Kelly Goldsmith, a Vanderbilt University marketing professor, said "guilt tipping" adds to the pressure.
"We're looking this person in the face. We don't want to be the jerk that hit no on the tipping question," said Goldsmith, who studies consumer behavior.
Yes, but: Not tipping in advance can have consequences and might mean service could suffer.
"Sometimes if you don't leave a tip or leave a good tip, it's self-fulfilling because they might not want to take your order or they might put you back in line," Rossman said.
The pandemic accelerated the trend toward more tipping, but that trend is fading.
Data from Toast, a digital payment platform used by restaurants, shows the average on-premise tip for quick-service restaurants declined to 16.7% in the first quarter of 2023, the lowest in five years.
The average tip at full-service restaurants has ranged from 19.4% to 19.9% since 2018, and was 19.7% in the first quarter of 2023.
What's next: "These screens are here to stay and they're going to spread," Cornell University's Lynn said. "You're going to see more and more of them."
More from Axios:
Go deeper